Why China's Shrinking Population Is A Big Deal — Counting The Social, Economic And Political Costs Of An Aging, Smaller Society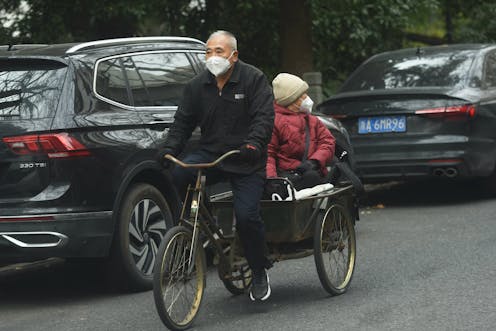 Throughout much of recorded human history, China has boasted the largest population in the world – and until recently, by some margin.
So news that the Chinese population is now in decline, and will sometime later this year be surpassed by that of India, is big news even if long predicted.
As a scholar of Chinese demographics, I know that the figures released by Chinese government on Jan. 17, 2023, showing that for the first time in six decades, deaths in the previous year outnumbered births is no mere blip. While that previous year of shrinkage, 1961 – during the Great Leap Forward economic failure, in which an estimated 30 million people died of starvation – represented a deviation from the trend, 2022 is a pivot. It is the onset of what is likely to be a long-term decline. By the end of the century, the Chinese population is expected to shrink by 45%, according to the United Nations. And that is under the assumption that China maintains its current fertility rate of around 1.3 children per couple, which it may not.
This decline in numbers will spur a trend that already concerns demographers in China: a rapidly aging society. By 2040, around a quarter of the Chinese population is predicted to be over the age of 65.
In short, this is a seismic shift. It will have huge symbolic and substantive impacts on China in three main areas.
Economy
In the space of 40 years, China has largely completed a historic transformation from an agrarian economy to one based on manufacturing and the service industry. This has been accompanied by increases in the standard of living and income levels. But the Chinese government has long recognized that the country can no longer rely on the labor-intensive economic growth model of the past. Technological advances and competition from countries that can provide a cheaper workforce such as Vietnam and India have rendered this old model largely obsolete.
This historical turning point in China's population trend serves as a further wake-up call to move the country's model more quickly to a post-manufacturing, post-industrial economy – an aging, shrinking population does not fit the purposes of a labor-intensive economic model.
As to what it means for China's economy, and that of the world, population decline and an aging society will certainly provide Beijing with short-term and long-term challenges. In short, it means there will be fewer workers able to feed the economy and spur further economic growth on one side of the ledger; on the other, a growing post-work population will need potentially costly support.
It is perhaps no coincidence then that 2022, as well as being a pivotal year for China in terms of demographics, also saw one of the worst economic performances the country has experienced since 1976, according to data released on Jan. 17.
Society
The rising share of elderly people in China's population is more than an economic issue – it will also reshape Chinese society. Many of these elderly people only have one child, due to the one-child policy in place for three and a half decades before being relaxed in 2016.
The large number of aging parents with only one child to rely on for support will likely impose severe constraints – not least for the elderly parents, who will need financial support. They will also need emotional and social support for longer as a result of extended life expectancy.
It will also impose constraints on those children themselves, who will need to fulfill obligations to their career, provide for their own children and support their elderly parents simultaneously.
Responsibility will fall on the Chinese government to provide adequate health care and pensions. But unlike in Western democracies that have by now had many decades to develop social safety nets, the speed of the demographic and economic change in China has meant that Beijing struggled to keep pace.
As China's economy underwent rapid growth after 2000, the Chinese government responded by investing tremendously in education and health care facilities, as well as extending universal pension coverage. But the demographic shift was so rapid that it meant that political reforms to improve the safety net were always playing catch-up. Even with the vast expansion in coverage, the country's health care system is still highly inefficient, unequally distributed and inadequate given the growing need.
Similarly, social pension systems are highly segmented and unequally distributed.
Politics
How the Chinese government responds to the challenges presented by this dramatic demographic shift will be key. Failure to live up to the expectations of the public in its response could result in a crisis for the Chinese Communist Party, whose legitimacy is tied closely to economic growth. Any economic decline could have severe consequences for the Chinese Communist Party. It will also be judged on how well the state is able to fix its social support system.
Indeed, there is already a strong case to be made that the Chinese government has moved too slowly. The one-child policy that played a significant role in the slowing growth, and now decline, in population was a government policy for more than three decades. It has been known since the 1990s that the Chinese fertility rate was too low to sustain current population numbers. Yet it was only in 2016 that Beijing acted and relaxed the policy to allow more couples to have a second, and then in 2021 a third, child.
This action to spur population growth, or at least slow its decline, came too late to prevent China from soon losing its crown as the world's largest nation. Loss of prestige is one thing though, the political impact of any economic downturn resulting from a shrinking population is quite another.

Feng Wang does not work for, consult, own shares in or receive funding from any company or organization that would benefit from this article, and has disclosed no relevant affiliations beyond their academic appointment.
Chinese Spy Balloon Over The US: An Aerospace Expert Explains How The Balloons Work And What They Can See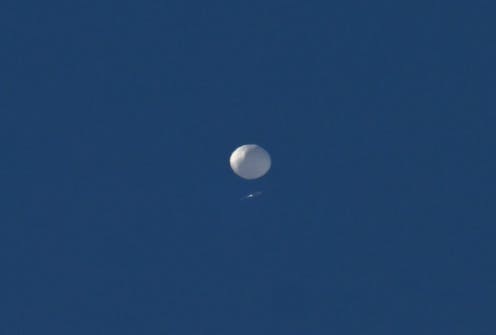 The U.S. military shot down what U.S. officials called a Chinese surveillance balloon off the coast of South Carolina on Feb. 4, 2023. Officials said that the U.S. Navy planned to recover the debris, which is in shallow water.
The U.S. and Canada tracked the balloon as it crossed the Aleutian Islands, passed over Western Canada and entered U.S. airspace over Idaho. Officials of the U.S. Department of Defense confirmed on Feb. 2, 2023, that the military was tracking the balloon as it flew over the continental U.S. at an altitude of about 60,000 feet, including over Malmstrom Air Force Base in Montana. The base houses the 341st Missile Wing, which operates nuclear intercontinental ballistic missiles.
The next day, Chinese officials acknowledged that the balloon was theirs but denied it was intended for spying or meant to enter U.S. airspace. U.S. Secretary of State Antony Blinken said that the balloon's incursion led him to cancel his trip to Beijing. He had been scheduled to meet with Chinese Foreign Minister Qin Gang on Feb. 5 and 6.
The Pentagon has reported that a second suspected Chinese balloon was seen over Latin America. On Feb. 4, officials told reporters that a third Chinese surveillance balloon was operating somewhere else in the world, and that the balloons are part of a Chinese military surveillance program.
Monitoring an adversary from a balloon dates back to 1794, when the French used a hot air balloon to track Austrian and Dutch troops in the Battle of Fleurus. We asked aerospace engineer Iain Boyd of the University of Colorado Boulder to explain how spy balloons work and why anyone would use one in the 21st century.
What is a spy balloon?
A spy balloon is literally a gas-filled balloon that is flying quite high in the sky, more or less where we fly commercial airplanes. It has some sophisticated cameras and imaging technology on it, and it's pointing all of those instruments down at the ground. It's collecting information through photography and other imaging of whatever is going on down on the ground below it.
Why would someone want to use a spy balloon instead of just using spy satellites?
Satellites are the preferred method of spying from overhead. Spy satellites are above us today, typically at one of two different types of orbit.
The first is called low Earth orbit, and, as the name suggests, those satellites are relatively close to the ground. But they're still several hundred miles above us. For imaging and taking photographs, the closer you are to something, the more clearly you can see it, and this applies to spying as well. The satellites that are in low Earth orbit have the advantage that they're closer to the Earth so they're able to see things more clearly than satellites that are farther away.
The disadvantage these low Earth orbit satellites have is that they are continually moving around the Earth. It takes them about 90 minutes to do one orbit around the Earth. That turns out to be pretty fast in terms of taking clear photographs of what's going on below.
The second type of satellite orbit is called geosynchronous orbit, and that's much farther away. It has the disadvantage that it's harder to see things clearly when you're very, very far away. But they have the advantage of what we call persistence, allowing satellites to capture images continuously. In those orbits, you're essentially overlooking the exact same piece of ground on the Earth's surface all the time because the satellite moves in exactly the same way the earth rotates – it rotates at the exact same speed.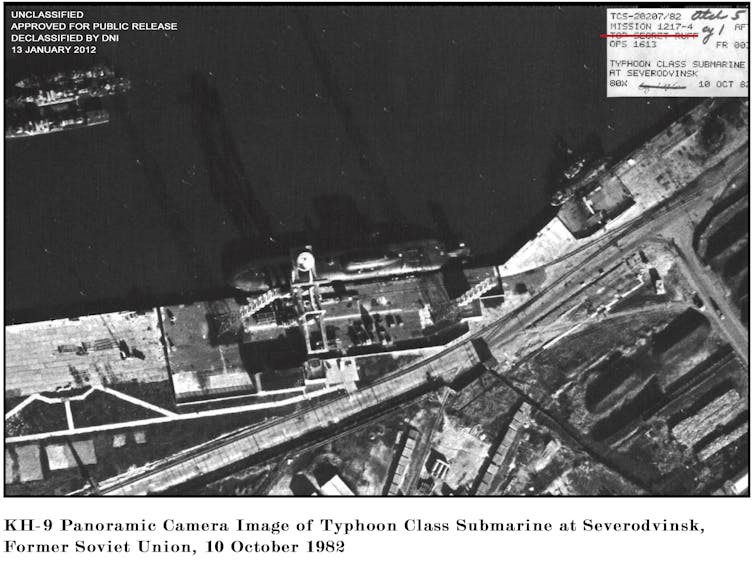 A balloon in some ways gets the best of those. These balloons are much, much closer to the ground than any of the satellites, so they can see even more clearly. And then, of course, balloons are moving, but they're moving relatively slowly, so they also have a degree of persistence. However, spying is not usually done these days with balloons because they are a relatively easy target and are not completely controllable.
What types of surveillance are spy balloons capable of?
I don't know what's on this particular spy balloon, but it's likely to be different kinds of cameras collecting different types of information.
These days, imaging is conducted across different regions of the electromagnetic spectrum. Humans see in a certain range of this spectrum, the visible spectrum. And so if you have a camera and you take a photograph of your dog, that's a visible photograph. That's one of the things spy aircraft do. They take regular photographs, although they have very good zoom capabilities to be able to magnify what they're seeing quite a lot.
But you can also gather different kinds of information in other parts of the electromagnetic spectrum. Another fairly well-known one is infrared. If it's nighttime, a camera operating in the visible part of the spectrum is not going to show you anything. It's all going to be dark. But an infrared camera can pick up things from heat in the dark.
How do these balloons navigate?
Most of these balloons literally go where the wind blows. There can be a little bit of navigation, but there are certainly not people aboard them. They are at the mercy of whatever the weather is. They sometimes have guiding apparatus on them that change a balloon's altitude to catch winds going in particular directions. According to reports, U.S. officials said the Chinese surveillance balloon had propellers to help steer it. If this is confirmed, it means that its operator would have much more control over the path of the balloon.
What are the limits to a nation's airspace? At what altitude does it become space and anybody's right to be there?
There is an internationally accepted boundary called the Kármán Line at 62 miles (100 kilometers) altitude. This balloon is well below that, so it is absolutely, definitely in U.S. airspace.
Which countries are known to be using spy balloons?
The Pentagon has had programs over the last few decades studying what can be done with balloons that couldn't be done in the past. Maybe they're bigger, maybe they can go higher in the atmosphere so they're more difficult to shoot down or disable. Maybe they could be more persistent.
The broad interest in this incident illustrates its unusual nature. Few people would expect any country to be actively using spy balloons these days.
The U.S. flew many balloons over the Soviet Union in the 1940s and 1950s, and those were eventually replaced by the high-altitude spy airplanes, the U-2s, and they were subsequently replaced by satellites.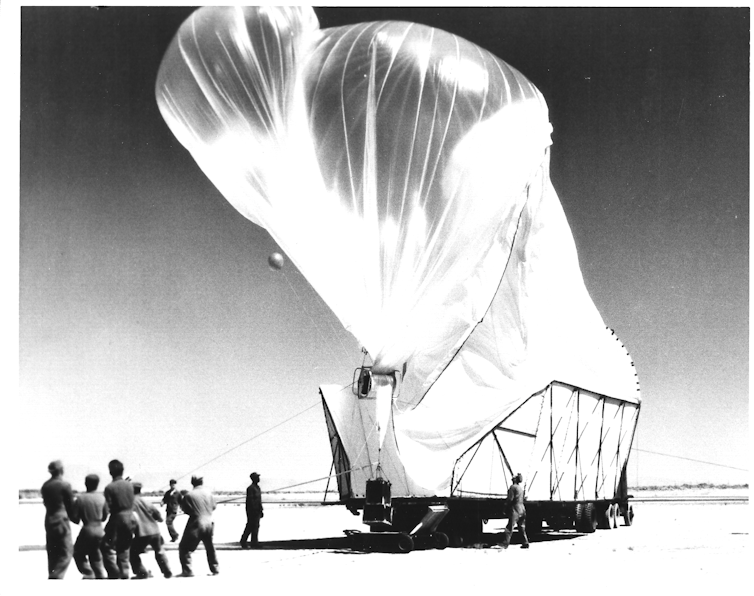 I'm sure a number of countries around the world have periodically gone back to reevaluate: Are there other things we could do now with balloons that we couldn't do before? Do they close some gaps we have from satellites and airplanes?
What does that say about the nature of this balloon, which China confirmed is theirs?
China has complained for many years about the U.S. spying on China through satellites, through ships. And China is also well known for engaging in somewhat provocative behavior, like in the South China Sea, sailing close to other nations' boundaries and saber-rattling. I think it falls into that category.
The balloon doesn't pose any real threat to the U.S. I think sometimes China is just experimenting to see how far they can push things. This isn't really very advanced technology. It's not serving any real military purpose. I think it's much more likely some kind of political message.
This article has been updated to include news that the balloon has been shot down by the U.S. military.

Iain Boyd receives funding from the U.S. Department of Defense, the U.S. Department of Energy, NASA, and Lockheed-Martin.
The UK preps for what could become the largest strike ever for the country
Much of the UK is at a standstill after what could be the largest strike ever in their country.
Up to half a million British teachers, civil servants, and train drivers walked out over pay in the largest coordinated strike action for a decade on Wednesday, with unions threatening more disruption as the government digs its heels in over pay demands.
The mass walkouts across the country shut schools, halted most rail services, and forced the military to be put on standby to help with border checks on a day dubbed "Walkout Wednesday." According to unions, as many as 300 thousand teachers took part, they're the biggest group involved.
Prime minister Rishi Sunak condemned the strikes which forced millions of children to miss school.
His government has taken a hard line against the unions, arguing that giving in to demands for large wage hikes would further fuel Britain's inflation problem. With inflation running at more than 10 percent the highest level in four decades Britain has seen a wave of strikes in recent months across the public and private sectors, including health and transport workers, Amazon warehouse employees, and Royal Mail postal staff.
Next week, nurses, ambulance staff, paramedics, emergency call handlers, and other healthcare workers are set to stage more walkouts, while firefighters this week also backed a nationwide strike.
Watch the Full Report Here
The Brazilian congress could soon criminalize people who refuse the COVID vaccines
Six bills currently in the Brazilian congress will crack down on any opposition to the COVID vaccines.
The bills criminalize everything from cutting in line to receive a vaccine to people who spread "fake news" about how vaccines work. People could also face 1 to 3 years in prison if they omit or oppose the mandatory vaccination of children or adolescents in a "public health emergency". The project also criminalizes, with a penalty of two to eight years in prison, people who refuse to take the mandatory doses of vaccines.
And the same punishment also applies to those who spread "false news" about the vaccines or how they work. If the individual is a public employee, the penalty is doubled.
Watch the Full Report Here