Western Media Continues To Ignore How Ukraine Is Using NATO Weapons To Kill Innocent Civilians In The Donbass
The civilian death toll keeps growing as some EU citizens rise up against their governments' support for Kiev
On Monday, Ukraine slaughtered 16 civilians, including two children, with 155mm NATO shells, according to the head of the Donetsk People's Republic (DPR), Denis Pushilin. The projectiles hit two adjacent neighborhoods, decimating residential and commercial areas – including a market that had previously suffered fatal attacks.
Scenes of death are nothing new for residents and reporters here in Donetsk, which is intermittently the target of Ukrainian attacks, like the one that hit its central region on August 4, killing six people, including an 11-year-old ballerina, her grandmother, and her ballet teacher.
But the carnage on Monday was worse than anything I've seen in my months of reporting here. Chunks of flesh littered the street – part of a hand, a foot, an ear. Someone had put a dead man's phone on his stomach. It was ringing, the cheery ringtone incongruous with his lifeless body and the scenes and stench of death around him.
Bodies were strewn around on the ground where the munition struck, another inside a shop.

A sight I will never forget: an older woman's body, only the upper half…

This is pure Ukrainian terrorism. No where is safe in Donetsk.

— Eva Karene Bartlett (@EvaKBartlett) September 19, 2022
For most people, the concept of war is a distant one, and deaths are normalized by media reporting the numbers of victims and destroyed buildings – so most who hear of civilians being killed don't really understand what a scene like this looks or smells like.
For the locals, it is also normalized, in its own way, after over eight years of Ukrainian attacks – a tragically grotesque kind of normality, where the post-bombing routine starts soon after the last explosions die down. 

READ MORE: Ukrainian strike on Donetsk market was a terrorist act

When I arrived at the scene, locals were already sweeping up glass shards and boarding windows, preparing to reopen their shops. Inspectors from the Russian Investigative Committee were on site collecting shrapnel and measuring the shell's impact point, to determine the nature of the armament. When asked about what happened, they were careful to state that they could not say anything until the conclusion of their investigation.
An emergency vehicle arrived and workers began loading the bodies, or body parts, onto stretchers, clearing them away.
— Eva Karene Bartlett (@EvaKBartlett) September 19, 2022
About 100 meters away, there was a gaping hole in the side of an apartment building. The shell had struck right where writing on the wall indicated the direction to the nearest basement, which was to be used as a bomb shelter. Doors to such stairways are generally permanently left open, so that anyone caught up in shelling might have a chance to survive, if they can make it to the door and basement in time.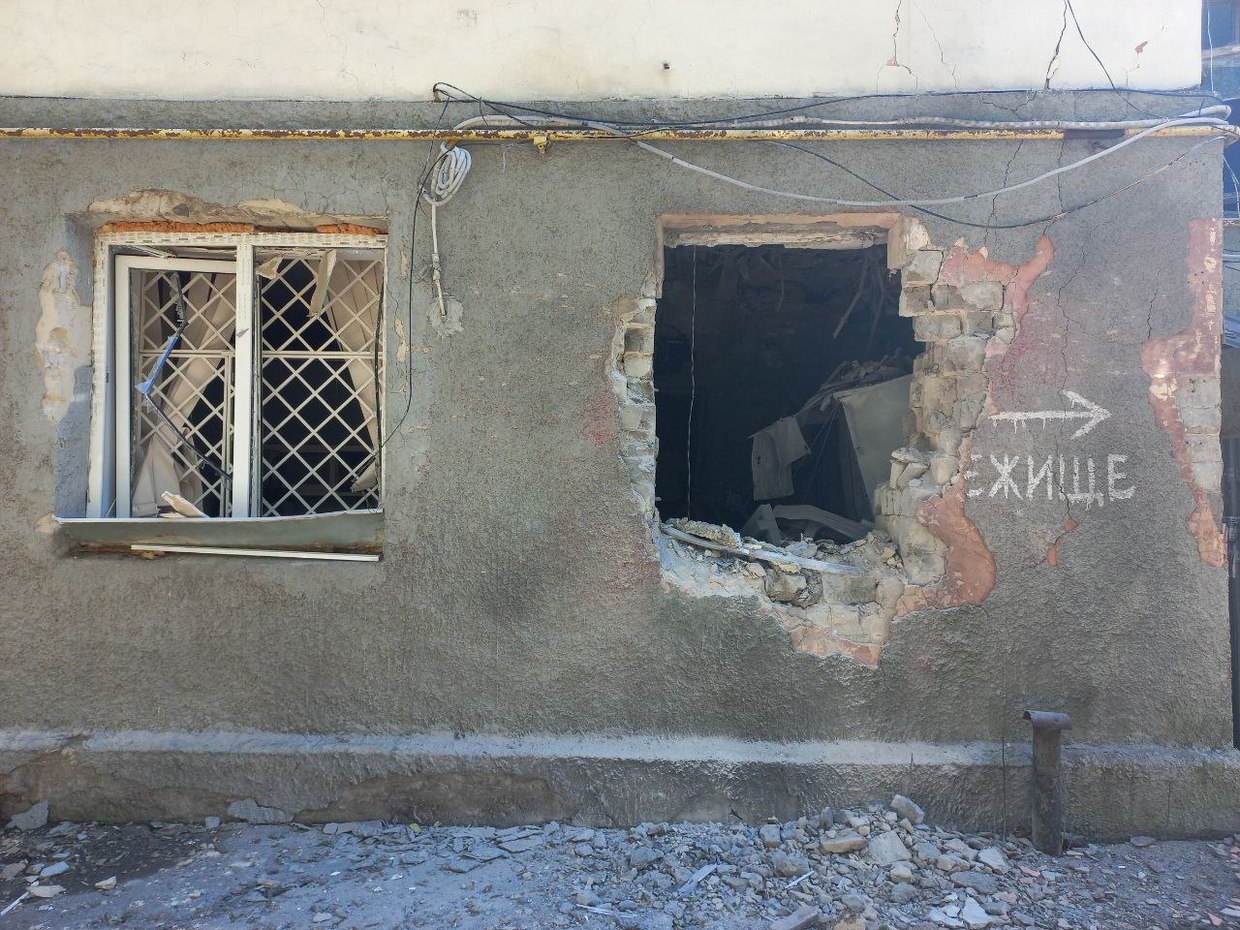 Victims of another Ukrainian assault, which took place on Saturday, didn't have that option. The center of Donetsk was hit by at around ten bombs over the course of 30 minutes around noon. At least four civilians were killed, one of whom I saw still on the ground. Some minutes later, her body was taken away. One of the shells hit a car driving along Artema Street, setting it ablaze and killing two civilians. By the time I reached that site, the vehicle had burned out, the dead taken away. Workers were already repaving the roads, sweeping debris and glass from sidewalks.
From earlier today, upon arriving back in Donetsk which was being bombed by Ukraine.

"According to the JCCC, this time AFU fired 13 shells of 155 mm caliber at the center of Donetsk."https://t.co/jBgh9oNLBW https://t.co/c2ik3Oa0Sd

— Eva Karene Bartlett (@EvaKBartlett) September 17, 2022
Western weapons killing Donbass civilians
When Russian and Donbass voices state that Ukraine is killing Donbass civilians with Western weapons, the reply is silence, derision, or inversion of reality: claims that Russia is bombing Donbass – which any ordinary resident here would disprove easily, having been under Ukraine's shelling for over eight years.
"…Fragments of NATO-style weapons, French, American, Spanish, etc. are found at shelling sites. However, the "civilized" world is not interested in where & how their military assistance to Ukraine is used.

We call on the West to pay attention to this!"#StopKillingDonbass

— Eva Karene Bartlett (@EvaKBartlett) September 18, 2022
War correspondent, Christelle Neant, wrote of Saturday's bombings: 
"After submitting the photos of the shrapnel I found on the spot to Adrien Bocquet, who is now a NATO weapons expert for the DPR's representation in the JCCC (Joint Monitoring and Co-ordination Center on Ukraine's War Crimes), he confirmed that they were American 155mm shells, some fired from Caesar guns and others from TRF1 guns.
The famous TRF1 guns that can fire (banned) 155mm cluster munitions, which I had mentioned in June, and which the Western press had assured that France had not supplied to Ukraine! Before learning at the beginning of September that Paris had indeed sold them to Kiev!"
Europeans in Germany, France and Italy recently held "#StopKillingDonbass" actions, denouncing the sale of Western weapons to Ukraine, and calling for it to end. It was rather fitting that the actions occurred the day after Ukraine bombed central Donetsk again. 
Necessary initiative:

"Actions for stopping the supply of weapons to Ukraine by the West have already taken place in Germany & Italy. The event is currently starting in France & we are expecting another action from Italy."#StopKillingDonbass pic.twitter.com/TMUgBkcKC4

— Eva Karene Bartlett (@EvaKBartlett) September 18, 2022
These actions were followed by the release of a petition against arms supplies to Ukraine, which stated:
"Today, contrary to the fundamental principles set forth in Article 2 of the UN Charter, in particular, the principles of sovereign equality and the peaceful settlement of international disputes, our countries supply Ukraine with weapons that cause massive deaths and injuries of civilians in Donbass, including children." 

READ MORE: Second Donbass republic wants vote on uniting with Russia

It concludes: "We demand an end to the financing of state terrorism and genocide against the people of Donbass, as well as the ongoing violations of the Geneva Conventions of 1949 and other acts of international humanitarian law since 2014."
At this point, there is no safe region in Donetsk, nowhere is off-limits for Ukraine's bombings, not maternity hospitals, nor busy markets. The issue does, however, appear to be off-limits for the reporting of Western corporate-owned media.
Sanctioned Son Of Russian Tycoon Records 'I'm A Ukrainian' Video Appeal
Mikhail Fridman's son Alexander Ozhelskiy accused Kiev's "f****** bureaucrats" of sanctioning him despite his stance
Alexander Ozhelskiy, son of a Russian business tycoon Mikhail Fridman, has called on Kiev to lift "unfair" sanctions against him. In a YouTube video address, recorded in English, the 22-year-old businessman accused the "f****** bureaucrats" of ignoring his pro-Ukrainian stance.
"I can't believe that my position regarding the war wasn't even taken into consideration. And I can't believe that the sole reason for these sanctions is my relation to another person," Ozhelskiy said.
He emphasized that he is "appalled and offended" by the Ukrainian authorities' October 20 decision to include him in their list of 256 sanctioned Russian businessmen and their relatives.
Ozhelskiy explained that he has been opposing the Russian military operation in Ukraine "since day one," left Russia immediately after its launch on February 24 and has no plans to return.
"I left a lot, I left my friends, I left my business and I left it because I value my freedom more," the businessman explained, revealing that he is now based in Dubai and lives in an Airbnb apartment, rather than in a "f****** mansion."
Ozhelskiy said that in the past he had participated in "pro-Ukrainian protests" in London and in some demonstartions in Russia and that he doesn't understand why "a bunch of f****** bureaucrats" is ignoring those facts.
"I think that this decision should be overturned," he said.
Fridman's son emphasized that he considers himself Ukrainian and "can't believe" that he cannot visit his relatives in the country anymore.
Read more

Zelensky sanctions thousands of Russians
Ozhelskiy is the only son of Lviv-born Fridman. In May, he, along with his four sisters, featured on the Forbes' list of the richest heirs of Russian billionaires, with his inheritance share estimated at $2,6 billion.
Fridman, however, made it clear several years ago that he was going to leave almost all of his wealth to the charity rather than to his children.
In March, the $13-billion worth magnate said that the sanctions imposed against him and  against other Russian businessmen by the Western countries are "unfair" and "useless."
He also described an assumption that being close to the Kremlin is paramount to make billions in Russia, as a "very typical and inappropriate" myth.
US-Led Force Might Intervene In Ukraine Conflict – Ex-CIA Chief
The US and its allies may join the conflict between Moscow and Kiev even if there is no threat to NATO, David Petraeus believes
The US and its allies might directly intervene in the ongoing conflict between Moscow and Kiev, even when there is no threat to any NATO member states, retired US Army general David Petraeus told France's L'Express weekly on Saturday. Washington might form a new coalition of the willing in such a scenario and use it instead of NATO, Petraeus, who also briefly served as the CIA director, believes.
Russia could take some actions in Ukraine that would be "so shocking and so horrific" that it would prompt a response from the US and other nations, he said, adding that they "might react in one way or another, but as a multinational force led by the US and not as a NATO force."
The military alliance would still likely be bound by its treaty and would only join the conflict if Article 5 is invoked, i.e. if one of its members is attacked, the general believes. Petraeus also said that Moscow is not interested in escalating the conflict and turning it into a global war. A wider conflict is "the last thing" Russian President Vladimir Putin needs right now, he added.
Earlier in October, Petraeus claimed that the US could wipe out all Russian forces in Ukraine, alongside with the Russian Black Sea fleet, if Moscow uses nuclear arms in Ukraine. On Saturday, he doubled down on these words by saying that Washington's response to such a move on Russia's part would involve "more than diplomatic … economic and legal actions."
Read more

Ex-CIA chief outlines potential US response if Russia uses nukes
At the same time, Petraeus said that his earlier words had described "just one" of "many options" America has in store in case Russia resorts to the use of nuclear arms, which he called an "extremely bad decision."
The general also said that he still thinks there is nothing Russia could do to change the situation on the frontlines, which, according to Petraeus, is unfavorable to Moscow.
Petraeus commanded US forces in Afghanistan from 2010 to 2011, presiding over America's highest death tolls during the 20-year war, and increased civilian casualties.
The general helped persuade then-President Barack Obama to deploy an additional 30,000 US troops to the country, but his counterinsurgency plan, which hinged on "securing and serving" the local population, flopped.
He then became CIA director in 2011, only to resign the following year after having an extramarital affair with the woman who was writing his biography.
Russia Offers 'heating Points' In EU Cities
Russian cultural centers in Finland and Luxembourg have welcomed their first visitors
Russian cultural centers in Finland and Luxembourg are welcoming visitors who need to "warm up" as energy prices continue to skyrocket, according to the country's federal agency for compatriots living abroad and international humanitarian cooperation.
The agency, Rossotrudnichestvo, has opened "heating points" in its centers, which provide those in need with an opportunity to warm up while enjoying tea or watching a movie.
"Little by little, [the people] are coming. In Finland, Luxembourg, they were already warming up yesterday. The film program is up to February," a spokesperson told the Russian media on Saturday.
As the energy crisis continues in the European Union, exacerbated by anti-Russia sanctions and a sharp decrease in Russian energy supplies, Rossotrudnichestvo said on Friday. It added that "human warmth from Russia" and its "traditional hospitality" is what "freezing European families" need.
Read more

EU says its gas reserves are ready for winter. But there's a catch
While the agency emphasized that its Russian houses "are outside of politics," the head of the agency, Evgeny Primakov, made it clear who he believes is responsible for the unfolding crisis.
"Europeans, do not freeze because of your stupid and evil leaders! If your children are wrapped in jackets at home and you have started to save heavily on electricity because Ursula [von der Leyen], Olaf [Scholz] and Emmanuel [Macron] gave away your money for weapons for the Ukrainian Nazis, come and warm up in our cultural centers in your capitals," he wrote on Telegram.
Apart from having tea and enjoying movies and cartoons, visitors to the Russian houses will also be able to recharge their phones and get involved in "a lot of interesting things going on," Primakov said.
Following the launch of Moscow's military operation in Ukraine, the EU authorities pledged to end their dependence on Russian energy supplies as quickly as possible. 
President Vladimir Putin likened the bloc's attempts to cut itself off from Russian fossil fuels to economic "suicide."