The US Isn't At War With Russia, Technically – But Its Support For Ukraine Offers A Classic Case Of A Proxy War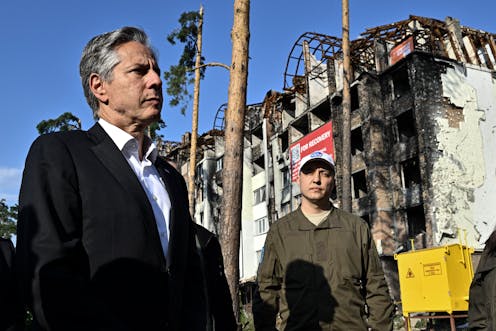 The United States and European countries continue to pledge their support to Ukraine as Russia's invasion drags on into its ninth month – and have backed their alliance with recurrent deliveries of advanced weaponry and money.
But despite Russian President Vladimir Putin's threats to Western powers of nuclear strikes, neither the U.S. nor any Western European country, unified under the military coalition NATO, has actually declared it is part of the war.
The U.S. has provided US$17.6 billion in security assistance to Ukraine since Russia first invaded Ukraine in February 2022. But it can be difficult to track foreign aid and to distinguish between money that governments have promised and actually delivered. Some unofficial estimates place U.S. commitments to Ukraine made in 2022 much higher, at $40 billion.
European countries, meanwhile, have collectively donated an estimated 29 billion euros – or more than $28.3 billion – in security, financial and humanitarian aid in 2022 – not including additional aid to Ukrainian refugees.
This support has made it possible for Ukraine to fend off a Russian conquest of the country. Without Western aid, equipment and training, Ukraine would likely have already suffered defeat to the Russian incursion.
As a scholar of war and military interventions, I think the situation in Ukraine represents a classic case of a proxy war, in which outsiders give allies money, weapons and other kinds of support – but not at the risk of their own soldiers' or civilians' lives.
A better understanding of what proxy wars actually are, and what purpose they serve, provides useful context for the the U.S. and NATO's current unofficial involvement in the Ukraine war.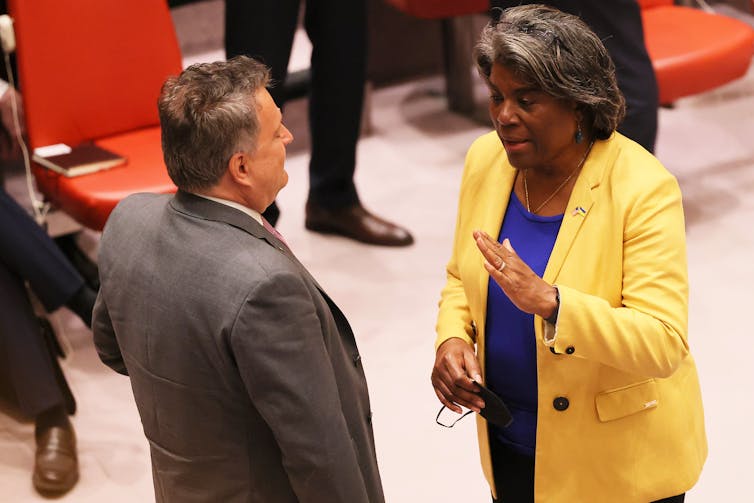 What proxy wars are
Proxy wars are armed conflicts in which one nation sends resources other than its own military personnel – like weapons, trainers, advisers, surveillance drones, money or even mercenaries – to support another country fighting in a war. This is often done to achieve a political objective, like regime change in another country.
Most proxy wars feature a government trying to determine an outcome in another country's war. The U.S., for example, supported France with aircraft, vehicles, and weapons in France's effort to reestablish control of what was then known as Indochina from 1946 to 1954. The Vietnam War started just one year after, in 1955.
Proxy wars allow governments to hurt an adversary without actually declaring war and sending in troops.
Of course, not every government has an equal capacity to financially support other wars. This is why relatively powerful governments with global reach, like the U.S. and the United Kingdom, tend to sponsor proxy wars.
Why proxy wars are taken on
Proxy wars became especially useful for the U.S. and other major powers after World War II, because the 1945 United Nations charter outlawed war except in cases of self-defense.
They also gained prominence because the U.S. and the Soviet Union each possessed nuclear weapons during the Cold War.
That meant any direct clash came with a very large risk of escalating from conventional fighting to a species-ending nuclear war.
Both the U.S. and Soviet Union sponsored proxy wars in places like Angola, where communism and oil were both factors, and El Salvador, where the rise of communism was also a concern for the U.S., during the 1970s and 1980s. This involvement was a way for each government to hurt the other's interests without significantly risking further military escalation.
Proxy wars may also help establish a foreign government's legitimacy. If the U.S. directly supports one side in a smaller country's civil war, it may look like a bully. But if the U.S. defends its engagement by saying it is trying to oppose major foreign adversaries like the Soviet Union or China, then meddling in a third country's affairs can look necessary and vital.
After his initial February 2022 assault of Ukraine faltered in March, Putin increased his attacks on Western countries, saying that economic sanctions Western countries approved shortly after the invasion were like a declaration of war.
Putin says that Russia is fighting the West and the U.S. – this could help justify Russia's losses and maintain domestic support for the war.
Other kinds of proxy wars
There are two other main kinds of proxy wars, both intended to accomplish political goals without risking a country's own people.
The first kind is government support of terrorist groups that attack other governments. Iran's financial and political support of Hezbollah – a Muslim political party and militant group in Lebanon that seeks Israel's destruction – is an example.
But while Iran's use of Hezbollah to attack Israel is by proxy, this wouldn't exactly count as proxy war. Although terrorism involves lethal armed violence, it doesn't rise to the level of war, in terms of loss of life and control of territory, for example.
The second form involves supporting an internationally recognized government engaged an international war. This is a rare occurrence, mainly because wars between different countries are more rare than internal conflicts.
Russia's assault on Ukraine in 2022 is an international war, but NATO cannot easily risk a direct attack on Russia, since Russia has nuclear weapons and is also a permanent member of the U.N. Security Council. Russia is also unlikely to withdraw from Ukraine short of defeat on the battlefield, making Ukraine an ideal proxy client – or, at least, ideal for NATO, but very costly in terms of human life for Ukraine and Russia.
If NATO succeeds in helping Ukraine defeat Russia, powerful governments are likely to see proxy wars as a useful tool. But if Russia escalates to attacking NATO countries directly, or uses nuclear weapons in Ukraine, proxy wars may be replaced by direct confrontation and, by extension, a third world war. Let's hope that doesn't happen.

Monica Duffy Toft does not work for, consult, own shares in or receive funding from any company or organization that would benefit from this article, and has disclosed no relevant affiliations beyond their academic appointment.
The FDA withdraws the emergency use authorization of Evusheld, which was touted as a COVID prevention tool
The US Food and Drug Administration is withdrawing its emergency use authorization of a COVID antibody therapy because it's unlikely to be effective against variants.
Evusheld, which is made by British Swedish pharmaceutical and biotechnology company, AstraZeneca, was first authorized in December 2021 as preexposure protective treatment against the virus for those who are immunocompromised and less likely to generate antibodies from vaccination.
However, the FDA said the medication does not neutralize several Omicron subvariants.
According to the centers for disease control and prevention, these subvariants make up at least an estimated 90 percent of cases in the us. Despite Evusheld losing emergency use authorization status, the FDA urged providers not to discard their doses of the drug. Evusheld currently remains authorized in other countries where it is approved for COVID preexposure treatment, including the EU and Japan."
AstraZeneca has issued a statement saying it is aware of the decision and that it is cooperating with the FDA.
Watch the full report here
British firefighters vote to strike for the first time in 20 years
British firefighters are planning a nationwide strike. If they do, it will be the first strike for them in 20 years.
According to their union, an overwhelming 88 percent of those who voted were in favor of the strike. They had a 73 percent turnout for the vote. The firefighters are concerned about their pay. They recently rejected a 5 percent pay offer from the government. Many firefighters lost at least 12 percent of the value of their pay since 2010.
A union rep said, "Firefighters were among Britain's COVID heroes who kept frontline services going during the pandemic. The prime minister has badly misjudged the public mood by imposing pay cuts on key workers."
In an effort to prevent strikes, the union said it has given the government and businesses 10 days to come up with a better offer that could be submitted to a vote of members.
Watch the full report here
Could the countries that form BRICS create a common currency?
The five countries that form BRICS will soon discuss the possibility of creating a common currency.
Brazil, Russia. India, China, and south Africa plan to discuss this currency at their upcoming group meeting this August. This new currency would be used for all transactions between the BRICS countries and pegged to the Euro to make conversion easier.
The idea is to build a powerful and independent alliance to counterbalance the United States.
Russian foreign minister Sergey Lavrov made the announcement saying quote "serious, self-respecting countries are well aware of what is at stake, they see the incompetence of the 'masters' of the current international monetary and financial system, and want to create their own mechanisms to ensure sustainable development, which will be protected from outside dictates."
Unlike fiat money, the potential new BRICS currency would be backed by real assets and resources – including human, natural resources, and raw materials.
Watch the full report here