South Carolina's Execution By Firing Squad: The Last Reenactment Of The Civil War?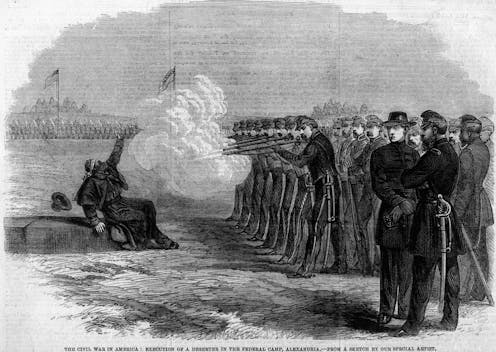 Americans have an appetite for reenacting the past, especially the battles of the U.S. Civil War, which took place from 1861 to 1865. Every year, in an effort to relive something of the nation's bloodiest war, thousands don blue and gray uniforms and gather on fields where the distant echoes of war have since faded.
There are dozens of Civil War reenactments in the U.S. every year. Participants take them very seriously. Food, uniforms, even the smells of war – all are recreated to lend authenticity to the events. Only the bullets and shells are not "real."
Now, the U.S. reenactment community has a potential new member: the state of South Carolina.
That's courtesy of the state's decision in 2021 to allow its inmates on death row the option of execution by firing squad. With that move, South Carolina has elected to deploy a form of capital punishment not used in the state since the Civil War.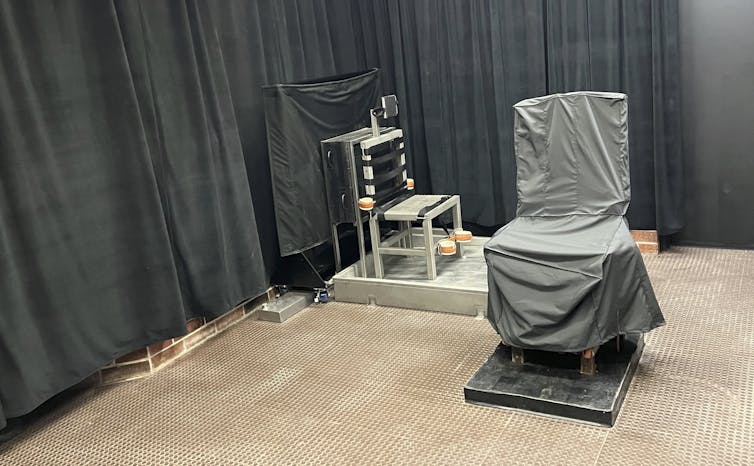 A target placed over his heart
The reason South Carolina adopted the firing squad is straightforward: The state apparently has trouble securing enough lethal injection drugs to execute prisoners. That leaves the electric chair as an option. And now the firing squad.
The firing squad method has yet to be used and is currently under appeal at the state Supreme Court. I am an expert witness in this case and a historian of the Civil War.
South Carolina's Department of Corrections has drafted firing squad protocols. The firing squad will be made up of three members drawn from prison staff. They will be behind a wall, all three of their rifles loaded with live ammunition and aimed at the inmate through an opening in the wall.
After entering the chamber, the inmate will be strapped into a chair, a hood placed over his head, and a target placed over his heart.
At this point, the warden will read the execution order aloud. Members of the squad will then fire their rifles. After the inmate is declared dead, witnesses leave.
Exclusively military punishment
Firing squad executions are extremely rare in U.S. history.
Only four states currently have it on the books: South Carolina, Mississippi, Oklahoma and Utah. Only Utah has used it as an actual execution method. Since 1976, just three executions have been carried out by firing squad in Utah.
Execution by firing squad has, in fact, never been common in U.S. history. While the term "firing squad" can be found in U.S. newspapers before the Civil War, the phrase was usually used to describe a different custom, akin to a salute, when guns were fired into the air to honor an individual of note after death.
The use of the firing squad was also rare during the Civil War. It was used principally to punish soldiers who deserted from either the Union or Confederate Army.

According to Thomas P. Lowry and Lewis Laska's 2009 study "Confederate Death Sentences: A Reference Guide," of the 26,015 Union soldiers tried for desertion, approximately 1,243 of them, or 4.8%, were sentenced to die by firing squad; 12.4% of Confederate soldiers tried for desertion in the Army of Northern Virginia were sentenced to death by this method.
Besides the executions in Utah, there are no instances of the firing squad being used in the U.S. following the Civil War. It was an exclusively military form of punishment.
Because the firing squad was designed to deter deserters during the war, it was often carried out in a ritualized manner. It was almost always done publicly, and it was done with the explicit intention of instilling terror.
Striking similarities then and now
The similarities between Civil War firing squads and those proposed by the state of South Carolina are striking.
Like the guards drawn from the prison, the Civil War firing squad was selected from the ranks of soldiers. They typically carried out the punishment at the command of an assistant provost marshal or provost marshal, who is an army officer in charge of the military police.
The firing squad usually stood several feet from the condemned soldier and aimed at a target placed over his heart. In most cases, a blindfold was placed over the condemned soldier's eyes and his hands were tied.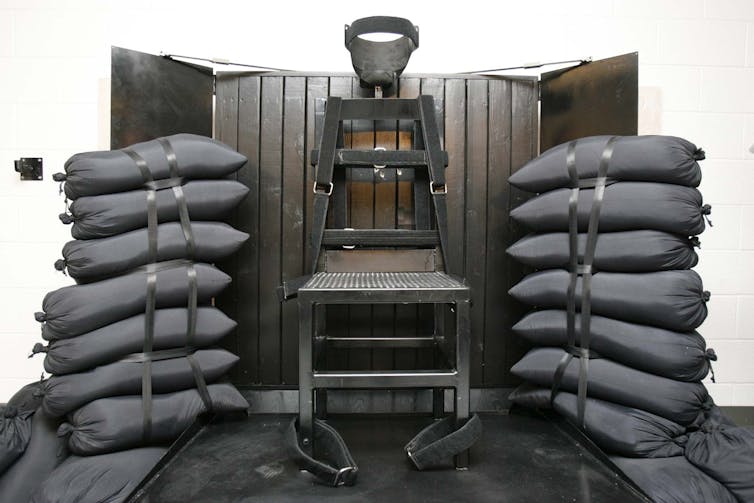 'The awful ceremony'
There were, of course, differences between then and now. Not all firing squad soldiers during the Civil War had live ammunition. One rifle could be blank, sparing even these war-hardened soldiers the knowledge of having killed an unarmed man.
In general, the firing squad took place in a public location, like a road, a town square or a battlefield. Plainly, this is not the case in the proposed South Carolina blueprint, although reporters were at the scene of Civil War executions and a member of the press will be allowed to witness firing squad executions in South Carolina.
Some comparisons remain elusive. Will the South Carolina firing squad offer an immediate, painless death? We know that Civil War firing squads were not always immediately effective. For example, according to an 1864 report of a firing squad execution published in the Vicksburg Herald, one soldier from the 49th Regiment Colored Infantry "had to be dispatched by pistol, immediate death not resulting from the wounds by the muskets."
Will the inmate suffer psychologically and emotionally when executed in South Carolina? Again, the Civil War provides clues. Harper's Weekly said of an 1863 mass firing squad execution: "They all suffered terribly mentally, and as they marched to their own funeral they staggered with mortal agony like a drunken man."
Witnesses could also find the spectacle difficult to watch. According to the
Louisville Daily Journal in 1863, "The scene was now becoming painful to the spectators, and many turned away, not wishing to witness more of the awful ceremony." Sometimes soldiers charged with firing the deadly rounds deliberately missed their target, the burden of killing in this fashion proving too much.
Civil War reenactors know the limits of what they do. They do not attempt to recreate the fatal 1864 sinking of the Confederate H.L. Hunley submarine in Charleston Harbor; neither do they attempt to recreate deadly monthlong sieges, such as the one at Vicksburg in 1863. Nor do they reenact firing squad executions.
Yet the state of South Carolina is willing to quite literally reenact a practice from some of the country's bloodiest history – a practice that some soldiers, even in the middle of the greatest carnage this nation has experienced, found themselves unable to engage in.

Mark M. Smith is affiliated with Justice 360. I served as an expert witness for the organization and submitted an affidavit in a case heard by the SC Supreme Court.
Black Police Officers Aren't Colorblind – They're Infected By The Same Anti-Black Bias As American Society And Police In General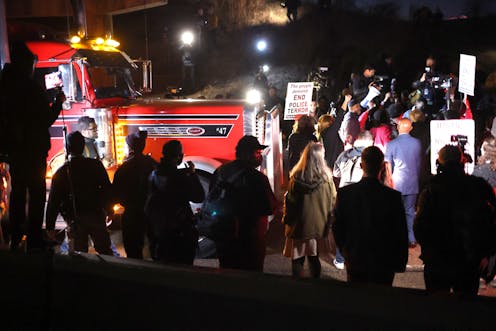 Once again, Americans are left reeling from the horror of video footage showing police brutalizing an unarmed Black man who later died.
Some details in the latest case of extreme police violence were gut-wrenchingly familiar: a police traffic stop of a Black male motorist turned violent. But, for many of us, other details were unfamiliar: The five police officers accused of using everything from pepper spray to a Taser, a police baton and intermittent kicks and punches against the motorist were also Black.
After pulling over 29-year-old Tyre Nichols for what they said was reckless driving, Black officers in the Memphis Police Department's now disbanded SCORPION unit pepper-sprayed, kicked and beat Nichols, ultimately to death.
The Conversation asked Rashad Shabazz, a geographer and scholar of African American studies at Arizona State University, to explore the societal conditions in which Black police officers could brutalize another Black man.
What could influence Black police officers to savagely beat a Black motorist?
Policing in the U.S. has, from its inception, treated Black people as domestic enemies. From the the slave patrols, which some historians consider to be among the nation's earliest forms of policing, to the murder of George Floyd, and now the death of Nichols, law enforcement officers often have viewed Black people as what sociologist and civil rights activist W.E.B. Du Bois, in "The Souls of Black Folk," called a "problem."
American society assumes that Black people are prone to criminality and therefore should be subject to state power in the form of policing or, in some cases, vigilantism – as in the killing of Ahmaud Arbury. This is a link deeply woven into American consciousness. And Black people are not immune. In this way, the long-held targeting of Black men by police and widely held negative beliefs about them are a powerful cocktail that can inform even Black officers to stop, detain and brutally beat a man who looks just like them.
Could their actions have been motivated by anti-Black bias?
It's hard to investigate the minds of the officers who beat Nichols so savagely and say for sure what motivated them. But there is ample research that suggests anti-Blackness is a factor in American policing. And Black officers, agents of an institutionally racist system, are affected by this. Anti-Blackness affects Black people, too. And this might explain why Black police officers exhibit more anti-Black bias than the Black population as a whole.
To comprehend this, we have to take a step back and think about race. Stuart Hall, a cultural theorist, described race as a sign. When we look at skin color or people as racialized subjects, they signify something to us. Black people, in this society – and in other parts of the world – for many signify danger, threat and criminality. And as a result, institutions like the criminal justice system respond to their perceived threat with profiling, harassment and violence.
Our surprise that five Black police officers could brutalize another Black man indicates we have an impoverished understanding of race and racism in this country.
What does Tyre Nichols' death mean for calls to diversify policing?
For years, elected officials, activists and citizens have been making calls to reform policing. Many have said bringing more people from ethnically diverse backgrounds onto police forces would go a long way toward correcting institutional racism in the criminal justice system.
The final report of "The President's Task Force on 21st Century Policing," commissioned through an executive order by President Barack Obama, called for law enforcement agencies to "strive to create a workforce that encompasses a broad range of diversity, including race, gender, language, life experience, and cultural background to improve understanding and effectiveness."
One recent study concluded that Black and Hispanic police officers make fewer traffic stops and use force less often than their white counterparts. But, at the same time, Black and brown police officers live in the same culture that sees Black people as criminals and threats. So simply having more officers of color doesn't do enough to fix the problem.
How does seeing video of another Black man brutalized by police, this time Black officers, affect Black people?
Over the past decade, videos of Black people killed at the hands of police officers have filled social media and news sites. I, for one, cannot watch them because they terrify me and amplify fears for my safety and that of my family and friends. I watched about 30 seconds of the Black police officers pummeling Nichols and couldn't take any more. I know I'm not alone. Studies tell us that police killings of unarmed Black people are psychologically traumatizing events for Black people. This kind of horror should be traumatizing to the nation. But if Black is the sign of danger and criminality, who will have empathy for the Tyre Nicholses of the world?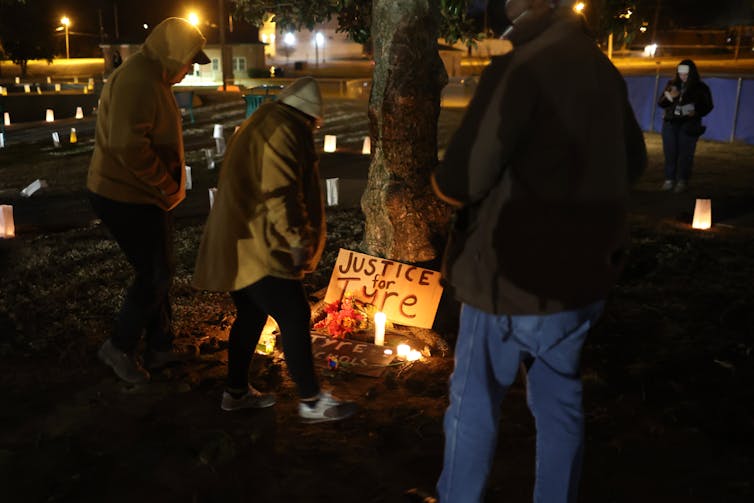 Rashad Shabazz does not work for, consult, own shares in or receive funding from any company or organization that would benefit from this article, and has disclosed no relevant affiliations beyond their academic appointment.
Sheriffs Who See Themselves As Ultimate Defenders Of The Constitution Are Especially Worried About Gun Rights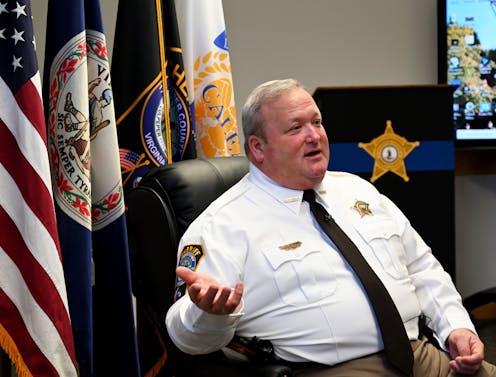 A gun control law signed by Gov. J.B. Pritzker of Illinois in January 2023 immediately faced opposition from a group key to the law's enforcement: sheriffs. They are county-level, locally elected public officials who run jails, provide courthouse security, and, in many counties, are the primary providers of law enforcement services.
In Illinois, and around the nation, some sheriffs also view themselves as the ultimate defenders of the U.S. Constitution and its rights – even though there's no law and no history giving them that position.
In Illinois, approximately 80 of the state's 102 sheriffs oppose the Protect Illinois Communities Act, a law that banned the sale and distribution of assault weapons, high-capacity magazines and switches that convert firearms to assault weapons. Anyone who owned those items before the law passed in January 2023 must register them with the state. Most of the sheriffs who opposed it issued statements saying they believe the law violates the Second Amendment to the U.S. Constitution, and therefore they will not be enforcing it.
Sheriff Justin Oliver of Brown County, for example, posted a public statement on the office's Facebook page, on letterhead. The statement says he swore to protect the rights provided in the Constitution and he believes that the act violates the Second Amendment, so "as chief law enforcement officer for Brown County … neither myself nor my officers will be checking to ensure that lawful gun owners register their weapons with the State, nor will we be arresting or housing law abiding individuals."
In our research surveying sheriffs, in 2012 and again in 2021, we have found that sheriffs are far more likely to support looser gun laws than the public at large. And we have also found that that perspective is linked to some sheriffs' views that they are the highest level of defenders of the U.S. Constitution and Americans' constitutional rights.
A last line of defense?
We traced sheriffs' views of themselves as ultimate protectors of the Constitution to the Constitutional Sheriffs and Peace Officers Association, a political organization founded in 2009 by Richard Mack, a former sheriff of Graham County, Arizona.
Mack first gained notoriety in right-wing circles as a plaintiff in Printz v. United States, decided by the U.S. Supreme Court in 1996. In its ruling, the court declared a portion of the 1993 Brady Handgun Violence Prevention Act unconstitutional. The ruling said the law's requirement for state and local officials to perform background checks on prospective gun buyers violated the 10th Amendment, which limits how much influence the federal government can have on state and local governments.
The association, which Mack founded after former President Barack Obama's election, calls itself a network of (self-described) "constitutional sheriffs" that encourages sheriffs to refuse to enforce laws they believe to be unconstitutional and to resist overreach by the federal government.
Its key idea dates back further, though, to Posse Comitatus. That was a white supremacist, antisemitic right-wing movement in the 1970s that believed as part of its conspiratorial ideology that the county sheriff held the ultimate government authority in the United States. This view is not historically accurate, nor is it found in the U.S. Constitution.
Nevertheless, Mack and his organization have spent more than a decade actively recruiting and training sheriffs to believe that their office is more powerful than the president, and that they can reject laws they believe to be unconstitutional. Mack told NPR in 2019 that sheriffs "have the responsibility to interpose – it's the 'doctrine of interposition' – whenever anybody is trying to diminish or violate the individual rights of our counties."
Their own views
This movement of so-called "constitutional sheriffs" has been particularly successful at recruiting more sheriffs into its ideology around issues of guns, immigration and COVID-related policies.
The resistance in Illinois is not the first effort of sheriffs to resist gun control. When Obama pushed for national gun control legislation after the 2012 Sandy Hook Elementary School shooting in Newtown, Connecticut, Mack's group recruited more than 450 sheriffs and 19 state sheriff associations to oppose federal gun control efforts.
Similarly, when the state of Washington passed a gun safety measure in 2018, sheriffs statewide opposed the measure and threatened not to enforce it because they said it violated people's constitutional rights.
And in Illinois, its followers continue to stand in the way of the law, even though they lack any legal justification for doing so. State and federal officials have called on Illinois sheriffs to enforce the law, as their oaths of office require. But many sheriffs continue to say they get to determine which laws to enforce, even if their constituents disagree.

Mirya Holman collaborates with the Marshall Project to engage in research on sheriffs and their attitudes. As a part of that project, the Marshall Foundation paid for research costs by purchasing a contact list for sheriffs.
Emily Farris collaborates with the Marshall Project to engage in research on sheriffs and their attitudes. As a part of that project, the Marshall Foundation paid for research costs by purchasing a contact list for sheriffs.
Meet Bayard Rustin, Often-Forgotten Civil Rights Activist, Gay Rights Advocate, Union Organizer, Pacifist And Man Of Compassion For All In Trouble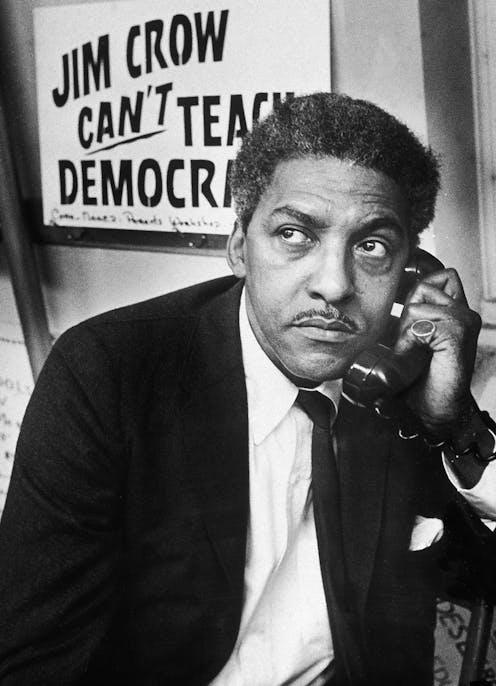 As I began writing "Bayard Rustin: American Dreamer," my biography of the 20th-century radical leader and activist, one of my colleagues cautioned me not to "fall in love."
This, of course, is good advice for any biographer, and I tried to follow it.
But it wasn't easy, because Bayard Rustin was America's signature radical voice during the 20th century, and yes, I believe those voices includes that of the Rev. Martin Luther King Jr., whom Rustin trained and mentored.
His vision of nonviolence was breathtakingly broad.
He was a civil rights activist, a labor unionist, a socialist, a pacifist and, later in life, a gay rights advocate.
Today, scholars would call Rustin an intersectionalist, a man who understood the complex effects of multiple forms of discrimination, including racism, sexism and classism.
Early days and activism
Born in West Chester, Pennsylvania, on March 17, 1912, Rustin was one of 12 children raised by their grandparents. It is believed that his devotion to civil rights was formed by his grandmother, whose work with the NAACP resulted in leaders of the Black community, such as W.E.B. Du Bois and Mary McLeod Bethune, visiting the Rustin home during his Quaker upbringing.
Rustin was present at the creation of a host of pivotal American liberation movements. He helped found the Congress of Racial Equality and the Southern Christian Leadership Conference, two civil rights organizations that were focused on ending the Jim Crow era of racial segregation.
He worked with Black trade unionist A. Philip Randolph on the 1941 March on Washington Movement, which bore fruit in an executive order by President Franklin Roosevelt banning racial discrimination in the nation's defense industries.
Rustin and Randolph worked again in 1948 on a successful campaign to end segregation in the U.S. military under President Harry Truman.
A pacifist, Rustin protested World War II by resisting the draft and, as a result, was imprisoned in 1944 as a conscientious objector.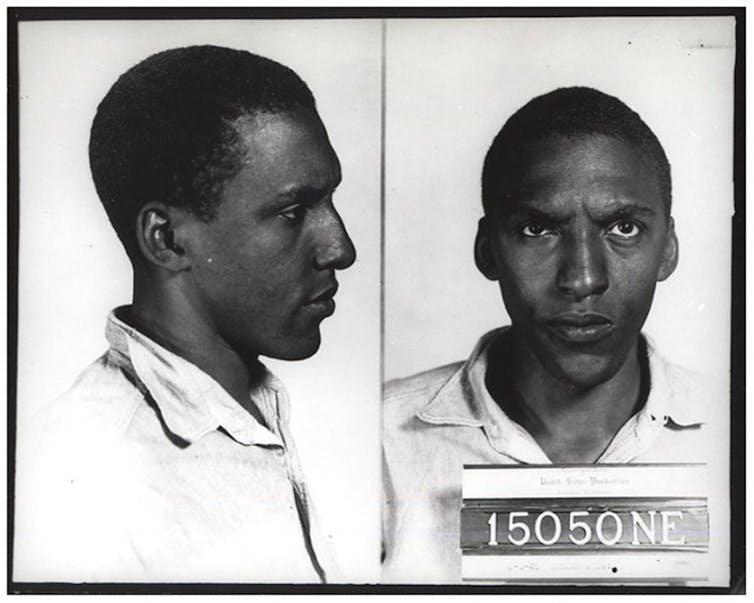 After his release in 1946, Rustin became a major figure for the next two decades in two prominent pacifist organizations, the Fellowship of Reconciliation and the War Resisters League, both of which opposed the use of violence to settle disputes between individuals or nations.
In 1947, he and members of the Congress of Racial Equality planned the Journey of Reconciliation, the first organized effort to desegregate interstate bus transportation in the South.
Role in Montgomery bus boycott
Because of that work to integrate public transportation, Randolph suggested in 1956 that Rustin meet with a young preacher in Alabama who was organizing a bus boycott there.
That meeting with the Rev. Martin Luther King Jr. during the Montgomery Bus Boycott of 1956 changed both men forever.
From then on Rustin advised King on the principles of Gandhi and nonviolent direct action that – when combined with lawsuits, voter registration drives and lobbying efforts – ultimately led to passage of both the Civil Rights Act of 1964 and the Voting Rights Act of 1965.
For Rustin, Black progress depended on politics and economics. To that end, in 1966 Rustin proposed the "Freedom Budget for All Americans" that promised every American employment, an income and access to health care.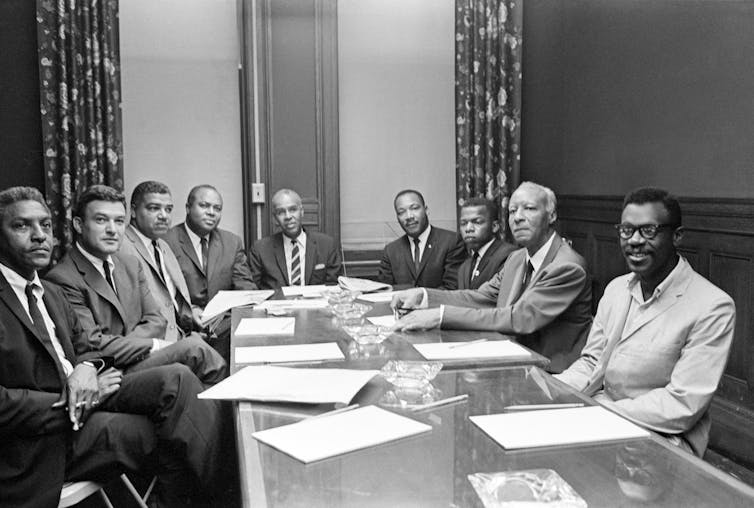 His proposal became the template for progressive political activists in the 21st century.
Jobs and freedom
Rustin is best remembered as the organizer and orchestrator of arguably the seminal event in American civil rights history – the 1963 March on Washington for Jobs and Freedom.
But it almost did not happen.
Rustin's homosexuality had always been an issue, and not just to his opponents on the American right or to J. Edgar Hoover and the FBI.
Many progressive activists who were open-minded on matters relating to civil and labor rights were much less so when it came to Rustin's sexuality.
Rustin had been fired by the Fellowship of Reconciliation after his 1953 conviction in Pasadena, California, on what was then known as a "public indecency" offense, involving sex with two other men in a parked car.
A few years later, King forced him out of the Southern Christian Leadership Conference, fearful of the damage the issue of Rustin's homosexuality could do to his organization.
It took the direct intervention of Randolph, Rustin's lifelong friend and champion, to get King and other major civil rights leaders to agree to his selection as the organizer and orchestrator of the March on Washington in 1963.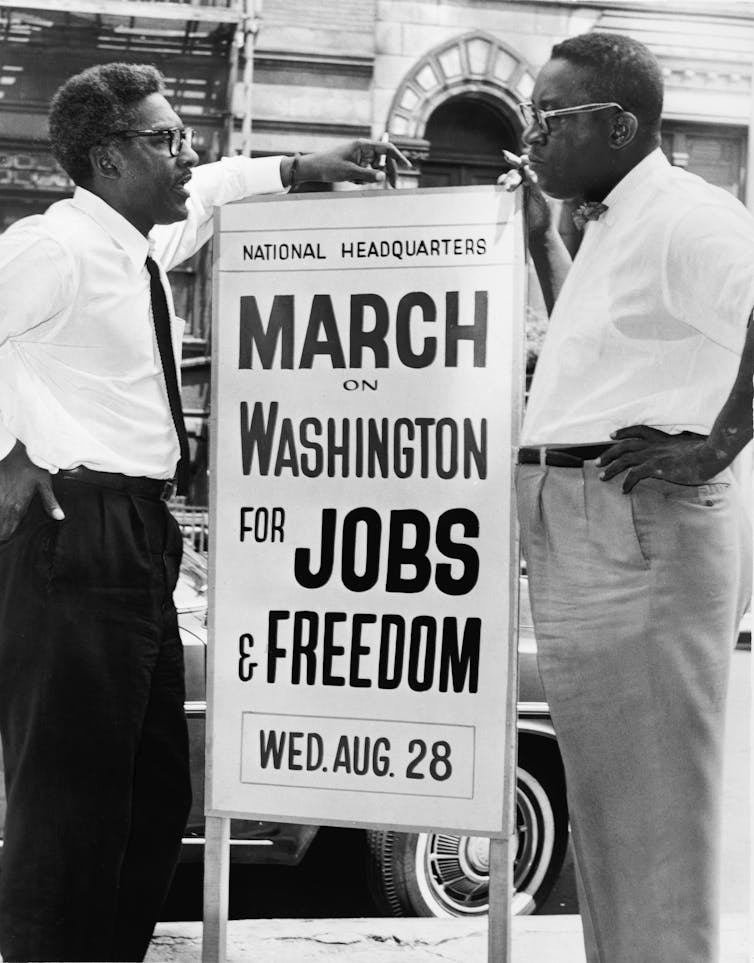 Rustin then had to survive a denunciation by segregationist Sen. Strom Thurmond on the floor of Congress shortly before the march, during which the South Carolina lawmaker read from FBI reports on Rustin's flirtation with communism – he had belonged to the Communist Party briefly as a young man – and his homosexuality and arrest in Pasadena.
But Rustin's ability to organize was now too valuable to lose, and this time King stood by him.
As my research shows, King knew that only Rustin, who had spent the previous two decades leading demonstrations and walking picket lines, had the knowledge and experience to move 250,000 people in and out of Washington, D.C., on a hot summer day.
King also knew that Rustin could manage everything in between, including the order of the speakers.
By insisting that King be placed last on the program, Rustin ensured that King would have the final word and maximum dramatic effect. Though Rustin didn't know it at the time, King's "I Have a Dream" remarks eventually constituted one of the greatest speeches ever delivered in American history.
Rustin's internal conflicts
The constituent parts of Rustin's radical vision were often at odds and difficult to achieve, forcing Rustin into wrenching choices, as I learned during my research.
During World War II, for instance, he chose pacifism over the cause of civil rights when he refused to bear arms against a racist Nazi regime.
During the Vietnam War, he chose socialism over pacifism when he muted his criticism of President Lyndon B. Johnson's policies in the hope of enacting his Freedom Budget for All Americans.
And in 1968, as a white-led teachers union and Black activists struggled for control of New York City's public education system during the bitter Ocean Hill-Brownsville crisis, Rustin chose labor rights over civil rights and class over race as he lent his support to the union.
These choices cost Rustin allies and friendships, as former colleagues who afforded themselves the luxury of one-issue purity denounced him as an apostate, a hypocrite, a turncoat or worse.
But Rustin was none of those.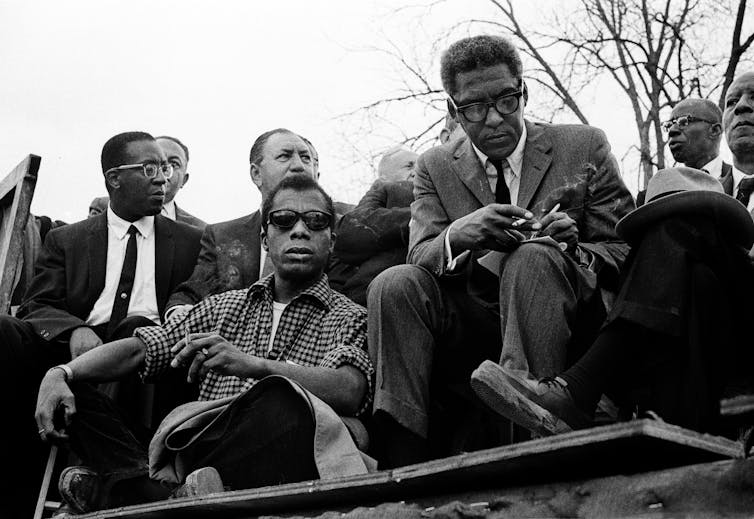 He dedicated his life to helping, as he put it, "people in trouble," whomever and wherever they might be.
Accordingly, he put himself on the line for democracy advocates all over the world. They included African Americans, Latinos, working men and women, union members, the poor, war critics, anti-nuclear protesters, gays and lesbians, students, leftists, Soviet Jews, and Haitian, Hmong and Afghan refugees.
If those allegiances appear to be contradictions, in my view they were of the best kind.
Love for Rustin?
Above all else, Rustin chose to help people in trouble based on their condition, not their identity.
For that he has, if not my love, then my profound respect.
Of all the voices I've heard on my journeys through America's 20th-century history, it is his that resonates most with me.
Rustin died in 1987, his radical vision unwavering until the end.

Jerald Podair does not work for, consult, own shares in or receive funding from any company or organization that would benefit from this article, and has disclosed no relevant affiliations beyond their academic appointment.