So You Want To Vote By Mail – 5 Essential Reads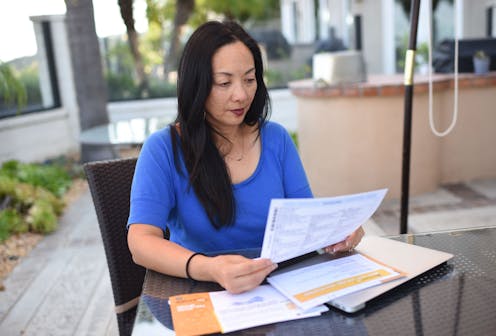 As the midterm elections approach, much of life has returned to its busy post-COVID-19 normal, even as the pandemic continues. Being busy and wary of sharing space with large numbers of strangers are among the many reasons people might consider skipping Election Day.
In most states, you can skip Election Day and still vote, though. In many ways, the most convenient way to vote is by mail – even if many states require you to file a form or use a website to request a ballot. You can examine the choices of candidates and questions, and consider your choices, as you would if you were to vote on Election Day. When you are ready, you can mark your ballot in your own time and either mail it back or drop it off at a local ballot drop box or government office – as long as you do it before your state's deadline.
Many people have questions about the integrity of this process, how they can be sure their vote will be counted accurately and how they can make sure it is even counted at all. Several scholars have written articles for The Conversation U.S. describing aspects of this system and explaining why it's trustworthy and safe.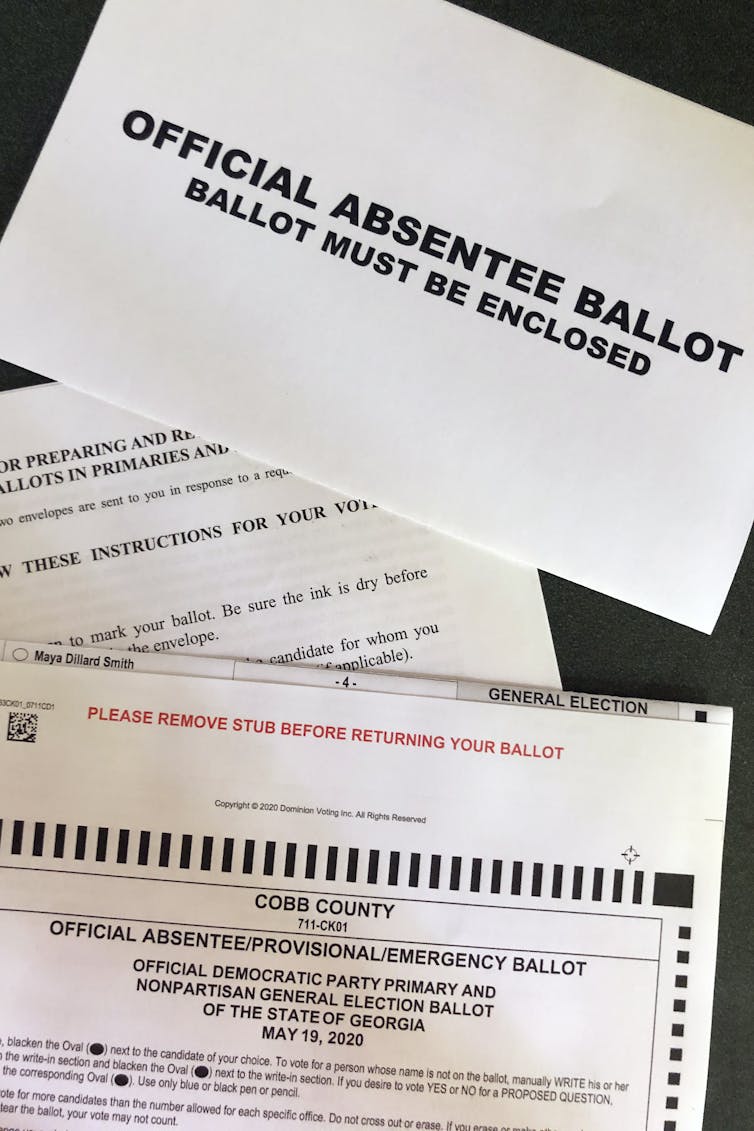 1. 'Built-in safeguards'
Charlotte Hill, a former local election official in San Francisco who now studies voting laws at the University of California, Berkeley, and political scientist Jake Grumbach from the University of Washington write about six ways mailed ballots are protected from fraud. Those include the facts that it's very hard to make a fake ballot and a fake envelope and that eagle-eyed postal and municipal workers are always on the lookout for irregularities.
"The mail-in voting process has several built-in safeguards that together make it hard for one person to vote fraudulently and even more difficult to commit voter fraud on a scale capable of swinging election outcomes," Hill and Grumbach write.
---


Read more:
6 ways mail-in ballots are protected from fraud


---
2. Lessons from Oregon
Since 1998, all elections in Oregon have been held by mail. Over that entire time, Priscilla Southwell, a professor emerita of political science at the University of Oregon, has watched how the system has worked and how people have reacted to it, and then she has analyzed its integrity.
"Oregon's experience shows that mail-in voting can be safe and secure, providing accurate and reliable results the public can be confident in," she writes.
Her conclusion reflects broad public support of the system: "Perhaps the strongest evidence that the system is equitable, fair, reliable and safe is that in two statewide surveys I have conducted over the years, a nearly identical percentage of Oregon Republicans and Democrats strongly support voting by mail, and the same is true of elected officials in the state."
---


Read more:
Mail-in voting lessons from Oregon, the state with the longest history of voting by mail


---
3. One caution
In an article crediting the convenience and integrity of voting by mail, political scientists Susan Orr of The College at Brockport, State University of New York, and James Johnson at the University of Rochester note one potential pitfall: Because it happens outside an official polling place, the act of voting isn't necessarily secret.
A person voting by mail may be more susceptible to the influence of a relative, friend or employer, or may even be observed while marking their ballot.
"The voter marks the ballot outside the supervision of election monitors – often at home. It's possible to do so in secret," they explain. "But secrecy is no longer guaranteed, and for some it may actually be impossible."
---


Read more:
Voting by mail is convenient, but not always secret


---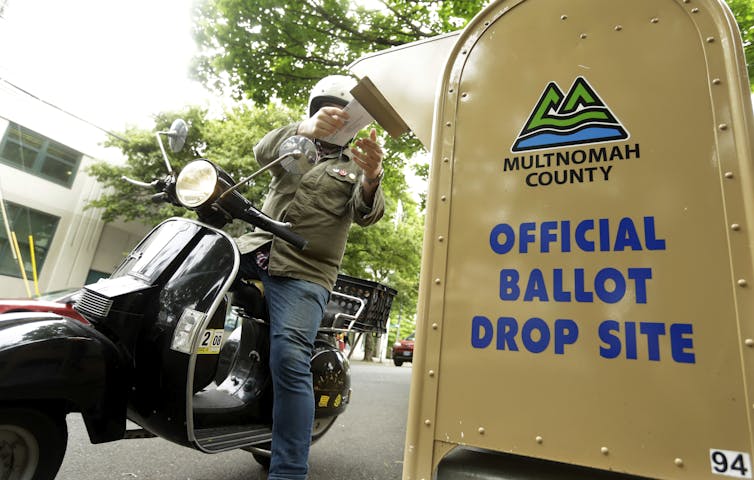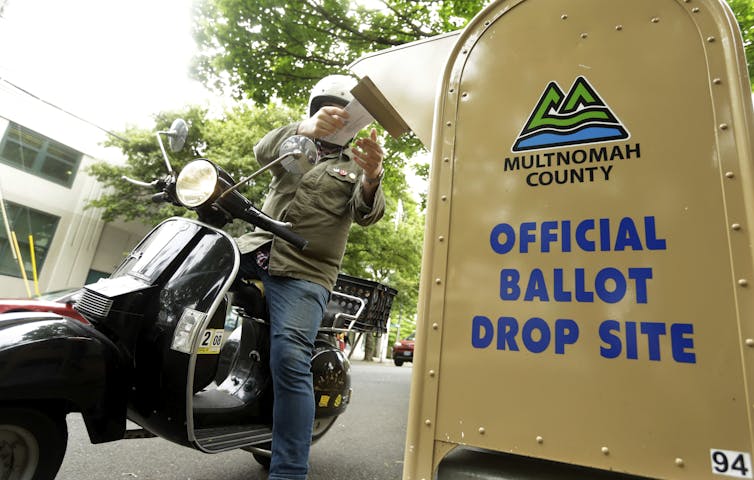 4. Some ignore the evidence
There have been several lawsuits, especially in the wake of the 2020 presidential election, alleging that voting by mail is fraudulent or suspect. Rutgers University Newark law professor Penny Venetis has observed that some judges accept those claims:
"Without providing any explanation or evidence to the contrary, these decisions essentially erase scientific findings, cementing into law unsubstantiated and discredited claims linking voting by mail to fraud."
---


Read more:
Mail-in voting does not cause fraud, but judges are buying the GOP's argument that it does


---
5. Easy accountability
If you've decided to vote by mail, in most states you can keep tabs on your ballot and make sure it arrived safely at your local election office.
Law professor Steven Mulroy at the University of Memphis explained that many states have "a unified system [that] allows all voters to see when their request for a ballot by mail was received, when the ballot was mailed to them and when the completed ballot was received back at the local election office."
Check to see if your state is one, and you can rest assured that your ballot is on the way, that you've successfully mailed it back and that it has been accepted and counted.
---


Read more:
How to track your mail-in ballot


---
Editor's note: This story is a roundup of articles from The Conversation's archive.

Intuitions About Justice Are A Consistent Part Of Human Nature Across Cultures And Millennia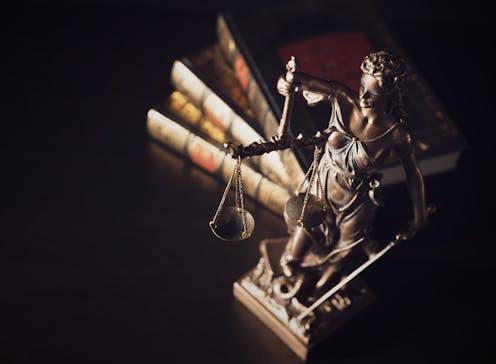 "Thou shalt not kill" may be the most recognizable moral prohibition in societies around the world.
But where does your sense of justice come from?
Throughout history, justice and laws about wrongdoing have been attributed to one god or another. More recently, justice has been traced to moral truths that can be discovered by judges and other legal experts, and to social norms that vary across cultures.
However, our research instead suggests that the human sense of justice, and criminal laws, is generated by the human brain.
Put simply: Being human makes you a decent lawmaker even if you've never stepped foot in law school. To an important extent, criminal laws appear to be the end products of gut feelings about justice that are a part of human nature.
Here's how we investigated just how universal these intuitions are:
Testing the human brain's sense of justice
Human conflict ranges from the mild, as when neighbors disagree about the appropriate loudness of music, to the serious, including cases of fraud, robbery, rape, homicide – the stuff of criminal law.
Laws and litigation come in handy when you're butting heads with someone. But your brain automatically generates intuitions about justice when there is even the potential for conflict, long before you set foot in court. People, even young children, have strong feelings about what counts as a wrongful action and how much punishment a wrongdoer deserves.
These justice intuitions come naturally to everyone. They're like human lungs or human retinas – part of being human.
So maybe the standard-issue human brain forms the basis of formal and informal justice. If so, a distinctive prediction follows: Laypeople will make decent lawmakers using their sense of justice even when they have no training in law. Further, laypeople will be able to intuitively recreate core features of actual criminal laws from cultures they are totally unfamiliar with.
We devised a study to test those predictions. We showed participants various offenses drawn from actual criminal codes but not the punishments that the law establishes for those offenses.
Some of the offenses we presented came from a modern and culturally familiar society, drawn from Title 18 of the Consolidated Pennsylvania Statutes. But other offenses were truly ancient and culturally foreign. Some participants evaluated offenses from the Laws of Eshnunna, a 3,800-year-old Mesopotamian legal code – one of humanity's most ancient legal codes. Other participants saw offenses from the Tang Code, a 1,400-year-old legal code from China.
These archaic laws are the next best thing to time travel. They are like fossils that preserve the legal thinking of ancient lawmakers.
To give some examples, some of the Eshnunna offenses shown to participants included: biting out the eye of another man, seizing a boat fraudulently and failing to keep one's aggressive ox in check, resulting in a slave being killed by the ox. Such were the offenses of an ancient Mesopotamian society.
Despite the massive cultural differences between the ancient city-state of Eshnunna and modern societies, if the sense of justice, and laws, originates in the human brain, then the king who decreed the Laws of Eshnunna and the participants in the study may be of one mind.
So next we asked participants to rate each of the offenses they saw. Some participants were asked to imagine they were lawmakers; they were asked to mock-legislate the fines each offense would deserve by law. Other participants mock-legislated prison sentences for each offense. To make sure participants were giving their untrained intuitions, we excluded from analyses participants who attended law school.
Indeed, the Eshnunna king and the participants in our study did display a shared sense of justice. The more study participants judged an ancient offense as serious, the higher the actual punishment provided by law for that offense.
This match between participants' intuitions and ancient laws wasn't perfect, but it was substantial. It suggests that human beings share a sense of justice and that people today can recreate the core of criminal laws from faraway societies that are thousands of years in the past.
Cultural effects on the sense of justice
A shared sense of justice that is part of human nature does not deny cultural differences.
Consider this Tang offense: "All cases of a master who kills a slave who has not committed an offense are punished by one year of penal servitude (NB: redeemable by paying a fine of 20 copper chin)." The Tang Code considers this offense to be relatively mild – consider, for example, that "beating and killing a person in an affray" was punished by the Tang Code with strangulation or a fine of 120 copper chin. In contrast, study participants judged "killing a slave who has not committed an offense" a very serious transgression.
And yet, participants' intuitive responses generally matched the responses called for in the ancient criminal codes. For instance, participants agreed with the Tang lawmakers that beating and killing a person in a fight is a worse offense than betting goods and articles in games of chance.
To us, this mix of cross-cultural differences and similarities suggests that the brain machinery that generates the sense of justice combines universal principles with open parameters that are filled in with local information. The universal principles may explain why participants generally saw eye to eye with the Eshnunna king and the Tang lawmakers. The open parameters may explain cultural variation.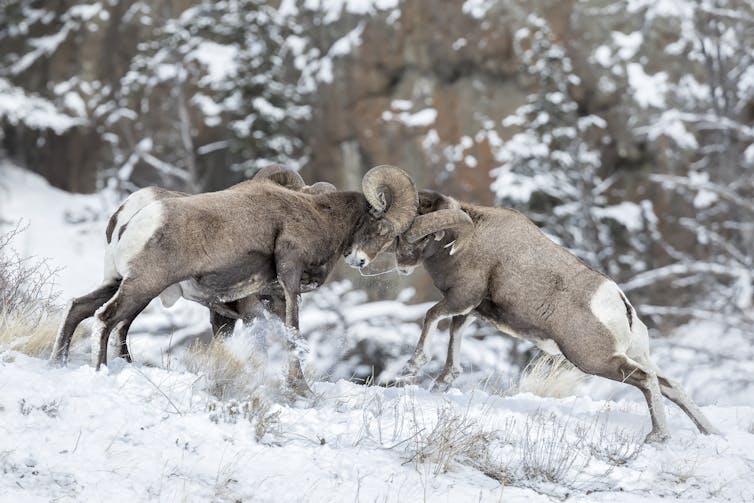 Evolutionary roots of a sense of justice
Conflict is evolutionarily ancient. Organisms, including nonhuman animals, can offend against others – for example, by preying on them. And so natural selection would have endowed organisms with means that help them solve conflicts in their favor: fangs, antlers, neurotoxic venoms. These defenses and weapons are useful. Our ancestors lived in a world without police, and so they had to be their own police if they were to survive and thrive.
But human conflict is special. With their ingenuity and knack for cooperation, people can produce a huge array of goods and services that other people can swindle, rob, adulterate, counterfeit, embezzle and destroy. So the scope of human conflict is vast.
Brawn may help in human conflict, but brain is key. Humans live in an information-dense world, where it's important to know precisely how much harm is being done to you when someone offends against you. Accurately appraising wrongs allows victims to demand or deliver an amount of punishment that is, as in the story of Goldilocks, just right: neither too small that an undeterred offender will re-offend, nor too great that the offender will counter-punish the original victim. Our human ancestors didn't have price tags or written laws to appraise wrongful actions, so they needed to appraise wrongful actions with their brains.
The brain mechanisms for appraising wrongdoing appear to be part of human nature – the same in all times and places humans have lived in. Of course, justice intuitions and criminal laws vary across cultures. Grand theft auto wasn't appraised in Sparta because there were no cars 2,500 years ago. Written criminal laws are absent in societies without writing systems.
Nevertheless, the human sense of justice seems to be fundamentally similar across space and time. And criminal laws everywhere may be shaped by a sense of justice and offense-appraising mechanisms that are universal – akin to how universal mechanisms of taste perception give rise to the world's diverse cuisines.

Daniel Sznycer received funding from Fonds de recherche du Québec and Quebec Bio-Imaging Network
Carlton Patrick does not work for, consult, own shares in or receive funding from any company or organization that would benefit from this article, and has disclosed no relevant affiliations beyond their academic appointment.
The Important Role Played By Secretaries Of State In Administering Fair Elections Is Changing – And Not In A Good Way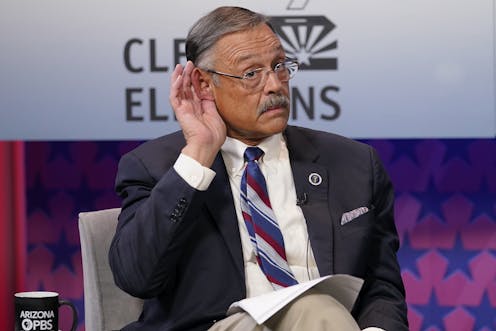 The state officials who administer fair, accessible and secure elections have historically operated quietly without garnering much public attention. Elections happen, votes are counted, the winners are declared and democracy moves on.
But since 2020, secretaries of state and other state officials who oversee elections have come under increasing scrutiny and been exposed to increasing abuse.
Studies have shown both state Democratic and Republican chief election officials oversee elections with similar partisan outcomes, turnout rates and administrative policies. And despite the fact that most of these officers are selected through explicitly partisan processes, the majority of them behaved in a nonpartisan manner to ensure fair and secure elections.
But given the increasingly polarized and hostile political environment in the U.S., is the country about to experience an Election Day filled with conflict, contested election results and chief election officials who are no longer trusted?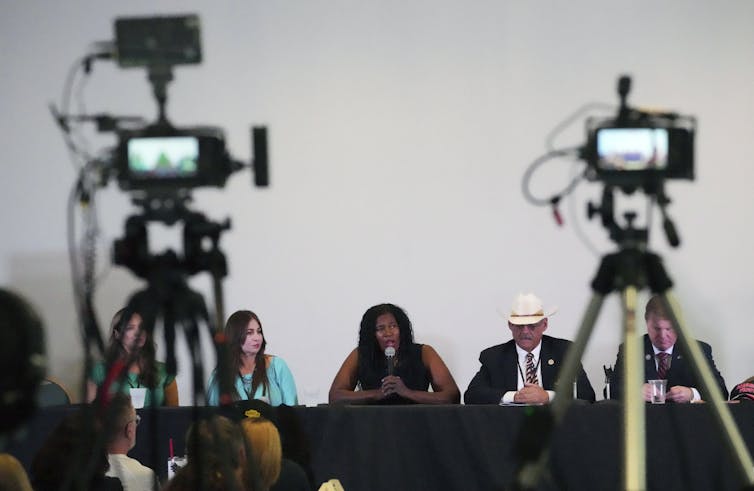 What they do
The decentralized U.S. election system is run by state and local officials. State chief election officials, the title most often given to the top official in the system, have ultimate authority over elections in the state and oversee voting processes before, during and after an election.
There is a good deal of variation on how chief election officers are selected in each of the states. Most are selected through explicitly partisan processes, such as partisan elections or political appointment by a legislature or governor.
The responsibilities of these election officials include ensuring state and federal election laws are followed by local officials, implementing state plans to register eligible people to vote and maintaining the state voter registration database.
Additionally, they are responsible for training local officials to run elections and providing a process for testing and certifying voting equipment in the state.
Most of these chief election officers also have other important roles in state government. They may be responsible for administering business filings and licensing in a state and enforcing campaign finance regulations. They may also occupy a highly political role, as a successor to the governor.
How the system works
Election certification, the official tallied results of in-person and absentee votes, has many steps and includes a number of post-election activities.
The first steps of election certification take place on the local level, and then the state level. The U.S. has over 10,000 local election administration jurisdictions. It is the officials in these local jurisdictions who handle the day-to-day operations of elections where votes are initially counted.
After the polls close, local election officials are responsible for counting ballots. This includes mail-in and absentee ballots, which in some states can be accepted days after Election Day if postmarked beforehand.
Officials then process provisional ballots. Provisional ballots are those cast by voters who arrive at the polls on Election Day and whose eligibility to vote is uncertain.
Next, officials conduct what's called a canvass. That's the tabulating, double-checking and transmitting of the results from the local jurisdiction to the state.
The certification finalizes the results based on the canvass.
While the exact procedures vary by state, a state canvassing board, chief election official or a small group that might include the governor and other state officials signs a certificate of election for all the candidates and ballot measures.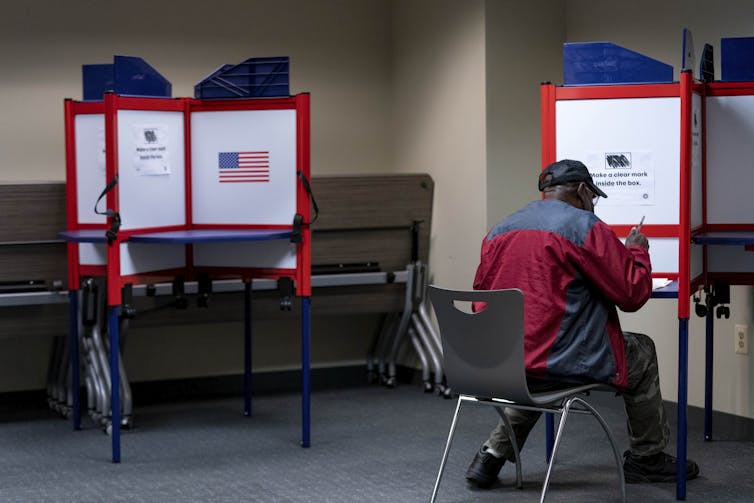 Undermining a trusted process
I'm a scholar of public-sector governance and a former local government official. I believe there are some disturbing signs emerging related to our highly partisan election administration system that could erode the public's confidence in the neutrality of elections.
In our new book, "The Independent Voter," my co-authors Jacqueline Salit and Omar Ali and I identify a series of vulnerabilities in this partisan system.
Overall mistrust in the neutrality of the election process is high, and voters are losing trust in U.S. elections. Claims that the 2020 election was fraudulent have been repeatedly disproved through exhaustive audits, recounts, reports and reviews. Yet despite this fact, consistently about 70% of Republican voters suspect election fraud.
This has led some states to alter the role of the chief election official. Some states have passed legislation that has shifted aspects of election administration to partisan bodies such as state legislatures or partisan-dominated election boards. When responsibility for an aspect of an election is changed in this way, it can intensify partisan gamesmanship, which in turn further erodes public trust.
Further affecting their reputation for neutrality, from 2000 to 2020 almost 30% of state chief election officers publicly endorsed a candidate running in a race under their supervision.
Additionally, in the upcoming 2022 midterms, chief election officer candidates in three swing states – Arizona, Michigan and Nevada – are running as election deniers.
Their platforms include eliminating mail voting, ballot drop boxes and even the use of electronic voting machines while giving power to partisan election observers and expanding their roles. Voting by mail makes voting more accessible to large groups of individuals and reduces the cost of elections. Eliminating the practice can make it harder for certain groups of people to vote. Expanding the role of partisan election observers can lead to voting intimidation.
Secretaries of state or chief election officers can't single-handedly change an election's results, but they can certainly undermine this system on a number of fronts.
They can refuse to certify the results of an election, triggering involvement of the governor or courts. They can also allow multiple audits by internal and external entities of election results and foster overall distrust in the election process and its outcomes by making public comments about the election's results that signal the public shouldn't trust the outcome of the election.
Disruption from the outside
Chief election officers are also being confronted with extreme partisan groups seeking to disrupt and exploit the system of election administration before, during and after election. This includes endless post-election challenges to the veracity of election results.
During elections, problems can be expected as extreme partisan groups have moved to assign supporters, poll workers and observers to disrupt voting centers, tamper with equipment or call voting procedures into question, as Trump loyalist Steve Bannon has encouraged. And even before Election Day, chief election officials are seeing a coordinated campaign of requests for 2020 voting records, in some cases paralyzing preparations for the midterm election season.
The changing nature, role and perception of state chief election officials is damaging their ability to administer fair elections. The end result: Democracy is weakened in the U.S.

Thom Reilly does not work for, consult, own shares in or receive funding from any company or organisation that would benefit from this article, and has disclosed no relevant affiliations beyond their academic appointment.
The US Isn't At War With Russia, Technically – But Its Support For Ukraine Offers A Classic Case Of A Proxy War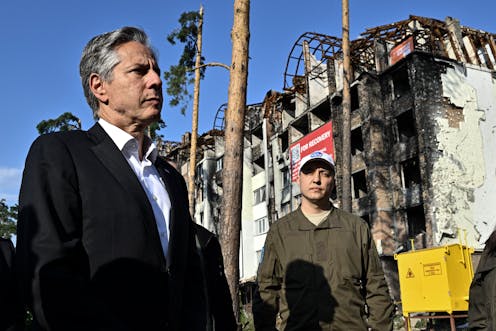 The United States and European countries continue to pledge their support to Ukraine as Russia's invasion drags on into its ninth month – and have backed their alliance with recurrent deliveries of advanced weaponry and money.
But despite Russian President Vladimir Putin's threats to Western powers of nuclear strikes, neither the U.S. nor any Western European country, unified under the military coalition NATO, has actually declared it is part of the war.
The U.S. has provided US$17.6 billion in security assistance to Ukraine since Russia first invaded Ukraine in February 2022. But it can be difficult to track foreign aid and to distinguish between money that governments have promised and actually delivered. Some unofficial estimates place U.S. commitments to Ukraine made in 2022 much higher, at $40 billion.
European countries, meanwhile, have collectively donated an estimated 29 billion euros – or more than $28.3 billion – in security, financial and humanitarian aid in 2022 – not including additional aid to Ukrainian refugees.
This support has made it possible for Ukraine to fend off a Russian conquest of the country. Without Western aid, equipment and training, Ukraine would likely have already suffered defeat to the Russian incursion.
As a scholar of war and military interventions, I think the situation in Ukraine represents a classic case of a proxy war, in which outsiders give allies money, weapons and other kinds of support – but not at the risk of their own soldiers' or civilians' lives.
A better understanding of what proxy wars actually are, and what purpose they serve, provides useful context for the the U.S. and NATO's current unofficial involvement in the Ukraine war.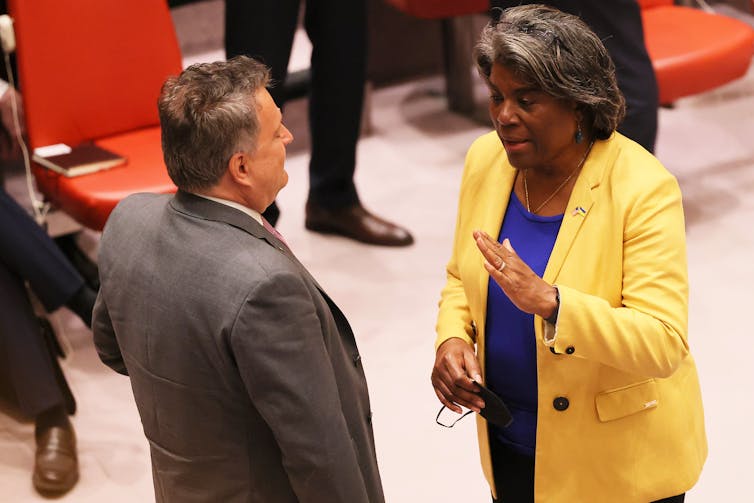 What proxy wars are
Proxy wars are armed conflicts in which one nation sends resources other than its own military personnel – like weapons, trainers, advisers, surveillance drones, money or even mercenaries – to support another country fighting in a war. This is often done to achieve a political objective, like regime change in another country.
Most proxy wars feature a government trying to determine an outcome in another country's war. The U.S., for example, supported France with aircraft, vehicles, and weapons in France's effort to reestablish control of what was then known as Indochina from 1946 to 1954. The Vietnam War started just one year after, in 1955.
Proxy wars allow governments to hurt an adversary without actually declaring war and sending in troops.
Of course, not every government has an equal capacity to financially support other wars. This is why relatively powerful governments with global reach, like the U.S. and the United Kingdom, tend to sponsor proxy wars.
Why proxy wars are taken on
Proxy wars became especially useful for the U.S. and other major powers after World War II, because the 1945 United Nations charter outlawed war except in cases of self-defense.
They also gained prominence because the U.S. and the Soviet Union each possessed nuclear weapons during the Cold War.
That meant any direct clash came with a very large risk of escalating from conventional fighting to a species-ending nuclear war.
Both the U.S. and Soviet Union sponsored proxy wars in places like Angola, where communism and oil were both factors, and El Salvador, where the rise of communism was also a concern for the U.S., during the 1970s and 1980s. This involvement was a way for each government to hurt the other's interests without significantly risking further military escalation.
Proxy wars may also help establish a foreign government's legitimacy. If the U.S. directly supports one side in a smaller country's civil war, it may look like a bully. But if the U.S. defends its engagement by saying it is trying to oppose major foreign adversaries like the Soviet Union or China, then meddling in a third country's affairs can look necessary and vital.
After his initial February 2022 assault of Ukraine faltered in March, Putin increased his attacks on Western countries, saying that economic sanctions Western countries approved shortly after the invasion were like a declaration of war.
Putin says that Russia is fighting the West and the U.S. – this could help justify Russia's losses and maintain domestic support for the war.
Other kinds of proxy wars
There are two other main kinds of proxy wars, both intended to accomplish political goals without risking a country's own people.
The first kind is government support of terrorist groups that attack other governments. Iran's financial and political support of Hezbollah – a Muslim political party and militant group in Lebanon that seeks Israel's destruction – is an example.
But while Iran's use of Hezbollah to attack Israel is by proxy, this wouldn't exactly count as proxy war. Although terrorism involves lethal armed violence, it doesn't rise to the level of war, in terms of loss of life and control of territory, for example.
The second form involves supporting an internationally recognized government engaged an international war. This is a rare occurrence, mainly because wars between different countries are more rare than internal conflicts.
Russia's assault on Ukraine in 2022 is an international war, but NATO cannot easily risk a direct attack on Russia, since Russia has nuclear weapons and is also a permanent member of the U.N. Security Council. Russia is also unlikely to withdraw from Ukraine short of defeat on the battlefield, making Ukraine an ideal proxy client – or, at least, ideal for NATO, but very costly in terms of human life for Ukraine and Russia.
If NATO succeeds in helping Ukraine defeat Russia, powerful governments are likely to see proxy wars as a useful tool. But if Russia escalates to attacking NATO countries directly, or uses nuclear weapons in Ukraine, proxy wars may be replaced by direct confrontation and, by extension, a third world war. Let's hope that doesn't happen.

Monica Duffy Toft does not work for, consult, own shares in or receive funding from any company or organization that would benefit from this article, and has disclosed no relevant affiliations beyond their academic appointment.