Sheriffs Who See Themselves As Ultimate Defenders Of The Constitution Are Especially Worried About Gun Rights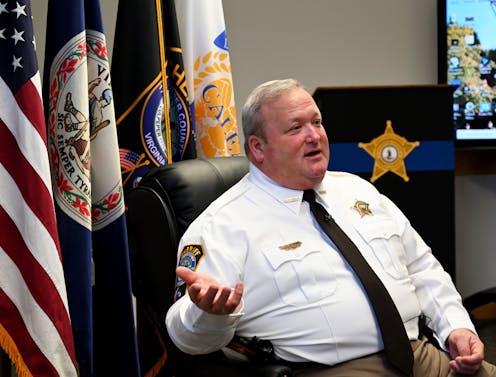 A gun control law signed by Gov. J.B. Pritzker of Illinois in January 2023 immediately faced opposition from a group key to the law's enforcement: sheriffs. They are county-level, locally elected public officials who run jails, provide courthouse security, and, in many counties, are the primary providers of law enforcement services.
In Illinois, and around the nation, some sheriffs also view themselves as the ultimate defenders of the U.S. Constitution and its rights – even though there's no law and no history giving them that position.
In Illinois, approximately 80 of the state's 102 sheriffs oppose the Protect Illinois Communities Act, a law that banned the sale and distribution of assault weapons, high-capacity magazines and switches that convert firearms to assault weapons. Anyone who owned those items before the law passed in January 2023 must register them with the state. Most of the sheriffs who opposed it issued statements saying they believe the law violates the Second Amendment to the U.S. Constitution, and therefore they will not be enforcing it.
Sheriff Justin Oliver of Brown County, for example, posted a public statement on the office's Facebook page, on letterhead. The statement says he swore to protect the rights provided in the Constitution and he believes that the act violates the Second Amendment, so "as chief law enforcement officer for Brown County … neither myself nor my officers will be checking to ensure that lawful gun owners register their weapons with the State, nor will we be arresting or housing law abiding individuals."
In our research surveying sheriffs, in 2012 and again in 2021, we have found that sheriffs are far more likely to support looser gun laws than the public at large. And we have also found that that perspective is linked to some sheriffs' views that they are the highest level of defenders of the U.S. Constitution and Americans' constitutional rights.
A last line of defense?
We traced sheriffs' views of themselves as ultimate protectors of the Constitution to the Constitutional Sheriffs and Peace Officers Association, a political organization founded in 2009 by Richard Mack, a former sheriff of Graham County, Arizona.
Mack first gained notoriety in right-wing circles as a plaintiff in Printz v. United States, decided by the U.S. Supreme Court in 1996. In its ruling, the court declared a portion of the 1993 Brady Handgun Violence Prevention Act unconstitutional. The ruling said the law's requirement for state and local officials to perform background checks on prospective gun buyers violated the 10th Amendment, which limits how much influence the federal government can have on state and local governments.
The association, which Mack founded after former President Barack Obama's election, calls itself a network of (self-described) "constitutional sheriffs" that encourages sheriffs to refuse to enforce laws they believe to be unconstitutional and to resist overreach by the federal government.
Its key idea dates back further, though, to Posse Comitatus. That was a white supremacist, antisemitic right-wing movement in the 1970s that believed as part of its conspiratorial ideology that the county sheriff held the ultimate government authority in the United States. This view is not historically accurate, nor is it found in the U.S. Constitution.
Nevertheless, Mack and his organization have spent more than a decade actively recruiting and training sheriffs to believe that their office is more powerful than the president, and that they can reject laws they believe to be unconstitutional. Mack told NPR in 2019 that sheriffs "have the responsibility to interpose – it's the 'doctrine of interposition' – whenever anybody is trying to diminish or violate the individual rights of our counties."
Their own views
This movement of so-called "constitutional sheriffs" has been particularly successful at recruiting more sheriffs into its ideology around issues of guns, immigration and COVID-related policies.
The resistance in Illinois is not the first effort of sheriffs to resist gun control. When Obama pushed for national gun control legislation after the 2012 Sandy Hook Elementary School shooting in Newtown, Connecticut, Mack's group recruited more than 450 sheriffs and 19 state sheriff associations to oppose federal gun control efforts.
Similarly, when the state of Washington passed a gun safety measure in 2018, sheriffs statewide opposed the measure and threatened not to enforce it because they said it violated people's constitutional rights.
And in Illinois, its followers continue to stand in the way of the law, even though they lack any legal justification for doing so. State and federal officials have called on Illinois sheriffs to enforce the law, as their oaths of office require. But many sheriffs continue to say they get to determine which laws to enforce, even if their constituents disagree.

Mirya Holman collaborates with the Marshall Project to engage in research on sheriffs and their attitudes. As a part of that project, the Marshall Foundation paid for research costs by purchasing a contact list for sheriffs.
Emily Farris collaborates with the Marshall Project to engage in research on sheriffs and their attitudes. As a part of that project, the Marshall Foundation paid for research costs by purchasing a contact list for sheriffs.
Nashville Attack Renews Calls For Assault Weapons Ban – Data Shows There Were Fewer Mass Shooting Deaths During An Earlier 10-Year Prohibition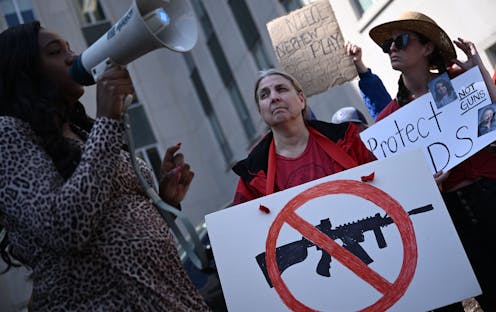 The shooting deaths of three children and three adults inside a Nashville school has put further pressure on Congress to look at imposing a ban on so-called assault weapons. Such a prohibition would be designed cover the types of guns that the suspect legally purchased and used during the March 27, 2023, attack.
Speaking after the incident, President Joe Biden issued his latest plea to lawmakers to act. "Why in God's name do we allow these weapons of war on our streets and at our schools?" he asked.
A prohibition has been in place before. As Biden has previously noted , bipartisan support in Congress helped push through a federal assault weapons ban in 1994 as part of the Violent Crime Control and Law Enforcement Act.
That ban was limited – it covered only certain categories of semiautomatic weapons such as AR-15s and applied to a ban on sales only after the act was signed into law, allowing people to keep hold of weapons purchased before that date. And it also had in it a so-called "sunset provision" that allowed the ban to expire in 2004.
Nonetheless, the 10-year life span of that ban – with a clear beginning and end date – gives researchers the opportunity to compare what happened with mass shooting deaths before, during and after the prohibition was in place. Our group of injury epidemiologists and trauma surgeons did just that. In 2019, we published a population-based study analyzing the data in a bid to evaluate the effect that the federal ban on assault weapons had on mass shootings, defined by the FBI as a shooting with four or more fatalities, not including the shooter. Here's what the data shows:
Before the 1994 ban:
From 1981 – the earliest year in our analysis – to the rollout of the assault weapons ban in 1994, the proportion of deaths in mass shootings in which an assault rifle was used was lower than it is today.
Yet in this earlier period, mass shooting deaths were steadily rising. Indeed, high-profile mass shootings involving assault rifles – such as the killing of five children in Stockton, California, in 1989 and a 1993 San Francisco office attack that left eight victims dead – provided the impetus behind a push for a prohibition on some types of gun.
During the 1994-2004 ban:
In the years after the assault weapons ban went into effect, the number of deaths from mass shootings fell, and the increase in the annual number of incidents slowed down. Even including 1999's Columbine High School massacre – the deadliest mass shooting during the period of the ban – the 1994-2004 period saw lower average annual rates of both mass shootings and deaths resulting from such incidents than before the ban's inception.
From 2004 onward:
The data shows an almost immediate – and steep – rise in mass shooting deaths in the years after the assault weapons ban expired in 2004.
Breaking the data into absolute numbers, from 2004 to 2017 – the last year of our analysis – the average number of yearly deaths attributed to mass shootings was 25, compared with 5.3 during the 10-year tenure of the ban and 7.2 in the years leading up to the prohibition on assault weapons.
Saving hundreds of lives
We calculated that the risk of a person in the U.S. dying in a mass shooting was 70% lower during the period in which the assault weapons ban was active. The proportion of overall gun homicides resulting from mass shootings was also down, with nine fewer mass-shooting-related fatalities per 10,000 shooting deaths.
Taking population trends into account, a model we created based on this data suggests that had the federal assault weapons ban been in place throughout the whole period of our study – that is, from 1981 through 2017 – it may have prevented 314 of the 448 mass shooting deaths that occurred during the years in which there was no ban.
And this almost certainly underestimates the total number of lives that could be saved. For our study, we chose only to include mass shooting incidents that were reported and agreed upon by all three of our selected data sources: the Los Angeles Times, Stanford University and Mother Jones magazine.
Furthermore, for uniformity, we also chose to use the strict federal definition of an assault weapon – which may not include the entire spectrum of what many people may now consider to be assault weapons.
Cause or correlation?
It is also important to note that our analysis cannot definitively say that the assault weapons ban of 1994 caused a decrease in mass shootings, nor that its expiration in 2004 resulted in the growth of deadly incidents in the years since.
Many additional factors may contribute to the shifting frequency of these shootings, such as changes in domestic violence rates, political extremism, psychiatric illness, firearm availability and a surge in sales, and the recent rise in hate groups.
Nonetheless, according to our study, President Biden's claim that the rate of mass shootings during the period of the assault weapons ban "went down" only for it to rise again after the law was allowed to expire in 2004 holds true.
As the U.S. looks toward a solution to the country's epidemic of mass shootings, it is difficult to say conclusively that reinstating the assault weapons ban would have a profound impact, especially given the growth in sales in the 18 years in which Americans have been allowed to purchase and stockpile such weapons. But given that many of the high-profile mass shooters in recent years purchased their weapons less than one year before committing their acts, the evidence suggests that it might.
Editor's note: This is an updated version of an article originally published on June 8, 2022.

Michael J. Klein does not work for, consult, own shares in or receive funding from any company or organization that would benefit from this article, and has disclosed no relevant affiliations beyond their academic appointment.
When It Comes To Explaining Elections In Congress, Gerrymandering Is Overrated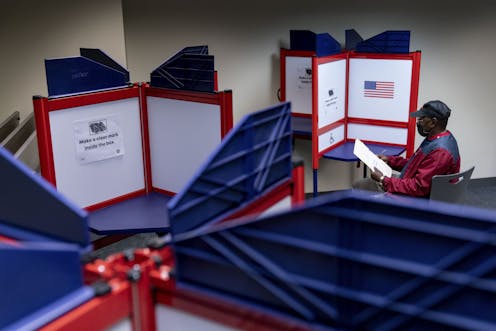 Over the past decade, a consistent refrain in discussions of politics has been that partisan gerrymandering – the drawing of congressional district lines to disproportionately advantage one party over the other – is unfair and distorts the balance of power in Congress.
Democrats in particular have complained that the process advantages Republicans. Republicans have been quick to blame Democrats for the same thing in states such as Maryland.
But ultimately, the parties' efforts to gain a seat advantage in the most recent round of redistricting ended up mostly in a wash – and 2022's razor-thin midterm election results reflected this.
As a political scientist who studies Congress, elections and political representation, I know that redistricting is both more complex and less nefariously partisan than many commentators give it credit for. The truth is that gerrymandering has always been overrated as an explanation of election outcomes in Congress.
Let's run through some of the reasons.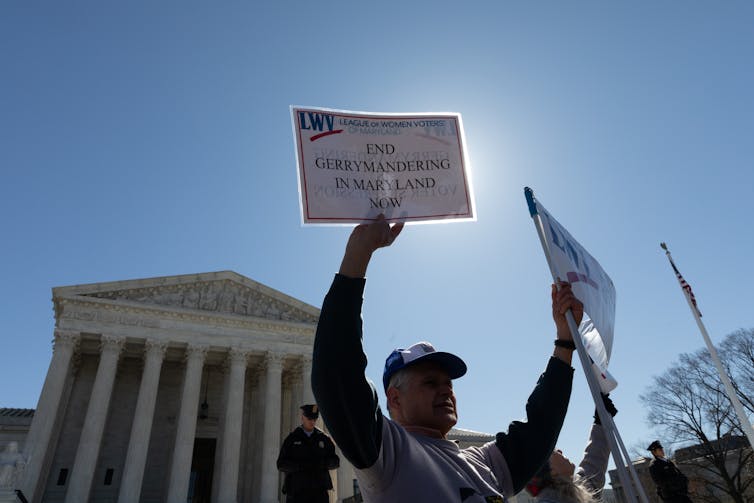 Does gerrymandering skew election outcomes?
The Constitution requires that every 10 years, following the decennial census, states redraw the geographic boundaries of congressional districts. The purpose is largely to make sure the districts are as equal as possible based on population.
Most states rely on their state legislatures to draw these lines. Critics of this process charge that in many cases, this results in gerrymandering: the drawing of districts specifically to maximize the number of seats for the party that controls the legislature.
In many individual states, partisan majorities in state legislatures have drawn boundaries that result in congressional delegations that don't reflect the statewide vote. In 2021, for example, Republicans in South Carolina drew districts that handed their party six out of the delegation's seven seats in Congress, despite the party's winning only 56% of the vote in 2020's presidential election.
Democrats in Illinois, meanwhile, won 59% of the presidential vote in 2020; but after the 2022 midterm elections, they occupy 82% of the state's congressional delegation, or 14 out of 17 seats, thanks to the heavily Democratic state Legislature's redistricting.
The fact that both parties excel at gerrymandering meant that their efforts before the 2022 midterms essentially canceled each other out. As a result, the balance of seats in the new Congress largely matches the national political climate in the midterms. In 2022, Republicans won 51% of House seats, and 51% of the nationwide popular vote for Congress.
These numbers present a problem for gerrymandering critics, particularly those blaming it for the Democrats' current minority status in Congress. If gerrymandering were significantly advantaging one or the other party, these numbers would not match up.
But this alignment between seats and votes isn't a new trend. In the three most recent Congresses, the balance of congressional seats between the two parties is nearly identical to the percentage of the vote each party received nationwide in congressional races. In the 2018 midterms, for example, Democrats won 54% of congressional votes nationwide, and ended up with 54% of the seats in the House.
Data I've collected for other cycles does show a discrepancy between seats and votes during the Obama years, and it's probably true that the redistricting process before 2012 cost Democrats a few seats in that decade.
But gerrymandering hasn't always benefited Republicans: Democrats enjoyed a bigger and more sustained advantage from their district boundaries during the 1970s and 1980s. And if gerrymandering was ever the main cause of Democrats' seat disadvantage in the House, it's not today.
Geography matters, just not the way you think
Democrats and their allies have been particularly outspoken in their disparagement of gerrymandering, in some cases using some of the same fatalistic language about elections as former President Donald Trump.
For example, one argument during the Obama years was that gerrymandering made it "impossible" for Democrats to win the House. Sometimes the language mirrored Trump's — that gerrymandering had "rigged" congressional elections in favor of Republicans.
Aside from the well-demonstrated dangers of casting doubt on the nation's election systems, the evidence simply doesn't support this doomsday perspective. Democrats do have major problems with geography, but they run much deeper than unfairly drawn lines.
Over the past 30 years, U.S. counties have consistently become less competitive between the parties in presidential elections.
In 1992, the vast majority of counties were won by slim margins, and thus winnable by either party. Only 1 in 3 counties was won by either party by more than 10 percentage points.
But today, the story is the opposite. Nearly 4 out of every 5 counties in 2020 were won decisively – by 10 points or more – by either Joe Biden or Donald Trump.
The problem for Democrats is that these emerging landslide counties almost exclusively vote for Republicans. The thing about counties, though, is that their boundaries don't change. This means that the massive geographic advantage Republicans enjoy cannot be blamed solely on gerrymandering.
The real explanation is the geographic sorting of the two parties over the past 30 or more years. Democrats have diminished as a presence in rural counties, particularly in the South and Midwest, while gaining numbers in counties with large cities like Los Angeles, Houston and Chicago.
These latter areas have such large populations that by winning them decisively, Democrats can stay competitive nationally despite Republicans' more even geographic spread of support across the country.
The data largely indicates that it is this phenomenon, not gerrymandering, that is responsible for Democratic electoral underperformance. The clustering of Democratic votes in big cities makes it more difficult for any entity – including courts and nonpartisan commissions – to draw district lines that get Democrats the most possible seats in Congress. Because Democrats live in denser, more tightly packed places, they can't distribute their votes as efficiently among geographic districts throughout a state.
Meanwhile, because Republican support is more evenly distributed geographically, there are more and better options for them to win lots of districts, rather than just lots of votes. Put simply, because of where they tend to live, Republicans are wasting fewer of their votes than Democrats.
Gerrymandering is still a problem
None of this means that partisan gerrymandering is not happening, or that efforts shouldn't be made to fix it.
If both parties are gerrymandering so effectively that they cancel out each other's gains, this has major implications for political institutions and culture even if they aren't reflected in the national balance of power.
Gerrymandering has been increasingly the subject of court challenges, further bringing politics into the supposedly nonpolitical U.S. judicial system.
It also has tangible effects on regular Americans. My own research shows that changing district lines can disorient voters and reduce turnout. It could also cut into voters' sense that their votes make a difference.
Democrats from South Carolina and Republicans from Illinois, would, I believe, feel better represented if they could see delegations that more accurately reflected their state's electorate.
Additionally, partisan gerrymandering often means disregarding important local city and county boundaries, as well as local cultures, neighborhoods and industries – what political scientists call "communities of interest" – that have little to do with partisanship but mean a lot to everyday people.

Charles R. Hunt does not work for, consult, own shares in or receive funding from any company or organization that would benefit from this article, and has disclosed no relevant affiliations beyond their academic appointment.
What's At Stake As Protests Rock Israel: 3 Essential Reads On Democracy, Security And Human Rights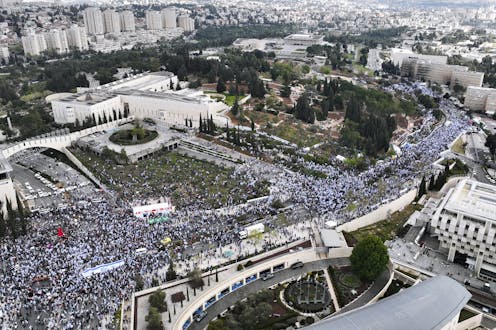 Israeli Prime Minister Benjamin Netanyahu has, after 12 weeks of growing protest against his proposed judicial reforms, said he will order a temporary halt to the changes that aimed to rein in the power of Israel's judiciary and grant virtually unaccountable power to politicians.
Netanyahu's announcement came after massive protests had spread throughout the country, turbocharged by his firing the day before of Israel's defense minister, who had called on the government to postpone the judicial reform.
City services and universities were shut down. The Histadrut, the country's largest and most powerful labor organization, went on strike. Doctors walked out; Israel's consul general in New York resigned; planes were grounded at the national airport. And tens of thousands of people demonstrated outside of the Knesset, the country's parliament, as members of the country's far-right groups called for violence – using "gasoline, explosives, tractors, guns, knives" as a member of one group put it – against the protesters.
Isaac Herzog, Israel's president – a largely ceremonial post – had earlier in the month unveiled a proposed compromise on judicial reform that aimed to protect Israel's democratic character. At the time, Herzog warned: "Israel is in the throes of a profound crisis. Anyone who thinks that a real civil war, of human life, is a line that we will not reach has no idea. The abyss is within touching distance."
The Conversation has followed the growing crisis in Israel since the beginning of 2023. Here are three stories that will help you understand what's at stake.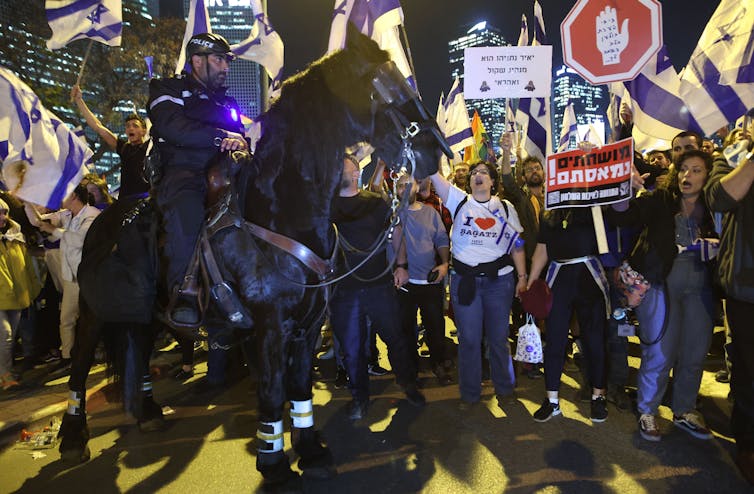 1. 'A major threat to democracy'
Political scientist Boaz Atzili at American University wrote that "democracy is not just about holding elections. It is a set of institutions, ideas and practices that allow citizens a continuous, decisive voice in shaping their government and its policies." Netanyahu's far-right-wing government, sworn in on Dec. 29, 2022, "presents a major threat to Israeli democracy, and it does so on multiple fronts," he wrote.
Atzili described the four ways the new government put Israeli democracy at risk, from "hostility to freedom of speech and dissent" to plans to "allow discrimination against the LGBTQ community and women" to "West Bank annexation and apartheid" and "erasing the separation of powers."
The courts in Israel, wrote Atzili, "are the only institution that can check the power of the ruling parties." The judicial reform would erase that separation of power and, he wrote, "as in Turkey, Hungary or even Russia, Israel could become a democracy in form only, devoid of all the ideas and institutions that underpin a government that is actually of the people and by the people."
---


Read more:
Israel's Netanyahu facing off against the supreme court and proposing to limit judicial independence – and 3 other threats to Israeli democracy


---
2. 'A very dangerous period'
Scholar Dov Waxman, an Israel expert at UCLA, said that he initially thought the warnings of an impending civil war or strife "were exaggerated and unnecessarily alarmist."
But by mid-February, as the protests grew from tens of thousands to hundreds of thousands participating, Waxman changed his mind. "I think now those warnings are well founded. Israel is really entering a very dangerous period."
The protests, Waxman wrote, "are driven by concerns over this judicial overhaul, but I think they speak to a broader anxiety, a fear among many Israelis about the future of democracy in Israel and the future of the country."
But while Israelis are taking to the streets to defend their democracy, they have not included Palestinians in their protests.
"I can certainly understand why many Palestinians would be feeling that all of this sudden anxiety and concern for Israeli democracy ignores the fact that almost 50% of the population that Israel effectively rules over lacks equal rights and lacks the ability to vote in Israeli elections," he wrote. "I think the fact that most Israelis don't seem to connect these two issues suggests that they only see democracy as this internal domestic issue without any relevance to the Palestinian question."
The crisis may also harm Israel's interests outside of the state. "If the perception takes hold that Israel is no longer a democracy or not a liberal democracy," wrote Waxman, "that could further weaken support for Israel in Congress and in the Democratic Party. It might even make it harder for them to continue to approve U.S. aid for Israel."
---


Read more:
Israel enters a dangerous period – public protests swell over Netanyahu's plan to limit the power of the Israeli Supreme Court


---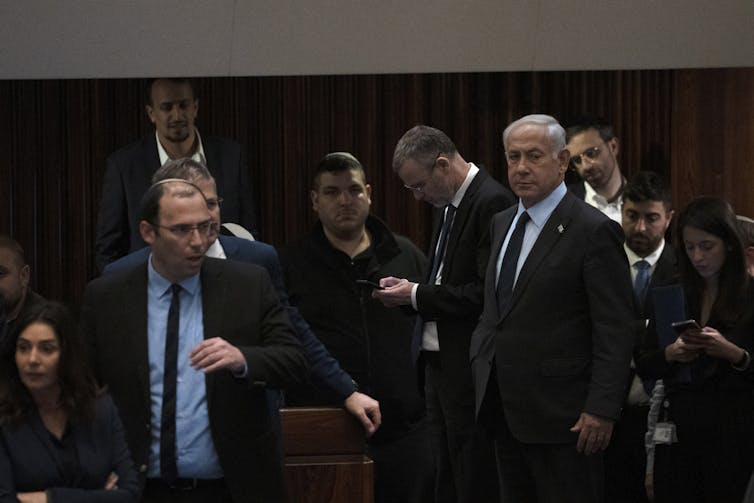 3. A political crisis could become a security crisis
American University scholar Dan Arbell, who served in the Israel Defense Forces and as a member of the country's foreign service, took note of an unprecedented aspect of the demonstrations: "It's not simply the persistence and size of the protest that is evidence of the crisis," he wrote. "It's who is protesting."
Arbell wrote that while the protests over the past three months have brought together people from a range of professions and interests, among the protesters is "a group of individuals rarely seen at anti-government protests over the country's almost 75-year history: Israel Defense Forces reservists." Those reservists, he wrote, "announced they will not volunteer for reserve duty service if the legislation passes in the Knesset, Israel's parliament."
That's a sign that "the crisis's implications extend far beyond the domestic political arena." That means the crisis doesn't just have meaning for the civic realm. "Besides threatening to undermine the economy and deepen societal divides," wrote Arbell, "it threatens to erode Israeli national security and provoke a constitutional crisis that could ensnare the military as well."
---


Read more:
Israel's military reservists are joining protests – potentially transforming a political crisis into a security crisis


---