Fish Can Recognize Themselves In Photos, Further Evidence They May Be Self-Aware
Some fish can recognize their own faces in photos and mirrors, an ability usually attributed to humans and other animals considered particularly brainy, such as chimpanzees, scientists report. Finding the ability in fish suggests that self-awareness may be far more widespread among animals than scientists once thought.
"It is believed widely that the animals that have larger brains will be more intelligent than animals of the small brain," such as fish, says animal sociologist Masanori Kohda of Osaka Metropolitan University in Japan. It may be time to rethink that assumption, Kohda says.
Kohda's previous research showed that bluestreak cleaner wrasses can pass the mirror test, a controversial cognitive assessment that purportedly reveals self-awareness, or the ability to be the object of one's own thoughts. The test involves exposing an animal to a mirror and then surreptitiously putting a mark on the animal's face or body to see if they will notice it on their reflection and try to touch it on their body. Previously only a handful of large-brained species, including chimpanzees and other great apes, dolphins, elephants and magpies, have passed the test.
In a new study, cleaner fish that passed the mirror test were then able to distinguish their own faces from those of other cleaner fish in still photographs. This suggests that the fish identify themselves the same way humans are thought to — by forming a mental image of one's face, Kohda and colleagues report February 6 in the Proceedings of the National Academy of Sciences.
"I think it's truly remarkable that they can do this," says primatologist Frans de Waal of Emory University in Atlanta who was not involved in the research. "I think it's an incredible study."
De Waal is quick to point out that failing the mirror test should not be considered evidence of a lack of self-awareness. Still, scientists have struggled to understand why some species that are known to have complex cognitive abilities, such as monkeys and ravens, have not passed. Researchers have also questioned whether the test is appropriate for species like dogs that rely more on scent, or like pigs that may not care enough about a mark on their bodies to try to touch it.
The mixed results in other animals make it all the more astonishing that a small fish can pass. In their first mirror test studies, published in 2019 and 2022, Kohda's team exposed wild-caught cleaner fish in separate tanks to mirrors for a week. The researchers then injected brown dye just beneath the scales on the fish's throats, making a mark that resembles the parasites these fish eat off the skin of larger fish in the wild. When the marked fish saw themselves in a mirror, they began striking their throats on rocks or sand in the bottom of the tank, apparently trying to scrape off the marks.
In the new study, 10 fish that passed the mirror test were then shown a photo of their own face and a photo of an unfamiliar cleaner fish face. All the fish acted aggressively toward the unfamiliar photo, as if it were a stranger, but were not aggressive toward the photo of their own face.
When another eight fish that had spent a week with a mirror but had not previously been marked were shown a photo of their own face with a brown mark on the throat, six of them began scraping their throats just like the fish that passed the mirror test. But they did not scrape when shown a photo of another fish with a mark.
Animals that recognize their reflection in the mirror most likely first learn to identify themselves by seeing that the movement of the animal in the mirror matches their own movement, researchers think. Because the cleaner fish were also able to recognize their own faces in still images, they, and possibly other animals that have passed the mirror test, may be able to identify themselves by developing a mental image of their own face that they can compare to what they see in the mirror or photos, the authors say.
"I think it's a great next step," says comparative cognitive psychologist Jennifer Vonk of Oakland University in Rochester, Mich., who wasn't involved in the study. But she would like to see more research before drawing conclusions about what's being represented in the mind of a nonverbal being like a fish. "As with most other studies, it still leaves some room for further follow-up."
Kohda's lab has more experiments planned to continue to probe what's going on in the brain of the cleaner fish, and to try the new photo-recognition method on another popular research fish, the three-spined stickleback (Gasterosteus aculeatus).
Animal behaviorist Jonathan Balcombe, author of the book What a Fish Knows, is already convinced, describing the new study as "robust and quite brilliant." People shouldn't be surprised that fish could be self-aware given that they have already been shown to have complex behavior including tool use, planning and collaboration, Balcombe says. "It's time we stopped thinking of fishes as somehow lesser members of the vertebrate pantheon."
Scientists Have Now Recorded Brain Waves From Freely Moving Octopuses
For the first time, scientists have recorded brain waves from freely moving octopuses. The data reveal some unexpected patterns, though it's too early to know how octopus brains control the animals' behavior, researchers report February 23 in Current Biology.
"Historically, it's been so hard to do any recordings from octopuses, even if they're sedated," says neuroscientist Robyn Crook of San Francisco State University, who was not involved in the study. "Even when their arms are not moving, their whole body is very pliable," making attaching recording equipment tricky.
Octopuses also tend to be feisty and clever. That means they don't usually put up with the uncomfortable equipment typically used to record brain waves in animals, says neuroethologist Tamar Gutnick of the University of Naples Federico II in Italy. 
To work around these obstacles, Gutnick and colleagues adapted portable data loggers typically used on birds, and surgically inserted the devices into three octopuses. The researchers also placed recording electrodes inside areas of the octopus brain that deal with learning and memory. The team then recorded the octopuses for 12 hours while the cephalopods went about their daily lives — sleeping, swimming and self-grooming — in tanks.
Some brain wave patterns emerged across all three octopuses in the 12-hour period. For instance, some waves resembled activity in the  human hippocampus, which plays a crucial role in memory consolidation. Other brain waves were similar to those controlling sleep-wake cycles in other animals.
The researchers also recorded some brain waves that they say have never been seen before in any animal. The waves were unusually slow, cycling just two per second, or 2 hertz. They were also unusually strong, suggesting a high level of synchronization between neurons. Sometimes just one electrode picked up the weird waves; other times, they showed up on electrodes placed far apart,
Observing these patterns is exciting, but it's too early to tell whether they're tied to a specific behavior or type of cognition, Gutnick says. Experiments with repetitive tasks are necessary to fully understand how these brain areas are activated in octopuses during learning.
The new research is exciting in that it provides a technique for future researchers to observe brain activity in awake and naturally behaving octopuses, Crook says. It could be used to explore brain activity behind the animals' color-changing abilities, spectacular vision, sleep patterns and adept arm control (SN: 1/29/16; SN: 3/25/21).
Octopuses are highly intelligent, so by studying the creatures "you can get ideas about what is important for intelligence," Gutnick says. "The problems that the animals face are the same problems, but the solutions that they find are sometimes similar and sometimes different and all of these comparisons teach us something."
Static Electricity Helps Parasitic Nematodes Glom Onto Victims
LAS VEGAS — Some species of parasitic roundworms can catapult themselves high into the air to latch onto fruit flies and other insects. Experiments now reveal that leaping Steinernema carpocapsae nematodes take advantage of a secret weapon that makes them particularly effective in their pursuit of victims: static electricity.
Flying insects build up electric charge as they move through the air (SN: 10/31/22). It's the same effect that causes electricity to collect on droplets of mist in clouds, and ultimately leads to lightning.
Individual insects can accumulate charges of 100 volts or so, biomechanics researcher Víctor Ortega Jiménez of the University of Maine in Orono reported March 6 at the American Physical Society meeting. When nematodes leap, the charge on a passing insect attracts the parasites like lint to a staticky sweater.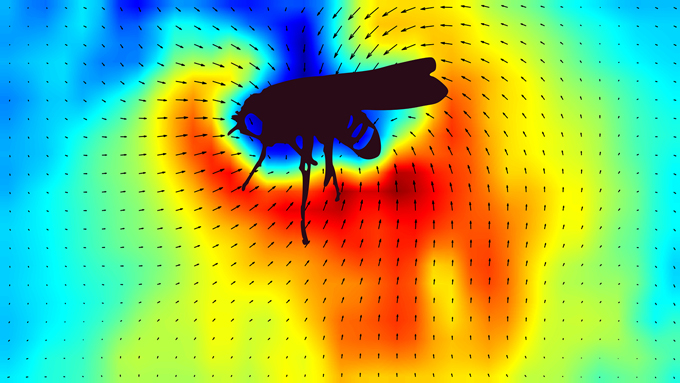 To test the effect of electric charge, Ortega Jiménez and colleagues mounted dead fruit flies on wires and placed them near a surface covered in nematodes. With no charge on a fly, only nematodes that happened to jump in the direction of the insect landed on target, as expected. When researchers applied an electric charge to a suspended fruit fly, even nematodes that initially headed in the wrong direction were caught up in the electric field and pulled onto the fly.
Ortega Jiménez has also studied electric force effects on spider webs. When charged insects neared a web, "the silk is attracted directly to the insects," he says. That made him wonder whether leaping nematodes rely on those forces as well.
Researchers have long considered the effect of fluids and air flow on insects and other tiny creatures. But only recently have they added electricity to the mix, Ortega Jiménez says. "We need to know how animals actually are dealing with these forces at this scale."
This Fish Could Expand What We Know About One Odd Deep-Sea Ecosystem
Off the Pacific coast of Costa Rica sits a deep-sea chimera of an ecosystem. Jacó Scar is a methane seep, where the gas escapes from sediment into the seawater, but the seep isn't cold like the others found before it. Instead, geochemical activity gives the Scar lukewarm water that enables organisms from both traditionally colder seeps and scalding hot hydrothermal vents to call it home.
One resident of the Scar is a newly identified species of small, purplish fish called an eelpout, described for the first time on January 19 in Zootaxa. This fish is the first vertebrate species found at the Scar and could help scientists understand how the unique ecosystem developed. 
Jacó Scar was discovered during exploration of a known field of methane seeps off the Costa Rican coast and named for the nearby town of Jacó. It is "a really diverse place" with many different organisms living in various microhabitats, says Lisa Levin, a marine ecologist at Scripps Institution of Oceanography in La Jolla, Calif.
Levin was on one of the first expeditions to the Scar but wasn't involved in the new study. She recalls the team finding and collecting one of the fish during this early excursion, but the researchers didn't recognize it as a new species.
Several more specimens were snagged during later submersible dives. Charlotte Seid, an invertebrate biologist at Scripps who is working on a checklist of organisms found at the Costa Rican seeps, brought the fishy finds to ichthyologist Ben Frable, also of Scripps, for formal identification.
Frable says he knew the fish was an eelpout. They look exactly as one would expect based on their name: like frowning eels, though they aren't true eels. But he was having trouble determining what type. Eelpouts are a diverse family of fish comprised of nearly 300 species that can be found all over the world at various ocean depths.
Because the physical differences between species can be subtle, they are "kind of a tricky group" to identify, Frable says. "I just was not really getting anywhere." So the team turned to eelpout expert Peter Rask Møller of the Natural History Museum of Denmark in Copenhagen, sending him X-rays, pictures and eventually one of the fish specimens.
Møller narrowed the enigmatic eelpout to the genus Pyrolycus, meaning "fire wolf." Turns out, the tool, called a dichotomous key, that Frable had been using to identify the specimens was outdated, made before Pyrolycus was described in 2002. "I did not know that genus existed," Frable says.
Because the other two known Pyrolycus species live far away in the western Pacific and have different physical features, the team dubbed the mystery fish P. jaco — a new species.
The first eelpouts most likely evolved in cold waters, Frable says, but many have since made their home in the scalding waters of hydrothermal vents. Of the 24 known fish species that live only at hydrothermal vents, "13 of them are eelpouts," Frable says.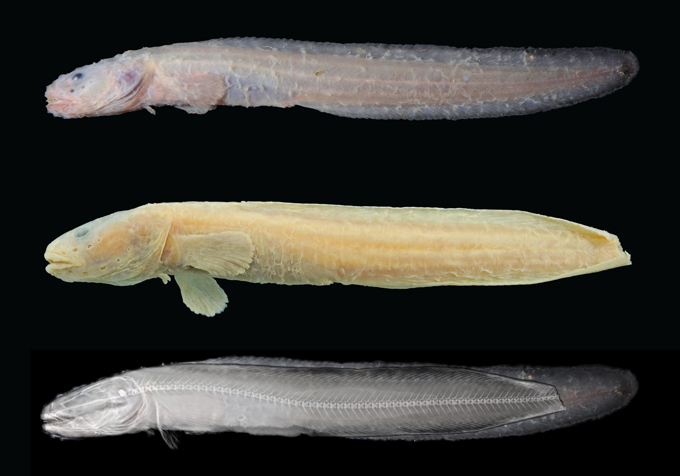 The new finding raises questions about how the known Pyrolycus species came to live so far apart. It may have to do with the fact that methane seeps are more common than previously thought on the ocean floor, and if some are lukewarm like Jacó Scar, the new species could have used them as refuges while moving east.
And by comparing P. jaco to its vent-living relatives, researchers may be able to figure out how it adapted to live in the tepid waters of the Scar — which may provide clues to how other species living there did too.
The eelpout is part of a medley of other species that form Jacó Scar's composite ecosystem, along with, for example, clams typically found at cold seeps and bacteria found at hydrothermal vents. Jacó Scar is a "mixing bowl" of species found in other parts of the world, Seid says. Figuring out how this eclectic bunch interacts "is part of the fun."