Crippling Civilian Infrastructure Has Long Been Part Of Russian Generals' Playbook – Putin Is Merely Expanding That Approach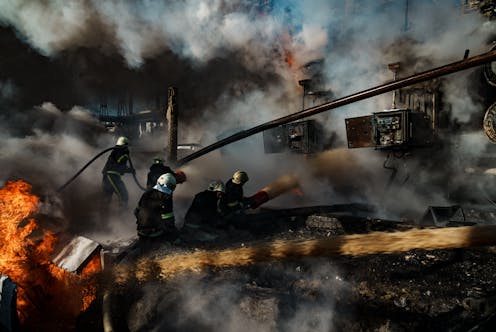 In response to massive battlefield setbacks, Russia has increased its attacks in Ukraine on everything from power plants and dams to railways, pipelines and ports.
These attacks against civilian infrastructure are not random. Rather, they reflect an insidious calculus integral to modern Russian military theory. For more than 20 years, Russian military journals have emphasized the need to conduct noncontact warfare and target critical infrastructure.
As a defense strategist with close to 20 years of military experience, I believe the world should brace for additional strikes as Moscow seeks ways to reestablish an upper hand in the conflict and make up for its declining battlefield position.
'Initial period of war'
Consistent with the Russian military concept of the "initial period of war" – the belief that keys to winning a conflict are actions from the outset that support mobilization and undermine the adversary – the attacks on infrastructure started before the first shot was fired.
In January 2022, a month before the invasion of Ukraine, a critical undersea cable connecting satellite ground stations in Svalbard, Norway, and the Norwegian mainland was mysteriously cut, with most speculating that Russia was to blame. By targeting this cable while Russia deployed more than 100,000 troops to Ukraine's border, Moscow was signaling the risk of escalation should NATO get involved in the conflict.
Once the war started, Russia used cyber operations to limit Ukraine's ability to communicate, temporarily disabling the Viasat satellite internet network.
Cyber operations targeting infrastructure, cable cutting, GPS jamming and electronic attack are key parts of Russian military theory. In fact, Russian military doctrine specifically calls for strategic operations to destroy critical infrastructure, or SODCIT.
These operations select targets primarily for their psychological effect. The belief is that hitting key infrastructure and creating prolonged blackouts, alongside disruptions to the ability to travel and transport goods, make political leaders and the population less willing to resist an attacking force.
Holding key targets at risk
According to Valeriy Aleksandrovich Kiselev, a retired colonel and professor at the Combined Arms Academy of the Armed Forces of the Russian Federation, modern wars should focus on destroying an enemies' critical economic infrastructure without employing large concentrations of ground troops.
This concept nests with the Russian approach to coercive strategy – an alternative to traditional warfare that attempts to manipulate the behavior of an opposing force through political, economic and military pressure. The logic is simple: Why fight a protracted conflict when you can use a mix of fear and punishment to get the enemy to surrender?
When this coercive campaign failed in Ukraine, Russia invaded and made seizing nuclear facilities a key part of its ground campaign, using them both as blackmail and an operational shield to protect troop concentrations. In March, Russia moved to seize multiple nuclear power plants across Ukraine. Fighting continues outside the largest of these facilities, in Zaporizhzhia.
After its initial war plan – which relied on rapid troop movement to seize key terrain – was overcome by stubborn Ukrainian resistance and Western support, Russia increased its attacks against transportation infrastructure in an unsuccessful bid to limit Kyiv's ability to resupply its front-line formations.
In April, Russia launched a series of attacks against railways across central and western Ukraine. In the summer, Russia attacked a major rail hub on Ukrainian Independence Day, killing multiple civilians.
While military campaigns historically target transportation infrastructure, Russia went further. In response to the ongoing counteroffensive – which has seen Ukrainian forces retake formerly Russian occupied land in the east and south of the country – coercive measures by Russia have escalated to include targeting major dams. In mid-September, Russia tried to destroy the dam outside of Kryvyi Rih, a city of half a million people. The city narrowly averted disaster despite two salvos of cruise missiles, which caused severe flooding but didn't produce a large enough hole to destroy the dam. Later in the month, Russia targeted a dam on the Siverskyi Donets River.
Expanding strategy beyond Ukraine's borders
Many believe that the attacks on infrastructure are now spreading beyond Ukraine.
Russia is strongly suspected to be behind the sabotage of an undersea gas pipeline in October, leading to an environmental disaster in the Baltic and further squeezing European energy markets ahead of winter.
Meanwhile, an investigation has been launched into an act of sabotage that took down large segments of the German rail network on Oct. 8, 2022. The "targeted and malicious action," as Germany's transport minister described it, came after NATO and the EU warned nations to protect critical infrastructure amid tensions in Europe.
These attacks could be harbingers of the next stage of the Ukrainian conflict. As seen in the horrific attacks against 10 Ukrainian cities on Oct. 10, a mix of fear, honor and interest will drive Russia to continue striking infrastructure as part of its larger coercive strategy.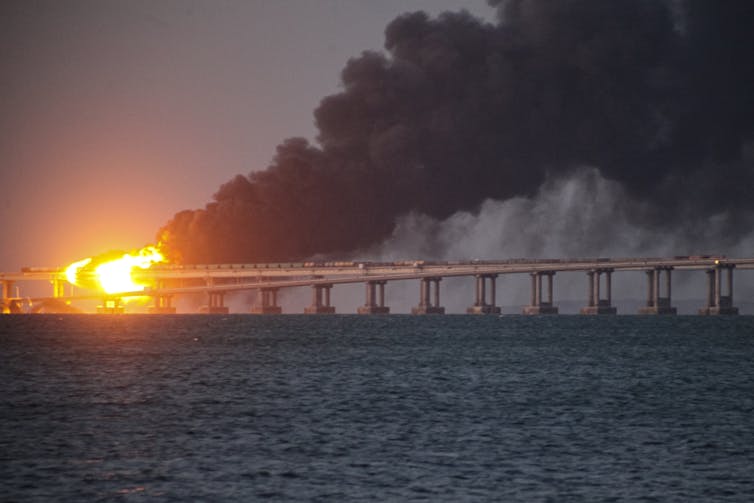 While Vladimir Putin stated the strikes were in response to the attack on the Crimea bridge, the targets indicate Moscow may be trying to break Kyiv's power generation and distribution capacity ahead of winter. With gas prices high, nuclear plants under threat and pipelines disrupted, Russia is betting it can use a cold winter to gain a new bargaining advantage.
If the sabotage attacks in Germany and on the Nord Stream pipelines are linked to Russia, as most suspect they are, Moscow is clearly signaling that countries supporting Ukraine are not safe from future infrastructure attacks. By using covert action and sabotage targeting infrastructure to complement Moscow's documented use of energy exports as a coercive lever, Putin is likely reminding the world of his reach without publicly acknowledging his role in ordering attacks.

Benjamin Jensen receives funding from the Carnegie Corporation of New York
When The Supreme Court Loses Americans' Loyalty, Chaos – Even Violence – Can Follow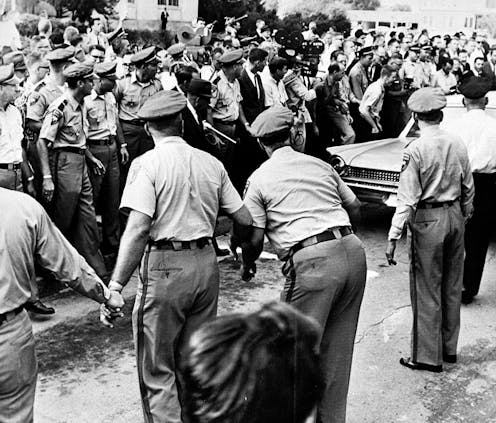 The Supreme Court's historically low public standing has prompted a national conversation about the court's legitimacy. It's even drawn rare public comment from three sitting Supreme Court justices.
What's referred to by experts as the problem of "judicial legitimacy" may seem abstract, but the court's faltering public support is about more than popularity.
Eroding legitimacy means that government officials and ordinary people become increasingly unlikely to accept public policies with which they disagree. And Americans need only look to the relatively recent past to understand the stakes of the court's growing legitimacy problem.
Cost 'paid in blood'
The Supreme Court's 1954 decision in Brown v. Board of Education shined a light on many white Americans' tenuous loyalty to the authority of the federal judiciary.
In Brown, the court unanimously held that racial segregation in public education violates the equal protection clause of the 14th Amendment. The justices were abundantly aware that their decision would evoke strong emotions. So Chief Justice Earl Warren worked tirelessly to ensure that the court issued a unanimous, short and readable opinion designed to calm the anticipated popular opposition.
Warren's efforts were in vain. Rather than recognizing the court's authoritative interpretation of the Constitution, many white Americans participated in an extended, violent campaign of resistance to the desegregation ruling.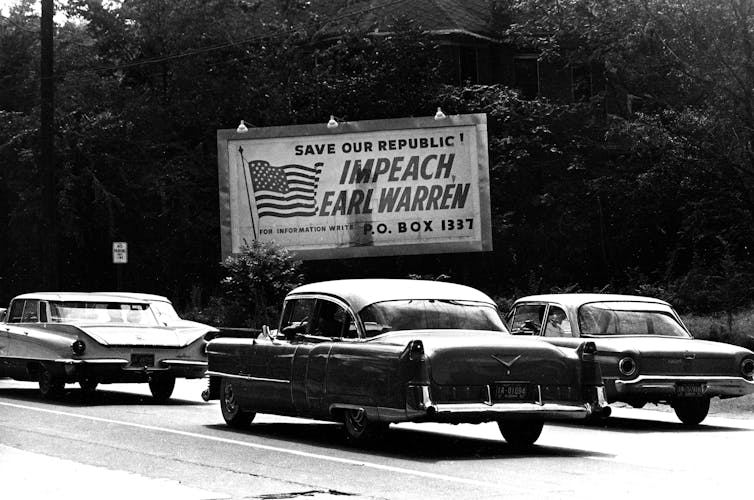 The integration of the University of Mississippi in 1962 provides a pointed example of this resistance.
The Supreme Court had backed a lower federal court that ordered the university to admit James Meredith, a Black Air Force veteran. But Mississippi Gov. Ross Barnett led a wide-ranging effort to stop Meredith from enrolling at Ole Miss, including deploying state and local police to prevent Meredith from entering campus.
On Sunday, Sept. 30, 1962, Meredith nevertheless arrived on the university's campus, guarded by dozens of federal marshals, to register and begin classes the next day. A crowd of 2,000 to 3,000 people gathered on campus and broke into a riot. Meredith and the marshals were attacked with Molotov cocktails and gunfire. The marshals fired tear gas in return.
In response, President John F. Kennedy invoked the Insurrection Act of 1807 and ordered the U.S. Army onto campus to restore order and protect Meredith. Overnight, thousands of troops arrived, battling rioters.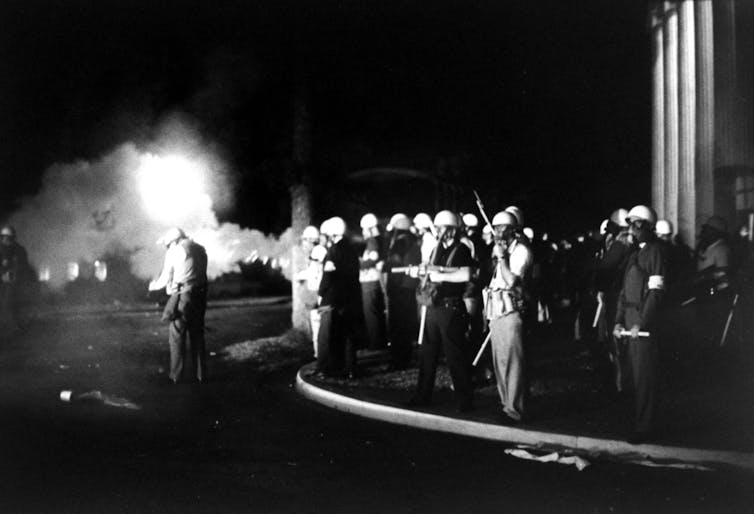 The violence finally ended after 15 hours, leaving two civilians dead – both killed by rioters – and dozens of wounded marshals and soldiers in addition to hundreds of injuries among the insurgent mob.
The next day, Oct. 1, Meredith enrolled in the university and attended his first class, but thousands of troops remained in Mississippi for months afterward to preserve order.
What some call "the Battle of Oxford" was fueled by white racism and segregation, but it played out against the backdrop of weak judicial legitimacy. Federal courts did not command enough respect among state officials or ordinary white Mississippians to protect the constitutional rights of Black Mississippians. Neither Gov. Barnett nor the thousands of Oxford rioters were willing to follow the court order for Meredith to enroll at the university.
In the end, the Constitution and the federal courts prevailed only because Kennedy backed them with the Army. But the cost of weak judicial legitimacy was paid in blood.
Legitimacy leads to acceptance
In contrast, when people believe in the legitimacy of their governing institutions, they are more likely to accept, respect and abide by the rules the government – including the courts – ask them to live under, even when the stakes are high and the consequences are far-reaching.
For example, two decades ago, the Supreme Court resolved a disputed presidential election in Bush v. Gore, centered on the counting of ballots in Florida. This time, the court was deeply divided along ideological lines, and its long, complicated and fragmented opinion was based on questionable legal reasoning.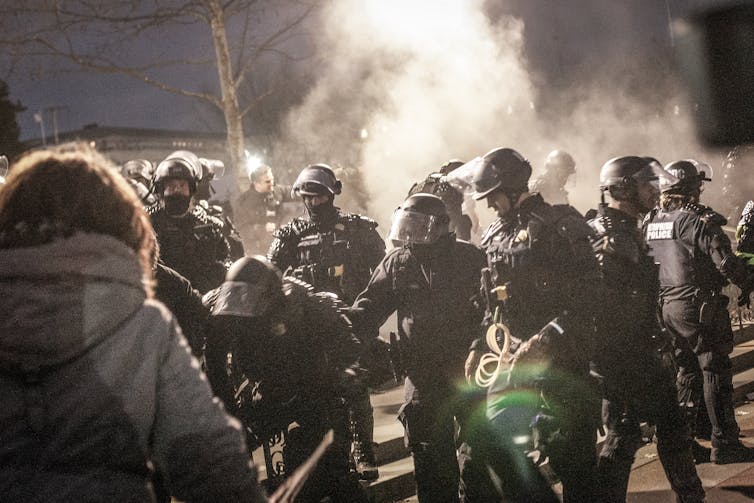 But in 2000, the court enjoyed more robust legitimacy among the public than it does today. As a consequence, Florida officials ceased recounting disputed ballots. Vice President Al Gore conceded the election to Texas Gov. George W. Bush, specifically accepting the Supreme Court's pivotal ruling.
No Democratic senator challenged the validity of Florida's disputed Electoral College votes for Bush. Congress certified the Electoral College's vote, and Bush was inaugurated.
Democrats were surely disappointed, and some protested. But the court was viewed as sufficiently legitimate to produce enough acceptance by enough people to ensure a peaceful transition of power. There was no violent riot; there was no open resistance.
Indeed, on the very night that Gore conceded, the chants of his supporters gathered outside tacitly accepted the outcome: "Gore in four!" – as if to say, "We'll get you next time, because we believe there will be a next time."
Risks ahead
But what happens when institutions fail to retain citizens' loyalty?
The Jan. 6, 2021, insurrection showcased the consequences of broken legitimacy. The rioters who stormed the Capitol had lost faith in systems that undergird American democracy: counting presidential votes in the states, tallying Electoral College ballots and settling disputes over election law in the courts.
The rioters may well have believed their country was being stolen, even if such beliefs were baseless. So, they rebelled in the face of a result they didn't like.
This threat is far from gone. In addition to numerous important questions about individual rights and the scope of government power, the Supreme Court may soon be asked to resolve disputes over the administration of elections and the power to certify election winners – particularly the authority to designate a slate of presidential electors.
Nothing is certain in politics, but the specter of constitutional crisis looms over the United States. It's dangerously unclear whether the Supreme Court retains enough legitimacy to authoritatively resolve such disputes. If it doesn't, the court's abstract legitimacy problem could once again end with blood in the streets.

Joseph Daniel Ura has previously received research funding from the National Science Foundation and funding for academic programs from the Charles Koch Foundation.
Matthew E. K. Hall has previously received research funding from the National Science Foundation.
Republicans And Democrats See News Bias Only In Stories That Clearly Favor The Other Party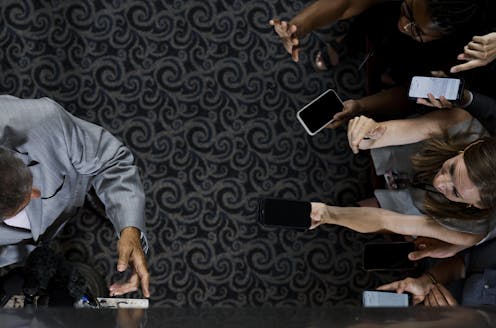 Charges of media bias – that "the media" are trying to brainwash Americans by feeding the public only one side of every issue – have become as common as campaign ads in the run-up to the midterm elections.
As a political scientist who has examined media coverage of the Trump presidency and campaigns, I can say that this is what social science research tells us about media bias.
First, media bias is in the eye of the beholder.
Communications scholars have found that if you ask people in any community, using scientific polling methods, whether their local media are biased, you'll find that about half say yes. But of that half, typically a little more than a quarter say that their local media are biased against Republicans, and a little less than a quarter say the same local media are biased against Democrats.
Research shows that Republicans and Democrats spot bias only in articles that clearly favor the other party. If an article tilts in favor of their own party, they tend to see it as unbiased.
Many people, then, define "bias" as "anything that doesn't agree with me." It's not hard to see why.
'Media' is a plural word
American party politics has become increasingly polarized in recent decades. Republicans have become more consistently conservative, and Democrats have become more consistently liberal to moderate.
As the lines have been drawn more clearly, many people have developed hostile feelings toward the opposition party.
In a 2016 Pew Research Center poll, 45% of Republicans said the Democratic Party's policies are "so misguided that they threaten the nation's well-being," and 41% of Democrats said the same about Republicans. A poll conducted in midyear 2022 by Pew showed that "72% of Republicans regard Democrats as more immoral, and 63% of Democrats say the same about Republicans."
Not surprisingly, media outlets have arisen to appeal primarily to people who share a conservative view, or people who share a liberal view.
That doesn't mean that "the media" are biased. There are hundreds of thousands of media outlets in the U.S. – newspapers, radio, network TV, cable TV, blogs, websites and social media. These news outlets don't all take the same perspective on any given issue.
If you want a very conservative news site, it is not hard to find one, and the same with a very liberal news site.
First Amendment rules
"The media," then, present a variety of different perspectives. That's the way a free press works.
The Constitution's First Amendment says Congress shall make no law limiting the freedom of the press. It doesn't say that Congress shall require all media sources to be "unbiased." Rather, it implies that as long as Congress does not systematically suppress any particular point of view, then the free press can do its job as one of the primary checks on a powerful government.
When the Constitution was written and for most of U.S. history, the major news sources – newspapers, for most of that time – were explicitly biased. Most were sponsored by a political party or a partisan individual.
The notion of objective journalism – that media must report both sides of every issue in every story – barely existed until the late 1800s. It reached full flower only in the few decades when broadcast television, limited to three major networks, was the primary source of political information.
Since that time, the media universe has expanded to include huge numbers of internet news sites, cable channels and social media posts. So if you feel that the media sources you're reading or watching are biased, you can read a wider variety of media sources.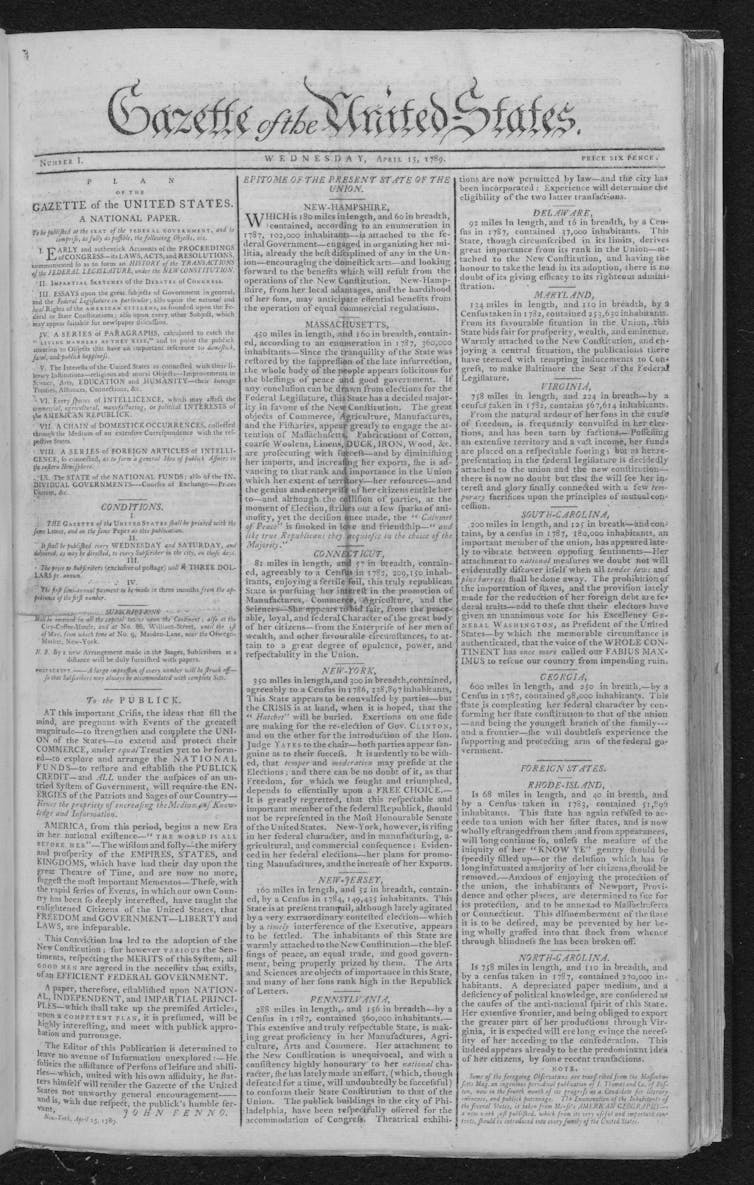 If it bleeds, it leads
There is one form of actual media bias. Almost all media outlets need audiences in order to exist. Some can't survive financially without an audience; others want the prestige that comes from attracting a big audience.
Thus, the media define as "news" the kinds of stories that will attract an audience: those that feature drama, conflict, engaging pictures and immediacy. That's what most people find interesting. They don't want to read a story headlined "Dog bites man." They want "Man bites dog."
The problem is that a focus on such stories crowds out what we need to know to protect our democracy, such as: How do the workings of American institutions benefit some groups and disadvantage others? In what ways do our major systems – education, health care, national defense and others – function effectively or less effectively?
These analyses are vital to citizens – if we fail to protect our democracy, our lives will be changed forever – but they aren't always fun to read. So they get covered much less than celebrity scandals or murder cases – which, while compelling, don't really affect the ability to sustain a democratic system.
Writer Dave Barry demonstrated this media bias in favor of dramatic stories in a 1998 column.
He wrote, "Let's consider two headlines. FIRST HEADLINE: 'Federal Reserve Board Ponders Reversal of Postponement of Deferral of Policy Reconsideration.' SECOND HEADLINE: 'Federal Reserve Board Caught in Motel with Underage Sheep.' Be honest, now. Which of these two stories would you read?"
By focusing on the daily equivalent of the underage sheep, media can direct our attention away from the important systems that affect our lives. That isn't the media's fault; we are the audience whose attention media outlets want to attract.
But as long as we think of governance in terms of its entertainment value and media bias in terms of Republicans and Democrats, we'll continue to be less informed than we need to be. That's the real media bias.
This story is an updated version of an article that was originally published on Oct. 15, 2020.

Marjorie Hershey does not work for, consult, own shares in or receive funding from any company or organization that would benefit from this article, and has disclosed no relevant affiliations beyond their academic appointment.
How Debt-For-Climate Swaps Can Help Solve Low-Income Countries' Fiscal And Environmental Challenges At The Same Time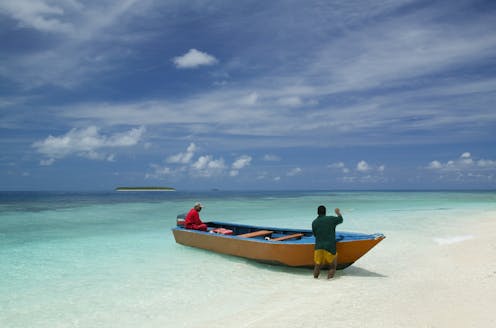 Barbados Prime Minister Mia Amor Mottley spoke passionately to the United Nations General Assembly in September about the mounting debt many developing countries are shouldering and its increasing impact on their ability to thrive.
The average debt for low- and middle-income countries, excluding China, reached 42% of their gross national income in 2020, up from 26% in 2011. For countries in Latin America and the Caribbean, the annual payments just to service that debt averaged 30% of their total exports.
At the same time, these countries are facing a "triple crisis of climate change, of pandemic and indeed now the conflict that is leading to the inflationary pressures that lead regrettably to people taking circumstances into their own hands," Mottley said.
Rising borrowing costs coupled with high inflation and slow economic growth have left developing countries like hers in a difficult position when it comes to climate change. High debt payments mean countries have fewer resources for mitigating and adapting to climate change. Yet climate change is increasing their vulnerability, and that can raise their sovereign risk, increasing the cost of borrowing. Declining productive capacity and tax base can lead to higher debt risks. It's a vicious cycle.
As one solution, countries and international organizations are talking about "debt-for-climate swaps" to help tackle both problems at the same time. U.N. Deputy Secretary-General Amina Mohammed mentioned debt-for-climate swaps ahead of the 2022 U.N. Climate Change Conference, Nov. 6-18, as one option for refinancing countries' "crippling" debt.
How debt swaps work
Debt-for-climate swaps allow countries to reduce their debt obligations in exchange for a commitment to finance domestic climate projects with the freed-up financial resources.
They have been used since the late 1980s to preserve the environment and address the liquidity crisis in developing countries, including Bolivia, Costa Rica and Belize. These are commonly known as "debt-for-nature swaps."
Belize, for example, was able to lower its debt in exchange for committing to designate 30% of its marine areas as protected areas and to spend $US4 million a year for the next two decades on marine conservation under a complex debt-for-nature swap.
The swap, organized in 2021 by The Nature Conservancy, involves the U.S.-based environmental group lending funds at a low-interest rate to Belize to buy back $553 million in commercial debt at a deep discount of 45%. The Nature Conservancy raised funds from the investment bank Credit Swisse via the issuance of "blue bonds" backed by the U.S. government, which gave the bonds a strong investment-grade credit rating.
Similarly, Costa Rica has carried out two debt-for-nature swaps with the United States. Under the swaps, Costa Rica agreed to allocate $53 million for conservation projects. It has already planted more than 60,000 trees and reversed its deforestation.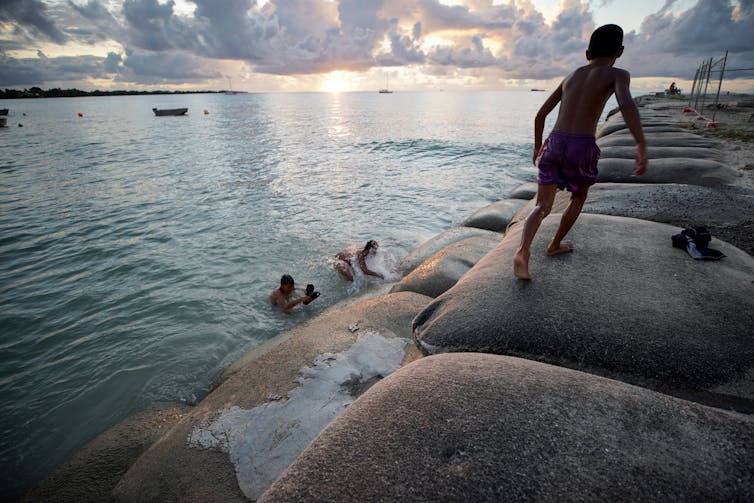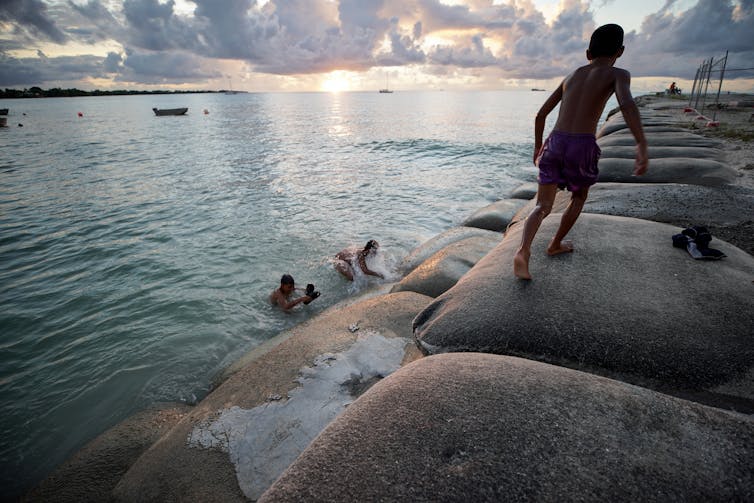 While debt-for-nature swaps have been used mostly for conservation, the same concept could be expanded to climate change mitigation and adaptation activities, such as building solar farms or sea walls. Some finance experts have suggested that debt-for-climate swaps could be structured in a way that could also encourage private-sector bond holders to exchange the national debt they hold for carbon offsets.
Three keys to successful debt-for-climate swaps
I work with the Climate Policy Lab at the Fletcher School at Tufts University. Our experience with debt swaps offers lessons for the design and implementation of debt-for-climate swaps.
First, the complex governance structures of debt swaps have limited their use. In the past, transactions were generally small, generating only about $1 billion in funding for the environment from 1987 to 2003. A term sheet template for future debt-for-climate swaps could reduce the complexity and lower the time and costs involved.
Second, debt-for-climate swaps would need to relieve enough of the debt burden to allow debtor countries to invest in climate adaptation and mitigation projects. For instance, the U.S. created debt-for-nature swaps with Indonesia in 2009 that were criticized for not doing enough to help the Indonesian government achieve its conservation goals.
Another concern is known as "additionality" – ensuring that the swaps lead to additional climate efforts, as opposed to covering efforts already planned or already paid for with international climate finance.
With widening gaps between the amount of adaptation assistance reaching countries and the amount they need, debt-for-climate swaps can be a meaningful source of funding. Climate Policy Initiative, a nonprofit research group, recently estimated that about 90% of the adaptation needs countries listed in their Nationally Determined Contributions – the climate change plans they submit to the U.N. – can be only met with help from development banks or other countries.
Regions experimenting with debt swaps
A few regions are testing debt-for-climate swaps.
The Economic and Social Commission for Western Africa has developed a Climate/Sustainable Development Goal Debt Swap, in which it functions as a liaison between creditors and seven pilot countries. The initiative focuses on advancing sustainable development and climate goals, such as developing more resilient agriculture.
Similarly, as part of the Caribbean Resilience Fund, the Economic Commission for Latin America and the Caribbean plans to launch a Debt for Climate Adaptation Swap. It aims to reduce the $527 million of debt in three pilot countries by issuing green bonds, similar to Belize's debt swap. Development banks would play a crucial role by guaranteeing new bonds and reducing the credit risk.
With carefully designed debt-for-climate swaps and support from international institutions, developing countries could expand their finance for desperately needed climate mitigation and adaptation actions and remove some of their heavy debt burden.

Soyoung Oh does not work for, consult, own shares in or receive funding from any company or organization that would benefit from this article, and has disclosed no relevant affiliations beyond their academic appointment.