Australian National Review – The Rate Of "Cyber Attacks" Is Allegedly Increasing. More Aussie Data Stolen
The Rate of "Cyber Attacks" is Allegedly Increasing. More Aussie Data Stolen
Some interesting points in this article:
1. The rate of "cyber attacks" is allegedly increasing
2. They've made a point of stating that 85% of Aussie businesses have lost up to 10% of revenue due to cyber attacks in the last 12 months
Naturally, many businesses that read these stats who cannot afford 10% of revenue loss will fall into the lie of the "safety" of digital ID much more easily, or whatever the government centralised proposed solution is, for fear of not losing revenue. Nevermind that all of the "digital attacks" are happening… that's right… digitally.
Australian fruit company Costa Group experiences 'malicious' cyberattack
Another Australian company has been hit by a cyberattack, which could have exposed the personal details of several thousands of people.
Another Australian company has been targeted in a "malicious" cyberattack with fears sensitive information about potentially several thousand employees has been leaked.
Avocado and berry grower Costa Group said there was a "risk that personal sensitive information of workers on Costa's Australian berry farms may have been accessed", including passport, bank account and superannuation details, as well as tax file numbers.
The ASX-listed horticulture business is the latest Australian company to become a casualty of a cyberattack, warning it had experienced "a malicious and sophisticated" phishing attack on its server, which holds data for the company's berry operations.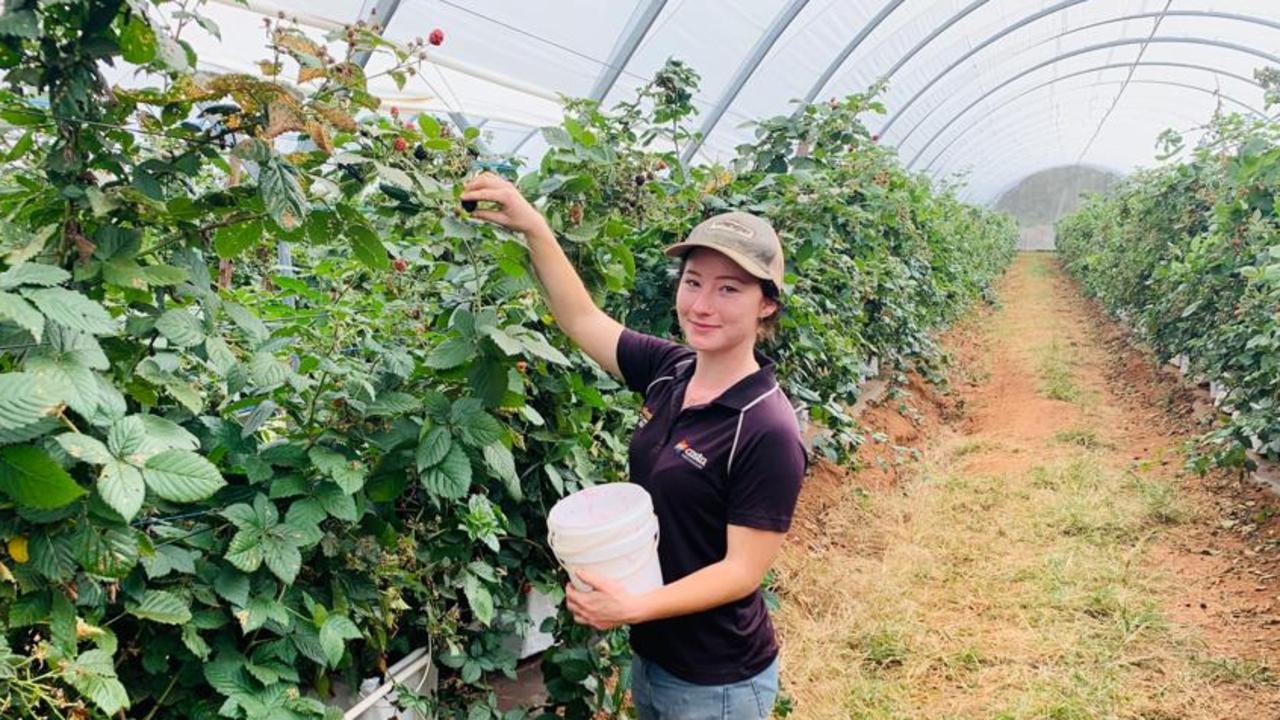 A TAFE student working on one of Costa's farms.
Phishing scams are attempts by scammers to trick you into giving out personal information such as your bank account numbers, passwords and credit card numbers generally by trying to impersonate a reputable source over email.
Costa revealed that employees directly hired by its berry category since 2013 or provided by labour hire organisations since 2019 could have been impacted by the August hack.
"Although only approximately 10 per cent of the data on the file server was accessed, it is not clear what specific data was accessed due to the hacker encrypting their downloads," the company said in a statement.
The sensitive information had been collected to satisfy certain laws relating to the employment of citizens and non-citizens and has been retained as per relevant record retention requirements, it added.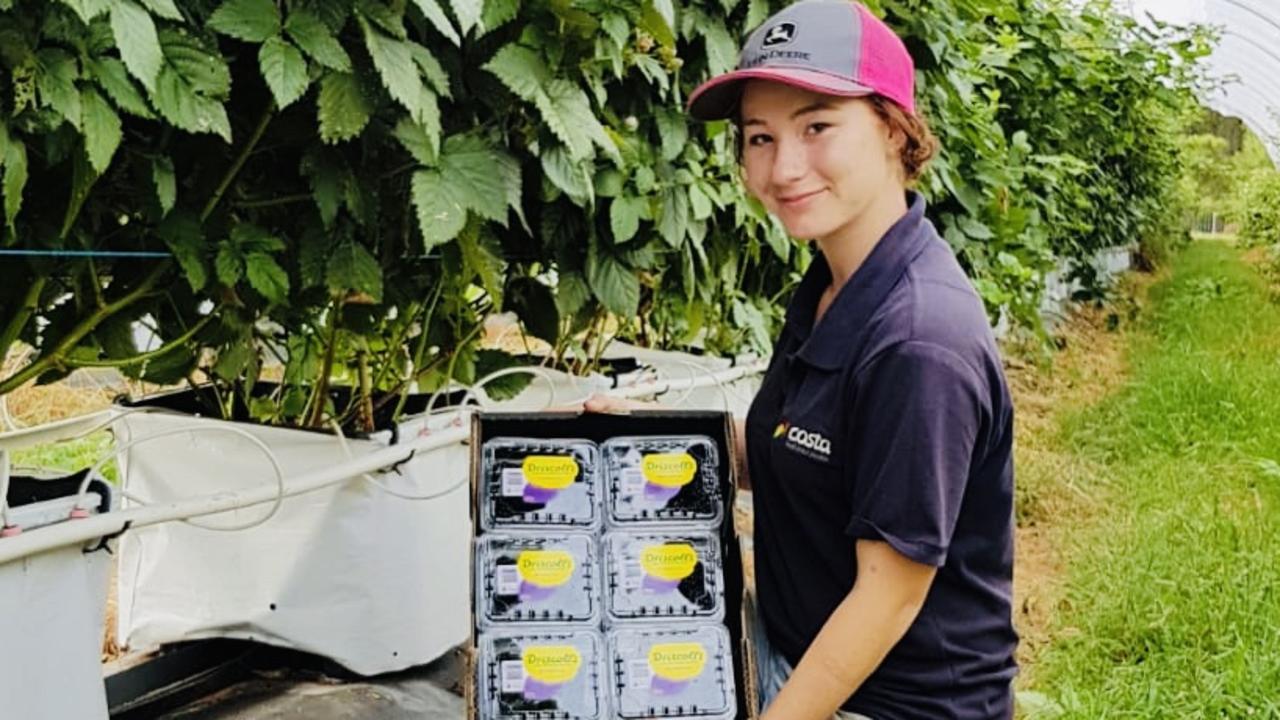 A TAFE student with some of the blackberry harvest at Costa Group's horticultural operations at Tolga.
The Australian Cyber Security Centre and the Office of the Australian Information Commissioner had been notified of the attack and Costa said it had limited traffic to servers, increased the level of end point protection and conducted more training to prevent further attacks.
"To minimise impact to individuals from the attack, we have been and continue to conduct continuous monitoring of the dark web to detect if any information from the server has been posted," the company said.
"We can confirm to date, that we have not identified the publication of any such information.
"We will seek to notify you promptly if our monitoring processes detect this information via a further website posting on the Costa Group website."
A worker plants blueberries at Costa Group's operations at Tolga.
It comes as a growing list of Australian companies have come under attack.
Tax files numbers, bank account information and medical checks from Australian staff working at a security firm called G4S were stolen and posted online earlier this year.
Then there was the data of about 9.8 million customers caught up in the cyber attack on Optus, which included 1.2 million customers that had at least one form of current and valid identification and personal information accessed by hackers.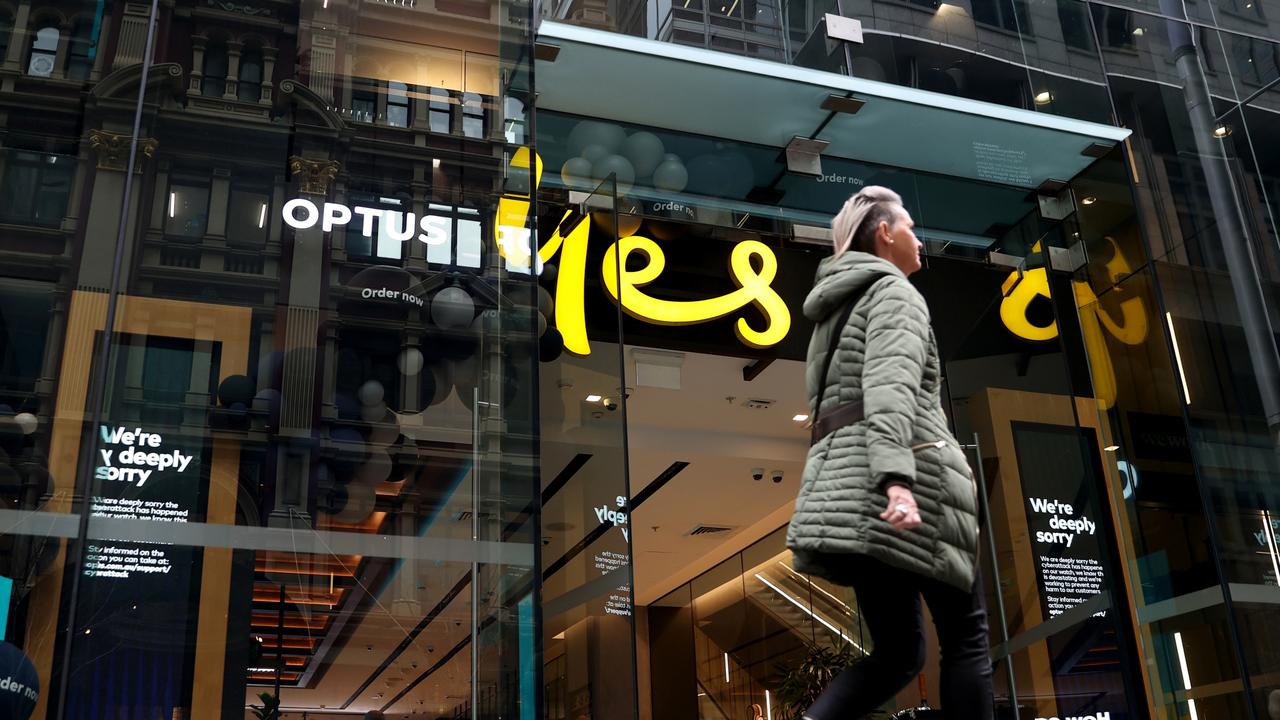 The identification details of 9.8 million Optus customers was stolen in one of the largest data breaches to occur in Australia.
Further, there were about 900,000 customers who had numbers from expired identification documents stolen, as well as personal information, Optus revealed.
Telstra and NAB also revealed the names and email addresses of current and former employees were accessed by hackers.
Alarmingly, 85 per cent of respondents from Australian businesses reported they had lost up to 10 per cent in revenue due to security breaches in the last 12 months, according to a report from cybersecurity specialists Trellix, which was formerly known as McAfee.
Resources:
https://t.me/zeeemedia/7299
https://www.news.com.au/finance/business/technology/australian-fruit-company-costa-group-experiences-malicious-cyberattack/news-story/bf63722ff91ebc510557a9b79623327c
Sanctioned Son Of Russian Tycoon Records 'I'm A Ukrainian' Video Appeal
Mikhail Fridman's son Alexander Ozhelskiy accused Kiev's "f****** bureaucrats" of sanctioning him despite his stance
Alexander Ozhelskiy, son of a Russian business tycoon Mikhail Fridman, has called on Kiev to lift "unfair" sanctions against him. In a YouTube video address, recorded in English, the 22-year-old businessman accused the "f****** bureaucrats" of ignoring his pro-Ukrainian stance.
"I can't believe that my position regarding the war wasn't even taken into consideration. And I can't believe that the sole reason for these sanctions is my relation to another person," Ozhelskiy said.
He emphasized that he is "appalled and offended" by the Ukrainian authorities' October 20 decision to include him in their list of 256 sanctioned Russian businessmen and their relatives.
Ozhelskiy explained that he has been opposing the Russian military operation in Ukraine "since day one," left Russia immediately after its launch on February 24 and has no plans to return.
"I left a lot, I left my friends, I left my business and I left it because I value my freedom more," the businessman explained, revealing that he is now based in Dubai and lives in an Airbnb apartment, rather than in a "f****** mansion."
Ozhelskiy said that in the past he had participated in "pro-Ukrainian protests" in London and in some demonstartions in Russia and that he doesn't understand why "a bunch of f****** bureaucrats" is ignoring those facts.
"I think that this decision should be overturned," he said.
Fridman's son emphasized that he considers himself Ukrainian and "can't believe" that he cannot visit his relatives in the country anymore.
Read more

Zelensky sanctions thousands of Russians
Ozhelskiy is the only son of Lviv-born Fridman. In May, he, along with his four sisters, featured on the Forbes' list of the richest heirs of Russian billionaires, with his inheritance share estimated at $2,6 billion.
Fridman, however, made it clear several years ago that he was going to leave almost all of his wealth to the charity rather than to his children.
In March, the $13-billion worth magnate said that the sanctions imposed against him and  against other Russian businessmen by the Western countries are "unfair" and "useless."
He also described an assumption that being close to the Kremlin is paramount to make billions in Russia, as a "very typical and inappropriate" myth.
US-Led Force Might Intervene In Ukraine Conflict – Ex-CIA Chief
The US and its allies may join the conflict between Moscow and Kiev even if there is no threat to NATO, David Petraeus believes
The US and its allies might directly intervene in the ongoing conflict between Moscow and Kiev, even when there is no threat to any NATO member states, retired US Army general David Petraeus told France's L'Express weekly on Saturday. Washington might form a new coalition of the willing in such a scenario and use it instead of NATO, Petraeus, who also briefly served as the CIA director, believes.
Russia could take some actions in Ukraine that would be "so shocking and so horrific" that it would prompt a response from the US and other nations, he said, adding that they "might react in one way or another, but as a multinational force led by the US and not as a NATO force."
The military alliance would still likely be bound by its treaty and would only join the conflict if Article 5 is invoked, i.e. if one of its members is attacked, the general believes. Petraeus also said that Moscow is not interested in escalating the conflict and turning it into a global war. A wider conflict is "the last thing" Russian President Vladimir Putin needs right now, he added.
Earlier in October, Petraeus claimed that the US could wipe out all Russian forces in Ukraine, alongside with the Russian Black Sea fleet, if Moscow uses nuclear arms in Ukraine. On Saturday, he doubled down on these words by saying that Washington's response to such a move on Russia's part would involve "more than diplomatic … economic and legal actions."
Read more

Ex-CIA chief outlines potential US response if Russia uses nukes
At the same time, Petraeus said that his earlier words had described "just one" of "many options" America has in store in case Russia resorts to the use of nuclear arms, which he called an "extremely bad decision."
The general also said that he still thinks there is nothing Russia could do to change the situation on the frontlines, which, according to Petraeus, is unfavorable to Moscow.
Petraeus commanded US forces in Afghanistan from 2010 to 2011, presiding over America's highest death tolls during the 20-year war, and increased civilian casualties.
The general helped persuade then-President Barack Obama to deploy an additional 30,000 US troops to the country, but his counterinsurgency plan, which hinged on "securing and serving" the local population, flopped.
He then became CIA director in 2011, only to resign the following year after having an extramarital affair with the woman who was writing his biography.
Russia Offers 'heating Points' In EU Cities
Russian cultural centers in Finland and Luxembourg have welcomed their first visitors
Russian cultural centers in Finland and Luxembourg are welcoming visitors who need to "warm up" as energy prices continue to skyrocket, according to the country's federal agency for compatriots living abroad and international humanitarian cooperation.
The agency, Rossotrudnichestvo, has opened "heating points" in its centers, which provide those in need with an opportunity to warm up while enjoying tea or watching a movie.
"Little by little, [the people] are coming. In Finland, Luxembourg, they were already warming up yesterday. The film program is up to February," a spokesperson told the Russian media on Saturday.
As the energy crisis continues in the European Union, exacerbated by anti-Russia sanctions and a sharp decrease in Russian energy supplies, Rossotrudnichestvo said on Friday. It added that "human warmth from Russia" and its "traditional hospitality" is what "freezing European families" need.
Read more

EU says its gas reserves are ready for winter. But there's a catch
While the agency emphasized that its Russian houses "are outside of politics," the head of the agency, Evgeny Primakov, made it clear who he believes is responsible for the unfolding crisis.
"Europeans, do not freeze because of your stupid and evil leaders! If your children are wrapped in jackets at home and you have started to save heavily on electricity because Ursula [von der Leyen], Olaf [Scholz] and Emmanuel [Macron] gave away your money for weapons for the Ukrainian Nazis, come and warm up in our cultural centers in your capitals," he wrote on Telegram.
Apart from having tea and enjoying movies and cartoons, visitors to the Russian houses will also be able to recharge their phones and get involved in "a lot of interesting things going on," Primakov said.
Following the launch of Moscow's military operation in Ukraine, the EU authorities pledged to end their dependence on Russian energy supplies as quickly as possible. 
President Vladimir Putin likened the bloc's attempts to cut itself off from Russian fossil fuels to economic "suicide."