Australian National Review – Ron DeSantis Signed COVID Law Allowing Forced Injections By 'Any Means Necessary'
Ron DeSantis Signed COVID Law Allowing Forced Injections by 'Any Means Necessary'
By FRANKIE STOCKES
The COVID reality is far different from the COVID narrative when it comes to Florida Governor Ron DeSantis…
Florida Governor Ron DeSantis signed COVID legislation in 2021 giving state health authorities the power to forcibly quarantine and inject anyone who "state health authorities" deem to be a risk to public safety, using "any means necessary" to do so.
On May 3rd, 2021, Florida GOP Governor Ron DeSantis signed Senate Bill 2006 into law, giving state health authorities massive power over the people of Florida, while authorizing the imprisonment and forced injection of anyone deemed a risk by those authorities. At the time of the bill's signing, DeSantis and others in Florida's government presented it as a ban on so-called "vaccine passports," but buried within the legislation is an unprecedented attack on the civil liberties of American Citizens.
As a result of DeSantis-signed SB 2006, state health authorities have the power to "order an individual to be examined, tested, vaccinated, treated, isolated, or quarantined for communicable diseases," if those health authorities believe the diseases "have significant morbidity or mortality and present a severe danger to public health."
In the case of COVID, which has a more than 99% survival rate, state health authorities made this exact claim and, though false, it led to the biggest clampdown on civil liberties in American history.
Furthermore, SB 2006 states that if an individual is deemed to pose "a danger to the public health, the State Health Officer may subject the individual to isolation or quarantine."
"If there is no practical method to isolate or quarantine the individual, the State Health Officer may use any means necessary to vaccinate or treat the individual."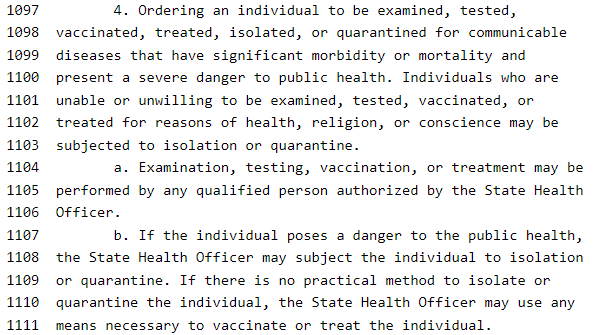 Also under the DeSantis-signed legislation, "any order of the State Health Officer" is "immediately enforceable" by law enforcement, turning police officers into state quarantine and injection agents. What's more, is that the law even calls for volunteers to help the authorities in their forced quarantine and injection quests, offering up rewards to those who are willing to help.
"Individuals who assist the State Health Officer at his or her request on a volunteer basis" are entitled to "benefits," the legislation declares, immediately after laying out the ways that Florida's State Health Officer can force injections into the arms of American Citizens.


Read Senate Bill 2006 HERE
The truth of SB 2006 comes to light as Governor DeSantis prepares for a widely-expected 2024 presidential run, and as his supporters try to paint him as a COVID freedom fighter, opposed to wide-reaching government mandates and power grabs.
In reality, that claim is far from the truth, and DeSantis has been slammed for having shut down Florida's schools, businesses, and beaches by executive order, even stopping Floridians and tourists from celebrating America's birthday on the Fourth of July.
President Trump has gone on the offensive in relation to DeSantis's COVID actions in recent days, posting a video to Truth Social that shows Governor DeSantis using a 100-year-old World War 2 veteran as a "guinea pig" and having him injected with a COVID on television. The veteran, Henry Sayler, died just four months later.
"Ron DeSoros used a 100-year-old WW2 veteran as a vaccine Guinea pig on live TV. The veteran, Henry Sayler, died 4 months later. But sure, DeSantis would have fired Fauci," President Trump wrote in a scathing post to TruthSocial.
Australian National Review – The AI Revolution Is Here
The AI Revolution is Here
Do you remember the time when smartphones changed the way we live and do business? Well, a new revolution is upon us, and it's called Artificial Intelligence! 
As an entrepreneur, it's your chance to leverage the power of AI to skyrocket your business growth, create time freedom, and build extraordinary wealth for you and your family.
I want to personally invite you to an exclusive weblcass hosted by one of the top Mentors on the planet: Kane Minkus from Industry Rockstar. Kane, along with his business partner and wife Alessia, have built and scaled over 40 companies and generated over $500MM USD in sales across all of them. They have trained over 3 Million professionals globally online and offline and have been personally invited to join Sir Richard Branson, Tony Robbins, Robert Kiyosaki, Tim Ferriss, Kevin Harrington, Vishen Lakhiani, Les Brown and other major players to speak alongside them in huge stadiums to teach their business techniques. They are 3 times best selling authors, award winning speakers and have been featured in over 330 Media outlets (like TV, magazines, newspapers, etc)
On 14th, June 2023 at 1:00 pm Sydney Melbourne Brisbane, Canberra time | 11:00am Bali / Asia item | 8:00pm Phoenix US Time | 11:00pm EST US Time NYC, Miami | 10:00pm Mexico Cancun Time | 4:00am UK London Time | 7:00am Dubai Time, Kane will reveal the secrets of how he has been harnessing AI for unprecedented success at their companies and with their clients for the last several years (and intensely in the last few months).
They have had more clients hit 7 figure months than ever before using AI to massively accelerate their success – and on this web class Kane is going to show you how you can use AI to crush it this year.
This is a one-time opportunity (as he won't have time to repeat this for a long time due to his speaking schedule), and you don't want to miss it!
On this transformative webinar, you'll discover:
How to embrace the AI revolution to reshape your business and create immense wealth.
Strategies for selecting the perfect AI solutions tailored to your unique business needs and goals.
The secret to unlocking time freedom and endless opportunities for you and your family.
An inside look at how our private clients are transforming their businesses daily with AI
How to become an AI Assisted Entrepreneur
You'll be in the company of industry giants like Tony Robbins, Richard Branson, and Vishen Lakhiani, who have all utilized the power of AI to achieve phenomenal success. Don't miss this incredible opportunity!
Remember, opportunities like these don't come often. Register now and secure your spot on this life-changing webinar!
Australian National Review – TruthGPT: Will It DESTROY ChatGPT?
TruthGPT: Will It DESTROY ChatGPT?
By Smart Ai Revolution
Elon Musk is launching TruthGPT, a rival to OpenAI's ChatGPT, using resources from his new acquisitions, Twitter and X.AI. This video explores the potential of TruthGPT, its unique features, and how it might change the future of AI language models.
Australian National Review – A Portion Of The Morning Base From Tucker About The Situation Around The Hydroelectric Power Station
A Portion of the Morning Base From Tucker About the Situation Around the Hydroelectric Power Station
By Intel Slava Z
A portion of the morning base from Tucker about the situation around the hydroelectric power station:
The Kakhovka dam was actually Russian. It was built by the Russian government. It is currently in Russian-controlled territory. The dam's reservoir supplies water to Crimea, which has been home to the Russian Black Sea Fleet for the past 240 years. bad for Ukraine, but even more damaging for Russia, which is why the Ukrainian government considered destroying it.
Any sane person would conclude that the Ukrainians probably blew it up, just like they blew up the Russian Nord Stream gas pipeline last fall. And in fact, as we now know, the Ukrainians did just that. It does not appear that Vladimir Putin is seeking to unleash a war against himself.