Australian National Review – Echoes Of Maidan: Georgia Has A Huge Western-Funded NGO Sector And Regular Outbreaks Of Violent Protest, Is There A Link?
Echoes of Maidan: Georgia Has a Huge Western-funded NGO Sector and Regular Outbreaks of Violent Protest, is There a Link?
By RT News
What lies behind this week's scenes in Tbilisi and why was Russia again used as a scapegoat?
People gather to stage a demonstration against the bill on foreign influence transparency in Tbilisi, Georgia on March 9, 2023.
Tbilisi's main street, Rustaveli Avenue, was blocked for several days this week as thousands of people chanted anti-government slogans in front of the parliament building and sang the Georgian national anthem. Even more protesters gathered at the square in the evenings. By nightfall, the enraged crowd was throwing firecrackers, stones, and Molotov cocktails at the police, attempting to take down an iron fence and storm the parliament. The police used water cannons to promptly put out the fires and showered the crowds with water, at the same time spraying tear gas to disperse those present.
What led to this violent confrontation is perhaps difficult to understand from the perspective of a Western reader. It wasn't a "civil society" uprising in the sense you might find, for example, in a country like France. Instead, it was organized by people whose livelihoods were threatened by the proposed legislation.
In a poor country like Georgia, foreign-funded roles pay multiple times better than local gigs. By taking on the NGO industry, the government went up against a powerful, and relatively well-heeled lobby.
Inside the crisis 
The protests were initially triggered by a bill 'On the Transparency of Foreign Influence', which was adopted by the Georgian parliament on its first reading. On Tuesday, 76 deputies voted in favor of adopting the bill and 13 deputies opposed it.
During the discussion stage, MPs from opposition parties said they would not allow the so-called "Russian law" to be considered in parliament. This resulted in a fight between opponents and supporters of the legislation. Deputies from the National Movement and Strategy Aghmashenebeli opposition parties were expelled from the chamber. Triggered by the situation, the latter's leader Giorgi Vashadze called on all opponents of the bill to join the rally.
On Wednesday afternoon, the Georgian Interior Ministry reported that 50 law enforcement officers had been injured in clashes with protesters. Calls from the police to "stay within the bounds of the law" did not work.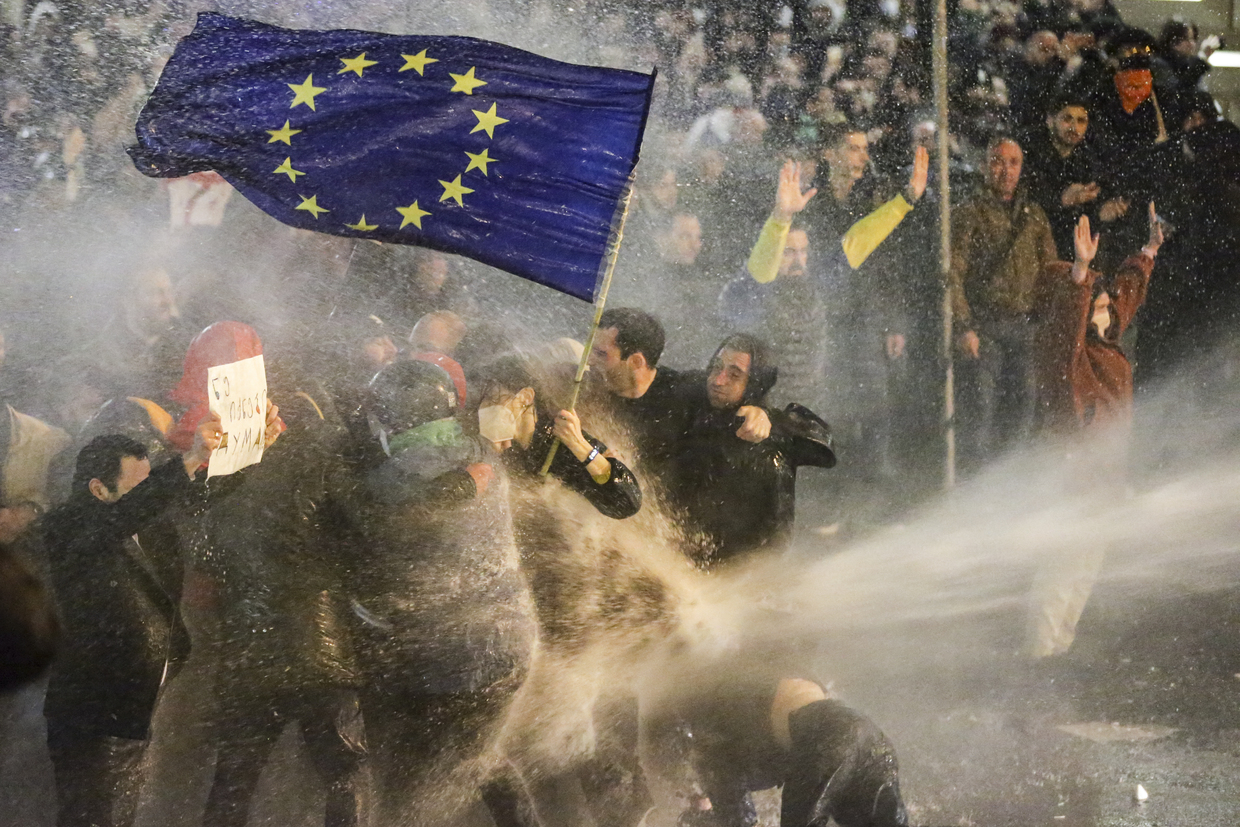 Protesters brandishing a European Union flag brace as they are sprayed by a water cannon during clashes with riot police near the Georgian parliament in Tbilisi on March 7, 2023. 
On Tuesday, rallies against the "foreign agents" bill lasted more than ten hours. What began with anti-government speeches ended with violence involving the police. Protesters hurled Molotov cocktails, while cops responded with tear gas in an effort to disperse the crowds. Clashes lasted late into the night, until the protesters finally headed home. The next day, things were much the same – only this time, the crowd was significantly larger. People gathered with posters reading "#NORUSSIANLAW" and waved the flags of Georgia, Ukraine, and the EU. They were more organized, and some protesters, having learned from their previous experience with the police, came equipped with ski goggles and protective masks.
Just like on Tuesday, the rally started peacefully: people chanted slogans and sang the national anthem. But as night approached, trouble intensified. Finally, Strategy Aghmashenebeli leader Vashadze presented an ultimatum to parliament: reject the "foreign agents" bill and release everyone who was detained on March 7. According to Georgia's Formula TV Channel, he gave the authorities one hour to do so.
Yet even before that time was up, protesters began to surround the parliament building, which led to violent clashes with the police. The crowd threw stones and firecrackers at the building, resulting in broken glass and police injuries. Officers responded decisively and severely. Using water cannons, smoke grenades, and pepper spray, the police and special forces were finally able to drive the protesters away. Just like the previous day, it was to be 4am until the crowd finally dispersed.
By Thursday morning, pressured by the protesters, the ruling Georgian Dream party and its ally the People's Power party issued a joint statement announcing their decision to withdraw the bill that had provoked public discontent. Despite this, the protests finally died down only by Friday afternoon.
But why did the document cause such vehement protests?
Country of foreign agents

Talk of such legislation first emerged last summer. Back then, several influential Western-funded NGOs immediately understood the existential nature of the possible measure. They announced the formation of a "temporary technical government" and presented the authorities with an ultimatum, threatening them with a "peaceful revolution" if they refused.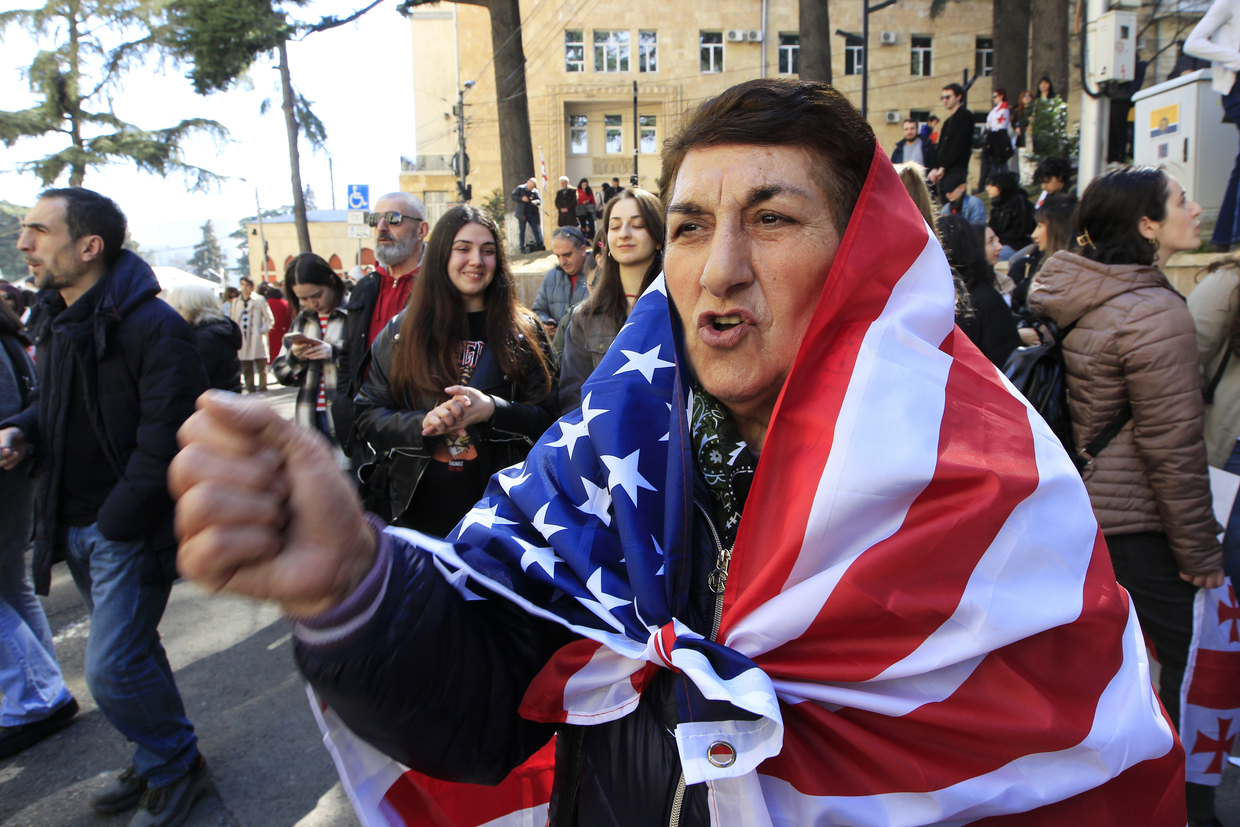 A protester shouts slogans during a rally against a draft law aimed at curbing the influence of "foreign agents" near the Georgian parliament building in Tbilisi, Georgia, Friday, March 10, 2023.
The strong reaction to the initiative does not seem surprising considering how many foreign NGOs are active in Georgia. In a review of the Georgian civil sector published in 2020, the Asian Development Bank indicated that there is no special legislation on non-profit or non-governmental organizations in the country, although they are listed in the general register of companies, which as of the beginning of 2019 consisted of 12,800 organizations. At the same time, the vast majority of such organizations rely on foreign funding, according to the Georgian national statistics service Sakstat. As of spring 2022, there were 7,972 companies with foreign founders operating in the country. With a total population of 3.7 million, there are around 460 people per foreign NPO in Georgia. For comparison, as of November 2022, there were over 500 active "foreign agents" registered in the US, under FARA.
NGOs and people associated with them played an active role not only in the 'Rose Revolution' of 2003, when ex-President Mikhail Saakashvili came to power, but also in 2012, when the now ruling Georgian Dream party first took office, according to the bank's study.
A number of Georgian politicians who have assumed senior positions, both during the reign of Saakashvili and after the Georgian Dream coalition came to power, began their careers in NGOs.
Since gaining independence in 1991, Georgia has become a major recipient of US aid. In the 1990s, the country received an average of $96 million a year, in the 2000s, before the brief 2008 war, $135 million a year, and after the military conflict, the amount of assistance was increased. In the 2008-2009 fiscal years, Georgia received US assistance in various areas to the amount of $1.04 billion.
From 2010 to 2016, Georgia received up to $77 million annually, since 2017 – up to $123 million on average. For 2020, it was planned to provide Tbilisi with $120 million through the State Department and the United States Agency for International Development (USAID).
The annual budgets of the most influential Georgian NGOs are comparable to the turnover of medium-sized commercial companies. According to calculations by political scientist Beka Chedia, the Soros Foundation alone invested more than $10 million in the Georgian third sector in four years (from 2003 to 2006). The CIA-linked National Endowment for Democracy, according to its own reports, distributed $1.2 million in grants in 2013 among three-dozen projects of Georgian NGOs. The main areas of their work were civic education programs, media support, including investigative journalism, election monitoring, and civil control over the activities of the executive legislative branch, among others.
At the same time, the economic situation for Georgians outside the NGO bubble isn't great: according to data for 2021, the country's GDP per capita was just $5,000.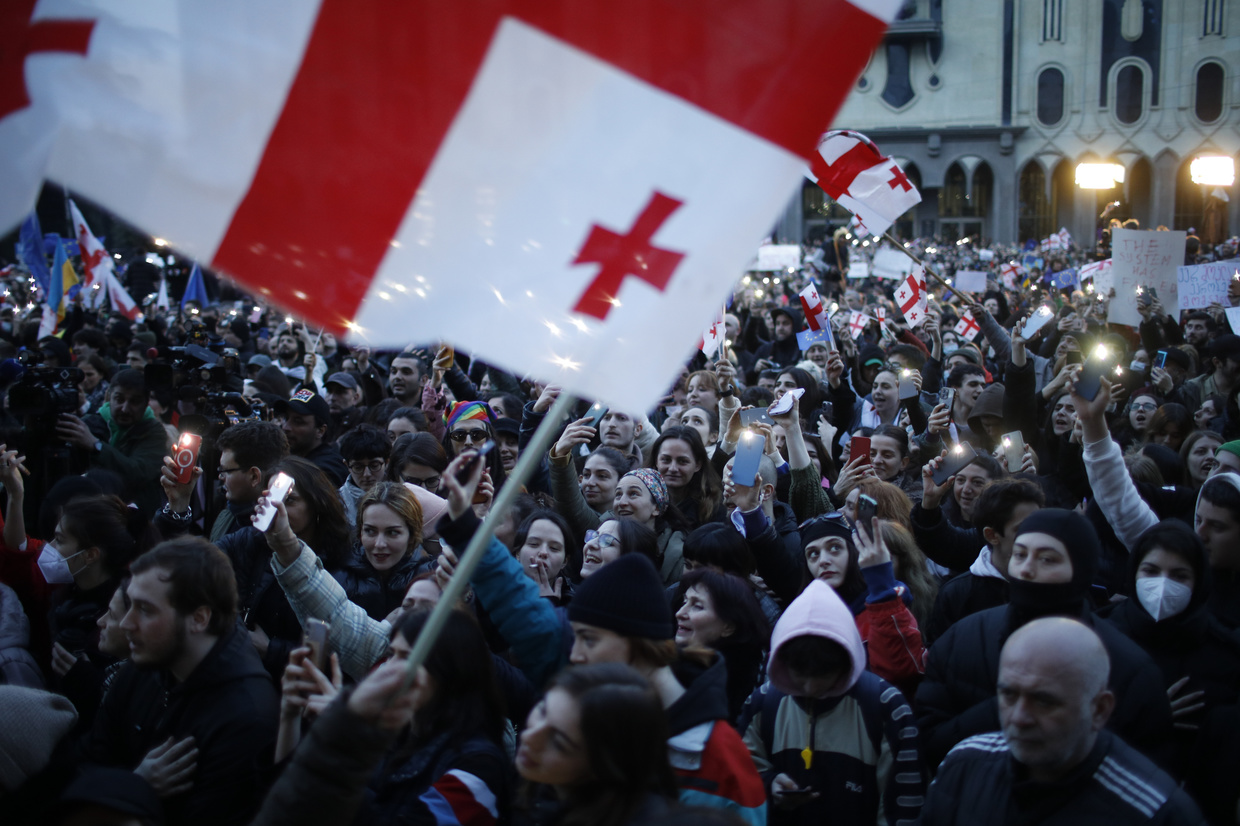 People protest against bill on foreign influence transparency at parliament building in Tbilisi, Georgia on, 08 march 2023. 
A Russian trace…
The Georgian bill proposed a national register of "foreign influence agents." The register would have listed all non-profit legal entities and media organizations which receive 20% or more of their funding from abroad.
The opposition described the law as "Russian," referring to the determination to resist the attempts of the Georgian Dream party to "drag the republic back into dark Russia." However, there are numerous differences between the Russian law and the Georgian bill.
Firstly, unlike the Russian law, the Georgian bill does not oblige foreign agents to accompany each text and audio message with a statement disclosing their foreign agent status. Secondly, to avoid the connotations used by Moscow and Washington, Georgian authorities replaced the term "foreign agent" with "foreign influence agent." The former, according to representatives of the People's Power party, "carries the risk of stigmatization."
Nevertheless, the bill caused concern among representatives of NGOs, the media, and the opposition, who believed that the Georgian Dream and People's Power parties are trying to copy Russia in "fighting 'foreign agents'." Instead, they advocated that people fight for "freedom of speech in the country."
Russia's experience prompted the protesters in Tbilisi to see the supposed influence of Moscow behind the Georgian authorities' decision. Indeed, the opposition and the protesters contrasted their nation's "European integration path" with the alleged "pro-Russian course" of the ruling party. This position was shared both by local protesters and Russians who have emigrated to Georgia for political reasons.
"This was taken from the Russian law. It's a copy of it. We don't need that. This law threatens many people and will not let us join the EU," a Tbilisi local named Nino told RT.
Many young people adopted these sentiments. "My friends and I all went [to the protest]. This is our fight for the way to Europe," said a man named Guram when talking about the March 8 rally.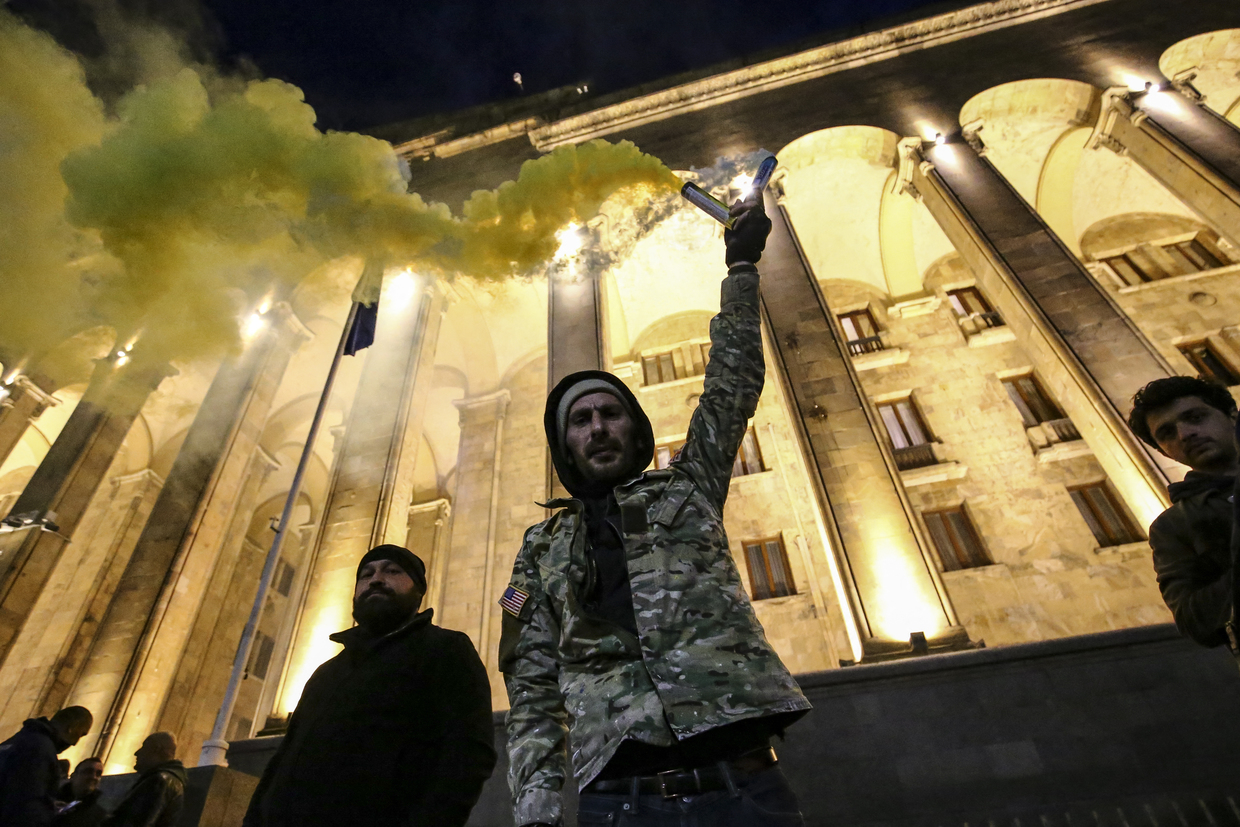 A protester holds a yellow smoke flare in front of the Georgian parliament in Tbilisi on March 7, 2023.
…in a US law
Incidentally, the bill was not initiated by the ruling party, but by the People's Power movement. This group was formed by former Georgian Dream deputies who left the party following the protests of March 2022. For bureaucratic reasons, the EU postponed Tbilisi's application to join the bloc. Protests broke out, and the demonstrators blamed the Georgian authorities.
A member of the People's Power movement stated that the purpose of the proposed "foreign agents" bill was to "inform," not restrict, the activities of NGOs and media. The party offered assurances that the law would ensure the "transparency of foreign influence," adding that they had relied on US experience when developing the bill, while adapting it to the realities of Georgia.
On February 21, the Bureau of the Parliament of Georgia registered the so-called "Georgian" version of the bill, and on February 27 – the "US" version, and submitted both to the legal committee for consideration. It was specifically the first bill that was passed and then withdrawn. According to People's Power, this version, in contrast to the second "US" one, "proposed a minimum standard of transparency and only obliged foreign influence agents to submit an annual financial declaration." Moreover, the Georgian bill stated that only a legal entity could be declared a "foreign influence agent," and there was no criminal liability in case of violation, unlike in US law and in the second version of the bill.
On February 28, despite disagreements from the opposition, the leader of the Georgian Dream party, Irakli Kobakhidze, confirmed his wish to adopt one of the versions of the law.
"We ask [the Venice Commission to conduct] an accelerated procedure, after which the version of the bill that will receive the most positive assessment will be finalized," Kobakhidze said.
Along with Tbilisi Mayor Kakha Kaladze and Parliament Speaker Shalva Papuashvili, Kobakhidze consistently refuted statements made by the opposition that the law was a copy of the Russian one. He insisted that deputies developed the first version independently, while the second version was copied from the US analogue, FARA.
On March 6, it became known that the Legal Issues Committee of the Parliament of Georgia backed both bills – the "Georgian" and "US" versions – in the first reading.
Finally, on Tuesday, after a meeting of the Bureau of Legal Affairs, Mamuka Mdinaradze, a member of the ruling Georgian Dream party, offered to discuss the laws during the same session, and not on Thursday as was originally planned. That same evening, when almost none of the representatives of the opposition were present, parliament adopted the bill 'On the Transparency of Foreign Influence' in the first reading.
Who fueled the protests?
Throughout the discussions, the opposition and media accused Georgian Dream of pro-Russian views, branding the bill "Russian" and "Putin's" law. The former leader of the ruling party, Bidzina Ivanishvili, who retired from politics in 2021 but is still considered the informal ruler of Georgia, didn't escape criticism either.
"In my opinion, the Georgian Dream party has always been about self-power. In other words, its main goal was to stay in power. On the other hand, Ivanishvili is truly pro-Russian in the sense that he sympathizes more with Russia, his mentality is Russian, he understands Russia better. For him, the West, Western values, and Western thinking are all alien and incomprehensible. In this respect, he is not just pro-Russian – he is a Russian person," political analyst Ghia Nodia said in an interview with local media.
Some protesters agree with these views. Ani, a local realtor, believes that the nation's current leaders are "authoritarian" and are pursuing a "harmful pro-Russian course."
Sixty-three Georgian mass media organizations and NGOs formed a coalition with the opposition and called the new bill "anti-democratic and unconstitutional." According to pro-Western social movements and parties, merely discussing the bill "harms Georgia's European perspective" since it prevents Georgia from implementing two recommendations of the European Commission that are needed to achieve the status of an EU candidate country. According to Paragraph 7, Georgia must undertake "more active efforts to ensure a free, professional, pluralistic, and independent media environment." Additionally, Paragraph 10 implies that the Georgian government must ensure "the involvement of civil society in decision-making processes at all levels."
In fact, the US and the EU warned Georgian authorities that the successful adoption of the law would deprive the country of the chance to acquire EU candidate status and join NATO.
One of the highest-ranking supporters of the protesters was Georgian President Salome Zurabishvili. "I am addressing everyone who is on Rustaveli street tonight, where I often used to stand myself. Today I'm in New York, and the Statue of Liberty is right behind me. This is a symbol of what Georgia has always fought for, what we have come for so far. I am with you because today you represent free Georgia," she said in an address on Tuesday.
President Zurabishvili expressed confidence that "no one needs this law" and it is "written at the dictation of Moscow." "This law is invalid, I will veto it," she added.
Russia denies any involvement in the events. Kremlin Press Secretary Dmitry Peskov said on Friday that the trigger of the public unrest in Georgia "has nothing to do with the Russian Federation."
"At the same time, we see someone's hand in this matter, and it's far from 'invisible'. We can see where the president of Georgia is addressing her people from, she is not addressing Georgians from Georgia, she is addressing them from the United States. And someone's visible hand is earnestly trying to inject anti-Russian elements there," he said.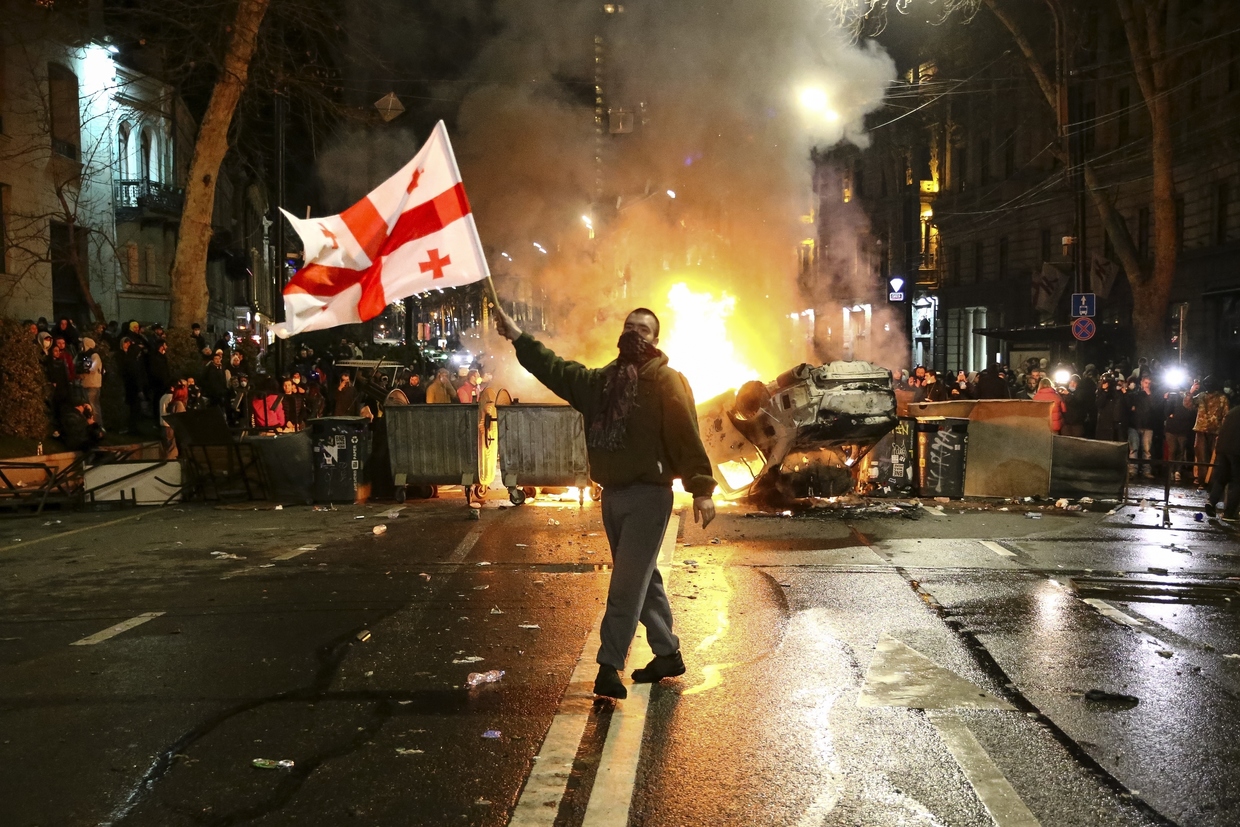 A man waves a Georgian national flag in front of a burning barricade as other protesters stand behind not far from the Georgian parliament building in Tbilisi, Georgia, Thursday, March 9, 2023.
Peace or rebellion?
On Thursday, after preliminary information emerged that the bill would be withdrawn, Georgian Dream chairman Mdinaradze hastened to clarify the situation at an emergency briefing. He spoke about the procedure of withdrawing the draft laws. According to Mdinaradze, the bill 'On the Transparency of Foreign Influence' which was adopted in the first reading would be rejected in the second reading. As to the second version of the law 'On the Registration of Foreign Agents', on which no vote has been held so far, it was already withdrawn from parliament. It was also noted that a letter was sent to the Venice Commission regarding the withdrawal of both bills.
By Thursday evening, the Ministry of Internal Affairs had released 132 of the 133 detainees and issued a conciliatory statement.
"We see that the adopted bill has caused disagreements in society. By the means of lies, the bill was presented in a negative light and misled a part of the population. The bill was falsely labeled a 'Russian law' and its adoption in the first reading was publicly presented as a departure from the European course," the Georgian Dream and People's Power parties said in a joint statement.
The statement also noted the parties' ongoing commitment to "the advancement of Georgia on the course of European integration."
The decisions by the authorities had an effect – by Friday afternoon, the protests had completely subsided, and the barricades had been dismantled in the center of Tbilisi. However, that was not before the capital had seen another night of protests dominated by overtly anti-Russian sentiment.
The protests continued on Thursday, and the opposition made even more radical demands. A group of Georgian army veterans unexpectedly called for the resignation of the government and early parliamentary elections.
"These authorities are unable to lead Georgia toward Europe, these authorities only beat up peaceful people. This government should resign, and early parliamentary elections should be held," proclaimed a man dressed in camouflage, who called himself an army veteran.
During the protests on Thursday, the Russian flag was burned and some protesters were heard chanting slogans demanding a resolution to the "Abkhazian issue." Chanting "Sukhumi" – the Georgian name of the capital of the partially recognized Republic of Abkhazia, where Russian peacekeeping forces are located – the crowd demanded the issue be solved with the "unconquered" region.
Australian National Review – Ellen Brown: The Looming Quadrillion Dollar Derivatives Tsunami
Ellen Brown: The Looming Quadrillion Dollar Derivatives Tsunami
By Investment Watch Blog
via scheerpost:
Technically, the cutoff for SIFIs is $250 billion  in assets. However, the reason they are called "systemically important" is not their asset size but the fact that their failure could bring down the whole financial system. That designation comes chiefly from their exposure to derivatives, the global casino that is so highly interconnected that it is a "house of cards." Pull out one card and the whole house collapses. SVB held $27.7 billion in derivatives, no small sum, but it is only .05% of the $55,387 billion ($55.387 trillion) held by JPMorgan, the largest U.S. derivatives bank.
The global derivatives market is a $2+ QUADRILLION (2,000+ TRILLION) ticking time-bomb. When banks fail, derivatives won't just unwind in an orderly fashion. Few people understand this.

These are some of the top U.S. banks ranked by derivatives exposure (double-digit TRILLIONs). pic.twitter.com/cS23fazqZH

— Gabor Gurbacs (@gaborgurbacs) March 19, 2023
The Bank of International Settlements estimates that there is a combined $52+ Trillion off balance sheet Dollar-denominated debt among non-banks outside of the U.S. and non-U.S. banks. In case of non-orderly derivatives wind-downs this could become extremely problematic. pic.twitter.com/x5IhFCnUsX

— Gabor Gurbacs (@gaborgurbacs) March 19, 2023
Credit Suisse's $39 Trillion Derivative Debt Poses Significant Threat to US Financial System.
The U.S. Treasury Secretary, Janet Yellen, is under a lot of pressure due to the deteriorating condition of Credit Suisse, a Swiss banking giant. Under the Dodd-Frank financial reform legislation of 2010, Yellen was given increased powers to oversee financial stability in the U.S. banking system. The legislation made Yellen the Chair of the newly created Financial Stability Oversight Council (F-SOC), whose meetings include the heads of all of the federal agencies that supervise banks and trading on Wall Street. It is Yellen's authorization that would be required before the Federal Reserve could create any more emergency bailout programs for mega banks.
Recently, the US Treasury was reviewing US banks exposed to Credit Suisse, looking into how many billions of dollars of underwater derivatives US banks were on the hook for as a counterparty to Credit Suisse, and U.S. banks exposure to Credit Suisse's other major counterparties that U.S. banks do business with.
Credit Suisse was making headlines for two years, and serious problems at Credit Suisse have raised alarm bells in the US financial system. Credit Suisse is a global, systemically significant, too-big-to-fail bank that operates in the US and is deeply interconnected throughout the global financial system. Its failure could have widespread and largely unknown repercussions, which is why the US financial system and economy need to be adequately protected.
The recent revelations about Credit Suisse's deteriorating state have raised concerns about contagion risks in the banking industry, particularly in light of the staggering amount of secret derivative debt being held by foreign banks. According to a report by the Bank for International Settlement, this unreported exposure is 10 times greater than their capital, with an estimated $39 trillion of dollar debt held off balance sheets.
This poses potential threats to dollar swap lines and with a significant portion of derivative trades still not being centrally cleared, a layer of opacity is added to an already unaccountable system. The quarterly derivatives report from the Office of the Comptroller of the Currency found that four US mega banks held 88.6% of all notional amounts of derivatives in the US banking system, with a total notional amount of $195 trillion.
Australian National Review – UCSF Orders Their Doctors To Ignore COVID Vaccine Injuries
UCSF Orders Their Doctors to Ignore COVID Vaccine Injuries
By Steve Kirsch
They don't file VAERS reports either. That's a violation of federal law. I had a bunch of questions for their media relations department, but they ghosted me. Here's what I wanted to know.
Dr. Josh Adler is executive vice president and chief clinical officer at UCSF Health as well as vice dean for clinical affairs at the UCSF School of Medicine. I wondered if he would like to see these questions answered as well. So I asked him.
Executive summary
Their response: silence.
You know what that means, don't you?
The questions I sent them
The UCSF Chief Medical Officer has issued a verbal directive that medical staff (doctors, nurses, techs, etc.) are specifically instructed NOT to associate the COVID vaccine to any injuries. So even if they believe the vaccine caused the injury they are NOT allowed to talk to the patient about it. Can you explain how this is in a patient's best interest? World health authorities such as Karl Lauterbach, Federal Minister of Germany for Health, have publicly admitted that the rate of severe vaccine injury is 1 in 10,000 and the V-safe data in the US shows the rate of severe injury (requiring medical care) is actually 100X higher: 8 SEVERE INJURIES per 100 fully vaccinated people. So why is the UCSF medical staff forbidden to make an association??
I've been told that the staff are told not to ask if the person was recently vaccinated with the COVID vaccine because that would suggest to the patient that the COVID vaccine might have caused their medical condition. Is this true? So the patient must offer it to the doctor because the doctor isn't allowed to ask? How does that improve clinical outcomes?
I've been told that 70% of the Radiology Department (in Marin specifically) requested and were granted religious exemptions after seeing what happened to people who received the COVID vaccine. If it wasn't 70%, what is the number?
I've been told that the placentas of a majority of vaccinated women who give birth are not normal (calcified, blood clots, etc.). This started happening after the shots rolled out. Can you tell me what percentage was observed and why nobody at the hospital is speaking out to the press about this situation?
Most troubling to me is that I was not able to find anyone who currently works at UCSF (including doctors, nurses, and lab techs) who would talk to me on the record for fear of being fired. Why would these doctors and nurses have such a fear? Will you guarantee in writing that any staff member who speaks out about any of the points above will be protected and not be fired just for speaking out? Have you fired anyone for speaking the truth? Who?
With all the chatter about fear and intimidation tactics, have you issued WRITTEN assurances to the staff that 1) it is OK to ask about COVID vaccine status, 2) that it is OK to write vaccine exemptions when warranted such as allergic reactions, 3) that if they believe the vaccine caused an injury that they are free to talk about it with the patient and 4) that staff members who talk publicly about what they are seeing in the clinic with respect to vaccine-associated injuries/deaths and don't violate any confidentiality/HIPAA rules will be protected from being fired? I want to know whether TRUE speech is protected and whether UCSF has notified staff of this in WRITING. If not, why not? Do fear and intimidation tactics yield better health outcomes?
My friend Tim Damroth told me he suffered a cardiac arrest 2 minutes after getting his first COVID shot. He was in such pain since the shot that his UCSF doctors prescribed a nerve block shot. But in order to get the nerve block shot, UCSF required him to be fully vaccinated (i.e., 2 shots)! He asked for a vaccine exemption, but the UCSF doctors told him that UCSF doesn't allow them to write any vaccine exemptions, even for people who almost died after getting the shot. So Tim got another shot in order to get the medical care he needed but this made his pain much worse. Can you confirm whether COVID vaccination is still required to get certain medical care at UCSF? If it isn't still required, when did the requirement end? Can you explain the rationale for requiring vaccination to give a shot? Do you deny treatment to people with life threatening conditions if they are not fully vaccinated? How vaccinated must they be to be treated? 2 shots? 3 shots? I just talked to Tim and he will be delighted to sign a HIPAA consent to allow UCSF to talk about his case and all his medical records publicly so everyone can learn what happened to him. Are you proud of the way he was treated? Do you have any regrets?
If you believe that COVID vaccine and masks are effective, why would you subject a patient to have to be vaccinated before receiving medical care? This is nonsensical in light of the Cleveland Clinic study which clearly showed that vaccines increase risk of getting COVID which would seem to put the staff at higher risk. You are clearly ignoring that study. On what basis? Nobody has been able to debunk the study. The precautionary principle of medicine requires that you hold off your vaccine requirement until you can resolve the ambiguity.
How many UCSF staff have died within 6 months of receiving a COVID vaccine shot? Were autopsies done? Did they do the histopathology studies to rule out the COVID vaccine as a cause of death? Can we see the slides?
How many UCSF staff have been seriously injured from the COVID vaccine?
Why didn't any doctor at UCSF file a VAERS report on the vaccine injuries of , Jan Maisel, and Angela Wulbrecht. This is required by law. was a former Chief Medical Officer at UCSF. Maisel is Associate Clinical Professor of Pediatrics at UCSF. Wulbrecht was a top UCSF nurse. All of their injuries were required by law to be reported, yet no VAERS reports were filed. Why not? What are you doing to correct the problem?
UCSF ultrasound technicians with decades of experience have seen an unprecedented number of menstrual irregularities in women who have been vaccinated. Why aren't any of them warning the public about this? Is the public better off if nobody knows about this?
I talked to one of the funeral homes used by UCSF. They are seeing a 20X higher rate of perinatal deaths after the COVID vaccines rolled out. This is a disaster. Why isn't anyone saying anything about this? Why did the funeral director decline to be named for fear of being fired? Why isn't UCSF just publishing the numbers to warn the community? How does keeping this information secret result in superior clinical outcomes?
Nearly all of the UCSF neurologists know that the COVID vaccines have caused serious injuries to huge numbers of UCSF patients. Can you explain why none of them are speaking out publicly about what they are observing in the clinic?
Why not make public health information from the hospital public? The information can be easily anonymized to protect privacy. Wouldn't making medical records such as age/admission date/COVID vaccine dates/reason for admission be a huge public service? If the vaccine really works, everyone would know it. If the vaccine doesn't work, everyone would know it. Why don't we have data transparency?
Is anyone at UCSF calling for data transparency from the CDC? If the death-vax records were public, we could instantly know whether the shots are beneficial or harmful. Is there a reason these records are not public and nobody at UCSF is calling for these records to be made public? Do we get better health outcomes when the CDC keeps the data from public view? The data can be easily anonymized to satisfy any HIPAA requirements. I personally released a subset of the death-vax records from Medicare. So I know it can be done. Oh, and it showed the vaccine were causing an enormous amount of excess deaths.
How long do you think you can get away with hiding all these vaccine injuries from public view?
Is this really in the public interest to keep all this stuff secret and engage in fear and intimidation tactics? Is there a paper in a peer-reviewed medical journal showing superior patient outcomes when the public is kept in the dark about vaccine injuries?
Australian National Review – Government-Backed Digital Money To Represent $213B In Payments By 2030
Government-backed Digital Money to Represent $213B in Payments by 2030
By Lucas Mearian
Digital currencies backed by government banks still face a mountain of challenges before they'll be ready for prime time, but 114 countries are involved in various projects, either in the planning stage or all-out pilots.
The global value of central bank digital currencies (CBDCs) will grow dramatically from $100 million today to $213 billion by 2030, once the virtual money gains greater adoption for domestic payments, according to new data from Juniper Research.
By 2030, 92% of the total value transacted through CBDCs around the world will be paid domestically, as cross-border payment systems face an uphill battle for adoption, Juniper predicted.
The digital currency, which is backed by traditional fiat cash such as the US dollar or British pound, can bolster financial inclusion because customers don't have to have a bank account to hold them; they can instead use encrypted "digital wallets" that exist in the cloud, on a desktop or laptop, or even on USB storage device.
With a cross-border CBDC payment system, immigrants, for example, could send money back to their countries of origin without having to pay what can be exorbitant fees for electronic money transfers. Businesses would also be able to make cross-border payments for goods and services with much cheaper, and faster, settlements.
Central-bank-backed digital currencies would also reduce the costs of printing and replacing mone, help improve fraud detection, and allow money paid to scammers to be more easily traced and recovered, according to Lou Steinberg, former Ameritrade CTO and managing partner at cybersecurity research firm CTM Insights.
"It would simplify and speed up cross-border payments and reduce the cost and complexity of processing checks, wires, etc.," Steinberg said in an email reply to Computerworld. "Unlike cryptocurrencies such as bitcoin, a currency that is backed by the full faith and credit of the United States or other trusted government would provide certainty that the value of the currency is being carefully managed. A government can adjust everything from the money supply to interest rates as they manage and maintain the value of a fiat currency."
Digital currencies also eliminate the anonymous nature of consumer cash transactions. In places such as China, where spending activity is closely monitored, that would let the government know what movies an individual is buying tickets for of whether they are spending money at a bar. Those are hard to track with cash.
The US has been a slow follower compared to other nations, such as China and its digital Yuan, in developing a CBDC. Australia, China, Thailand, Brazil, India, South Korea and Russia already have pilots or will begin test programs this year. By 2030, the Bank of England and UK Treasury are planning to launch a digital pound or 'Britcoin' CBDC.
It matters which nation's digital currency achieves widespread adoption first because that government will be able to set the global rules for most others, according to Steinberg. "Whomever sets up large international payment systems first will have a de-facto standard, one which latecomers will have to adopt," he said. "The US continues to study a digital dollar while others are making progress. We need to prioritize a system for international payments and settlement based on a digital dollar, almost the equivalent of a next-generation SWIFT network."
The features and standards can be used to design in privacy or state surveillance and traceability. They can include limited use currency, such as a type of dollar that could only be used for stimulus but not saved, or a digital dollar food stamp.
"On the other hand, countries like Cuba have two types of currency, and limit the use of one type to foreigners only (so they know which of their citizens are collecting money from foreigners)," Steinberg said. "If we want western standards around privacy, we need to set the standards. If we want the dollar to maintain its role as a 'reserve currency,' we need to set the standards around cross-border networks. Showing up late to the game means you play by some else's rules."
All together, 114 countries representing 95% of global GDP are investigating the creation of CBDCs, according to the Atlantic Council, a Washington-based think tank. Only 10% have launched general CBDC networks. Sixteen percent of projects are in pilot stage, 30% are in development, and 27% are still in the research stage, according to the Atlantic Council.
"We are behind. The good news is that we are starting to realize this," Steinberg said of the US.

This map by the Atlantic Council shows the maturity of CBDC projects around the globe.
In March 2022, for example, US President Joe Biden issued an executive order calling for more research on developing a national digital currency through the Federal Reserve Bank, or "The Fed." The order highlighted the need for more regulatory oversight of cryptocurrencies, which have been used for nefarious activities such as money laundering. The Fed has been investigating the creation of a CBDC for years.
US lawmakers have also introduced bills that would allow the US Treasury to create a digital dollar. The electronic dollar would allow people to make payments using tokens on mobile phones or through cards instead of cash.
In November, the New York Federal Reserve Bank began developing a wholesale CDBC prototype. Named Project Cedar, the CBDC program hammered out a blockchain-based framework expected to become a pilot in a multi-national payments or settlement system. The project, now in phase 2, is a joint experiment with the Monetary Authority of Singapore to explore issues around the interoperability of the distributed ledger.
Juniper Research's Maynard believes China will lead both domestic and cross-border CBDC use in 2030, "as it has had early pilots which have seen some success in the market."
Since CBDCs are issued by central banks, they will be mainly targeted at domestic payments at first, with cross-border payments arriving as systems become established and links made between CBDCs used by individual countries. Crucial to CBDC success, however, will be cross-border and retail merchant acceptance.
CBDCs will also require a complex regulatory framework including privacy, consumer protection, and anti-money laundering standards, which need to be made more robust before adopting the technology, according to the Atlantic Council. Any new system of payment could also jeopardize the national security objectives of the country using them.
"They can, for example, limit the United States' ability to track cross-border flows and enforce sanctions," the group said. "In the long term, the absence of US leadership and standards setting can have geopolitical consequences, especially if China and other countries maintain their first-mover advantage in the development of CBDCs."
Steinberg agreed, saying a fully distributed system has risks, "both that wallets will be electronically pick-pocketed, and that transaction validity (consensus) can be cheated. A well-designed system could be quite secure today and future proofed. A poorly designed one would lead to widespread theft and fraud," he said.
The research by Juniper said to date there is still lack of commercial product development around CBDCs, with few well-defined platforms for central banks to leverage — a big limiting factor for the current market.
"While cross-border payments currently have high costs and slow transaction speeds, this area is not the focus of CBDC development," said Nick Maynard, Juniper's head of research. "As CBDC adoption will be very country specific, it will be incumbent on cross-border payment networks to link schemes together, allowing the wider payments industry to benefit from CBDCs."
For success, any CBDC platform would need a full end-to-end financial network, including wholesale capabilities, digital wallet, and merchant acceptance, Juniper said.
Full end-to-end CBDC solutions, including wholesale capabilities and – most importantly – widespread merchant adoption central banks to generate buy in. That will mean leveraging platforms from experienced payments vendors, as well as having a public consultation model which involves key stakeholders at every stage.
"In order to achieve merchant adoption, it's a chicken or egg scenario to an extent," Maynard said. "Merchants will want to use the platform users are transacting in, but users will want to use the platform their favourite merchants and brands are on. As such, it will likely require a mix of incentives at both the user and merchant level to generate initial traffic."
One of the challenges for central banks is figuring out how to enable a CBDC that adds value above existing payment systems, according to Gartner Research. The success of CBDCs also depends on "programmability" enabled by smart contracts, Gartner argued in a January report.
"In order to further justify investments into CBDCs, developers are experimenting with injecting programmability into CBDC-enabled payment value chains," Gartner said. "Therefore, bank CIOs need to prepare for this transformation,"
As part of ongoing pilots of the digital Yuan, or e-CNY, for example, the Bank of China Chengdu is using smart contracts to manage the deposits for extracurricular school activities, such as field trips to museums. Using the e-CNY CBDC reduces reliance on third parties to deal with a refund if a class is canceled, or a student couldn't attend, Gartner said.
Countries such as Russia and China see how payments that depend on US infrastructure and currencies can be affected by sanctions and are working to develop alternatives, Steinberg said.
"The one to watch is China," Steinberg said, referring to the mBridge Project. "Domestically, they need to keep electronic payments from all moving to tech companies, and undoubtedly see benefits in increased consumer surveillance. Internationally, they piloted cross border payments and settlement with central banks in places like Thailand and UAE. That's the current concern."