A New Book Asks: What Makes Humans Call Some Animals Pests?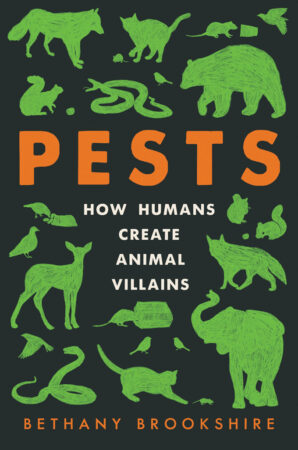 Pests
Bethany Brookshire
Ecco, $28.99
We spend so much time making sure wildlife stays away from us, whether that's setting traps, building fences or putting out poisons. Sure, unwanted guests are annoying. But why do we consider some animals "pests"? It's all about perspective, says science journalist Bethany Brookshire. "We can put poison out for rats and protest their use as laboratory animals. We can shoot deer in the fall and show their adorable offspring to our children in the spring," she writes in her new book, Pests: How Humans Create Animal Villains.
Brookshire argues that we deem animals "pests" when we fear them (like snakes). Or when they thrive in a niche we unintentionally created for them (think rats in the New York subway). Or when they find a way to live in a habitat now dominated by humans (all those deer in the suburbs). Sometimes we demonize an animal if we feel like it's threatening our ability to control the landscape (like coyotes that attack our livestock, pets and even children).
Through the lens of science, history, culture, religion, personal anecdotes and a big dose of humor, Brookshire breaks down how our perspective shapes our relationships with our animal neighbors. She also goes into the field — trailing rats, hunting pythons, taming feral cats, tracking drugged-up bears — to see firsthand how pests are treated.
Science News spoke with Brookshire, a former staff writer for Science News for Students (now Science News Explores), about what we can learn from pests and how we can co­exist with them. The following conversation has been edited for clarity and brevity.
SN: What inspired you to write this book?
Brookshire: I wrote a news story that was about mice living with humans (SN: 4/19/17). [It was based on a study] showing that we've had house mice since we've had houses. I love the fact that humans have had these other animals taking advantage of the ecosystems that we create basically since we started living settled life. Every location that has humans has their "rat." Sometimes that's a rat, and sometimes it's a pigeon or a cockatoo or a lizard or a horse. It's not about what these animals are doing. Animals live in ecosystems that we create, and we hate animals that live too close.
SN: What surprised you during your research?
Brookshire: The reflexiveness of people's responses [to pests]. People respond emotionally. When you make them pause and think about it, they go, "Oh wow, that doesn't make any sense. I should not be caught trying to kill a raccoon with a sword." But in the moment, you're so wrapped up in the violation of what you see as your personal space.
The other thing is the extent to which our disdain of pests is wrapped up in social justice. A lot of times we see this hatred and disgust for animals that we see as "low class." High-class people don't have rats. And that's really about social justice, about infrastructure and the ability of people to live in clean houses, store their food properly or even have a house at all.
Also, the way we deal with these animals often has vestiges of colonialism, as in the chapter on elephants. [In Kenya, European colonists] made people grow corn and sugarcane, which elephants love. Colonization created national park systems that assumed that humans had no place in wilderness, shoving out Indigenous pastoralists. Colonization created the market for poached ivory. And colonizing people assumed that Indigenous people did not like elephants or know their benefits. We are living with the consequences. Many modern efforts at elephant protection are spearheaded by Western people, and they assume the biggest issue with elephants is poaching and that Indigenous people don't know what's best for themselves or the elephants. In fact, human-elephant conflict [which includes elephant crop raids] is the far bigger problem, and Indigenous people have a long history of coexisting with elephants.
SN: In the book, you looked at many different cultures and included Indigenous voices.
Brookshire: It's important to realize there's more than one way to look at the world. By learning from other cultures, it helps us understand our biases. It's only when you get outside of your own beliefs that you realize that's not just the way things are.
SN: That shows up when you write about the Karni Mata Temple in India, also known as the Temple of Rats. Temple rats are not treated as pests, but a rat in a house would be.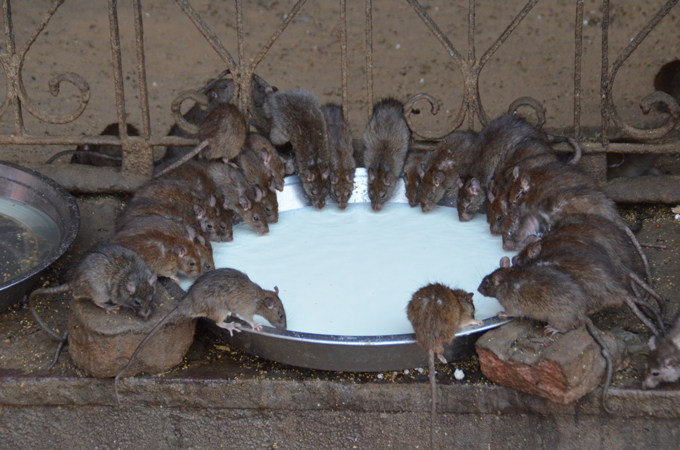 Brookshire: That's the result of context. And you see that in Western cultures all the time. People love squirrels. Well, they're basically rats with better PR. Then you have people who have pet rats, who would probably scream if a sewer rat ran by.
SN: Are there any animals that you consider a pest?
Brookshire: No. The animal that I've probably come away with the most negative impression of is humans. It's funny because we think we can extinct anything. And I love how these animals have gone: "Oh, poison? That's cute." "Oh, a trap? You're funny." We've tried to use electric fences on elephants [to stop them from eating crops]. And elephants are like, "Guess what? Ivory doesn't conduct electricity." Even if they don't have tusks, elephants just pick up a log [to destroy the fence].
SN: Are you hoping to change people's minds about pests?
Brookshire: I hope that they will ask why they respond to pests the way they do. Instead of just going, "This animal bothers me," ask why, and does it make sense. I also hope it opens more curiosity about the animals around us. I learned from Indigenous groups just how much knowledge they have of the animals in their ecosystem. I hope more people learn. A world that you know a lot about is just a better world to live in.
---
Buy Pests from Bookshop.org. Science News is a Bookshop.org affiliate and will earn a commission on purchases made from links in this article.
Here Are 3 People-Animal Collaborations Besides Dolphins And Brazilians
We've all heard that dogs are a man's best friend, but our canine companions don't make up the entirety of humankind's friend circle. Humans have cooperated with wild animals throughout our evolutionary history, forming reciprocally beneficial relationships known to biologists as mutualisms.
One particularly piscine partnership that made headlines recently can be found in Brazil, where fishers catch nets full of fish with the aid of the local bottlenosed dolphin (Tursiops truncatus gephyreus).
This team-up started over a century ago, probably when fishers first noticed that the presence of dolphins was a clue that fish were hiding in the murky water, says Mauricio Cantor, a behavioral ecologist at Oregon State University's Marine Mammal Institute in Newport.
"The dolphins are really good at detecting fish and herding them toward the coast," he says, "and the fishers are really good at trapping the fish with their net." Once the fish are mostly secured in the net, the dolphins are sure to snag a few for themselves.
In a study published January 30 in the Proceedings of the National Academy of Sciences, Cantor and colleagues used long-term data to show that the dolphins and fishers respond to cues from the other, and without experienced partners who know the right dance steps, the routine falls apart. "This is a really remarkable and impressive study," says Pat Shipman, an anthropologist at Penn State University who was not involved with the research.
This fishing partnership is an important part of the cultural identity of both the fishers and the dolphins, but Cantor and his colleagues' work shows that the practice is in decline. And among human-animal partnerships, it's not alone. "Most of the historical cases are declining or already gone," Cantor says. 
Given their rarity and charm, let's take a look at some of the other known examples of human-animal cooperation.
People used to team up with orcas to hunt whales in southeastern Australia
The bottlenosed isn't the only dolphin that humans have formed beneficial arrangements with. In the 1800s, several hunters began working with a pod of orcas (Orcinus orca) to catch large whales. At Twofold Bay in southeastern Australia, some orcas would find and harass a whale to tire it out, while others swam to alert whaling crews (made up of Aboriginal Australians and Scottish immigrants) that they'd found prey.
Once the whalers arrived and harpooned the whale, they let the orcas eat the tongue — a delicacy in the killer whale culinary world — before taking the rest for themselves.
While the dolphins and fishers in Brazil were chasing the same prey — schools of migratory mullet (Mugil liza) — the orcas and whalers were mostly after different things. The key similarity, Cantor says, is that there's enough prey for everyone, so that no competition arises to spoil the partnership.
This relationship ultimately ended when some settlers killed two orcas, which drove the cooperative pod away from the bay, seemingly never to hunt with humans again.
These birds guide people to honey in Africa
Sometimes, a name says it all. Such is the case for the greater honeyguide (Indicator indicator), which has been labeled in both English and Latin based on its most famous trait. These birds live in sub-Saharan Africa, and cooperate with local honey hunters to gain access to succulent beeswax (SN: 7/21/16).
Birds, like humans, don't like to be stung by bees, so a honeyguide that's hankering for beeswax will chirp at a person to signal that they should follow. The honeyguide then leads the hunters to a bee nest and lets them do the dirty work of harvesting it.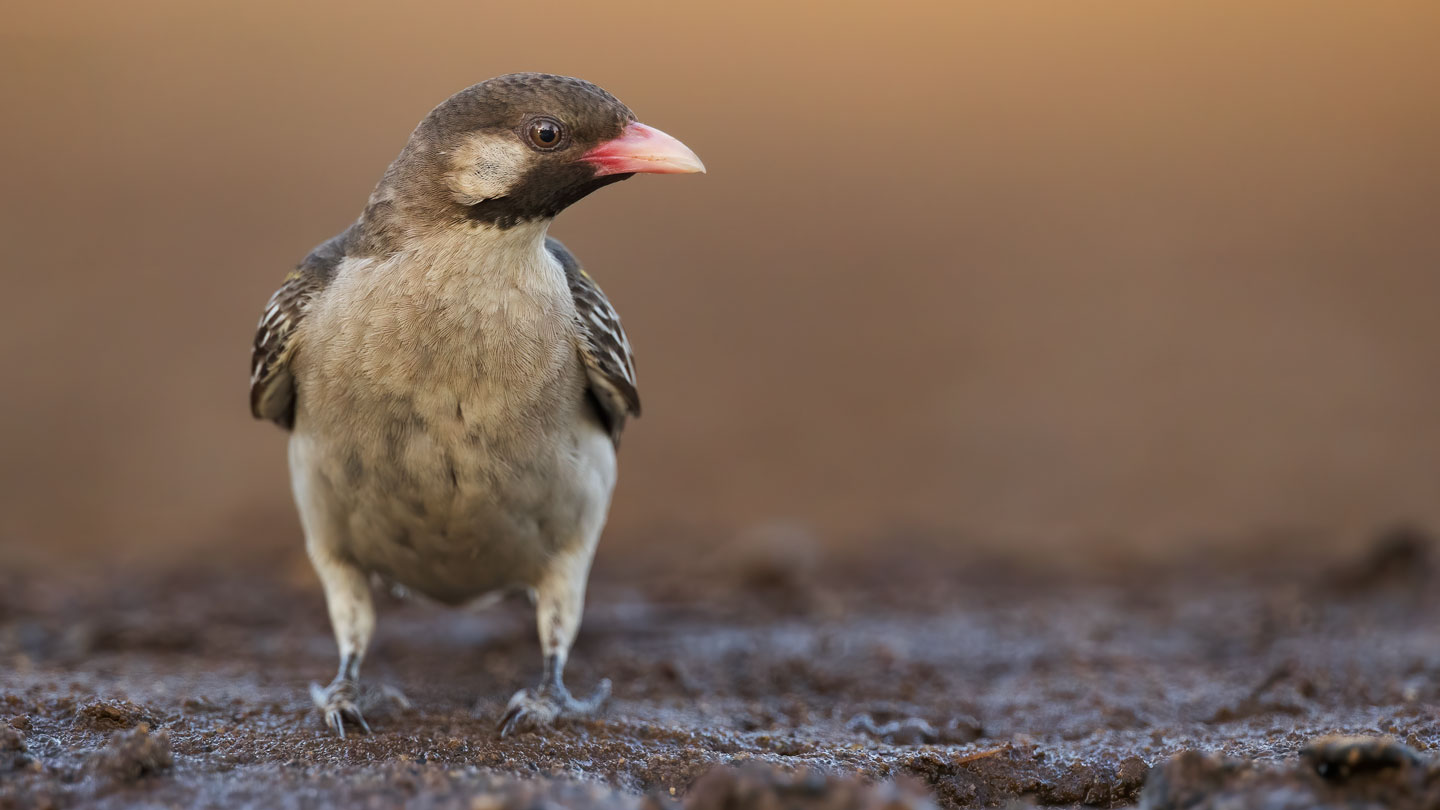 Like with orcas, honeyguides and humans are after different parts of the prize: Humans want the honey, while the birds want the wax. Honeyguides are so helpful for finding bee nests that the Borana people of East Africa blow a special whistle called a "fuulido" to summon them when it's time for a honey hunt.
Similar to the dolphins in Brazil, the relationship with honeyguides is an important part of many African cultures. Legend even has it that a scorned honeyguide, if denied beeswax on prior hunts, will lead the hunters not to delicious honey but instead into the jaws of a dangerous predator, like a lion.
Wolves and people were once on the same side when hunting big game
To see the most extreme outcome of human-animal partnership, take a look at 39 percent of the country's beds, couches and backyards. That's about how many households in the United States own a dog. But it turns out a canine doesn't have to be domesticated to get along with humans; Indigenous stories from peoples in North America describe cooperating with gray wolves (Canis lupus) to hunt big game like elk and mammoths.
The wolves would run down the prey until it tired, and humans would make the kill once they caught up. Because these prey items were so massive (like the large schools of mullet), it didn't matter that humans and wolves were after the same thing — there was plenty to go around.
Though this furry friendship doesn't exist anymore, wolves are still important in many Indigenous cultures. Some even still continue the practice of leaving some meat for the wolves after a hunt.
Though human-animal partnerships are rare and on the decline, they "give us an illustration of how positive our human interactions can be with nature," Cantor says.
For Shipman, the urge to engage with other animals is a defining trait of humanity. "It's in some ways as fundamental to humans," she says, "as being bipedal."
A Newfound Silent Frog May Communicate Via Touch
A newfound species of frog doesn't ribbit. In fact, it doesn't make any sound at all.
Many frogs have unusual characteristics, from turning translucent to being clumsy jumpers (SN: 12/22/22; 6/15/22). The recently discovered amphibian lacks a voice. It joins a group of seven other voiceless frog species called spiny-throated reed frogs that reside in East Africa.
Instead of croaking, the spines on male frogs' throats might help their female counterparts recognize potential mates via touch, sort of like braille, says conservation biologist Lucinda Lawson of the University of Cincinnati.
Lawson and colleagues spotted the little frog, only about 25 millimeters long, in 2019 while surveying wildlife in Tanzania's Ukaguru Mountains. The team immediately recognized the animal, now named Hyperolius ukaguruensis, as a spiny-throated reed frog. But something seemed off.
"It [was] the wrong color," Lawson says. Most frogs from this group are green and silver, but this one was gold and brown. Some quick measurements to check if the peculiar frog simply had trivial color variations or if it could be a new species revealed that its eyes were smaller than other spiny-throated reed frogs. The researchers agreed: "Let's do some genetics," Lawson says.
They ran DNA tests on two frogs that looked like they belonged to the suspected new species, as well as 10 individuals belonging to known spiny-throated species. Comparing the golden frogs' genetic makeup with that of the others revealed the oddballs were genetically distinct, Lawson and colleagues report February 2 in PLOS ONE.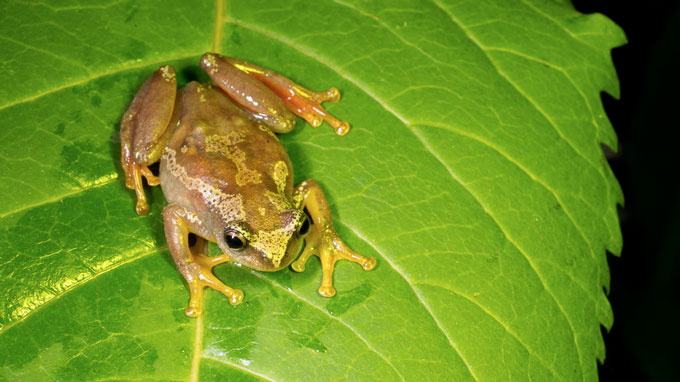 Each frog species in this voiceless group — including H. ukaguruensis — lives in its own isolated domain of forest. All seven of the previously known species are endangered or vulnerable. This seclusion makes it vital to distinguish species and get them added to the conservation priority list, Lawson says. Then, governments and organizations can begin protecting the region that the new, potentially endangered animal calls home.
Are Your Cats Having Fun Or Fighting? Here Are Some Ways To Tell
Are your cats play fighting or fighting fur real?
It turns out that certain behaviors in domestic cats could be telltale signs that an interaction is friendly, aggressive or something in between, researchers report January 26 in Scientific Reports.
"It is a question we hear a lot from cat owners," says cat behavior expert Mikel Delgado of Feline Minds, a cat behavior consulting company in Sacramento, Calif., who was not involved in the study. "So I was excited to see that researchers are taking on this topic."
Scientists have studied cats' social relationships — both with other cats and humans — but it can be tricky to tell whether two cats are playing or fighting, says veterinarian and cat behavior researcher Noema Gajdoš-Kmecová of the University of Veterinary Medicine and Pharmacy in Košice, Slovakia (SN: 9/23/19).
Sometimes cat owners miss the signs of a tense relationship because they think their pets are just playing, which can lead to stress and illness in the animals, she says. Other times, owners rehome their cats after incorrectly assuming their pets are fighting.
To assess and categorize interactions, Gajdoš-Kmecová and colleagues watched about 100 videos of different cats interacting in pairs. After viewing around one-third of the videos, Gajdoš-Kmecová identified six types of behaviors, including wrestling and staying still. She then watched all of the videos and noted how often each cat exhibited one of the specified behaviors, and for how long. By running statistical analyses on the behaviors, she pinpointed three types of interactions between the cat pairs: playful, aggressive and intermediate.
To confirm the outcome, other members of the team also watched the videos and classified each interaction between felines.
Some clear connections emerged. Quietly wrestling, for instance, suggested playtime, whereas chasing and vocalizations, like growling, hissing or gurgling, implied aggressive encounters.
Intermediate interactions had elements of both playful and aggressive encounters, but especially included prolonged activity of one cat toward the other, such as pouncing on or grooming its fellow feline. These in-between encounters could hint that one cat wants to keep playing while the other doesn't, with the more playful cat gently nudging to see if its partner wants to continue, the authors say.
This work provides initial insights into cat interactions, Gajdoš-Kmecová says, but it's just the start. In the future, she plans to study more subtle behaviors, like ear twitches and tail swishes. Both Gajdoš-Kmecová and Delgado also stress that one contentious encounter doesn't necessarily signal a cat-astrophic relationship.
"This is not just about one interaction," Gajdoš-Kmecová says. Owners "really should look into the different, multiple interactions in multiple periods of life of the cats and then put it into context."